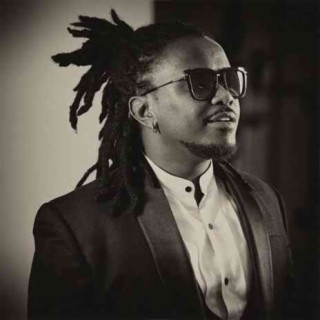 Nyashinski
Current #1,430

All Time #1,128

Kenyan rapper and singer Nyashinski became famous as a member of the influential, award-winning hip-hop trio Kleptomaniax before successfully launching his solo career during the 2010s. His 2020 full-length Lucky You demonstrated his lyrical skills and songwriting talents, encompassing lighter, more uplifting songs as well as aggressive street tracks.

Many of Nyashinski songs become very popular and trendy online with great number of streaming and downloads on Boomplay now.
CAREER AND ACHIEVEMENTS
Nyashinski (Nyamari Ongegu) formed Kleptomaniax with Roba (Robert Manyasa) and Collo (Collins Majale) in 1999, when the trio were students at the Nairobi School. The group signed to the Ogopa DJ's label and released debut single "Freak It" in 2002. Performing in a style called kapuka, blending rap with dance-pop, the trio became highly popular, winning accolades from the Chat Awards and Kisima Music Awards. Their biggest hit was 2004's "Tuendelee," a response to those who criticized their sound for being too commercial. Kleptomaniax released their debut album, M4E, in 2005, and were nominated Best African Act at the same year's MTV Europe Music Awards. The group toured the United States two years later. Following 2009's NITT, the three musicians focused on their solo careers.

Nyashinski returned in 2016, releasing a string of hit singles such as the gospel-inspired "Mungu Pekee" and the romantic ballad "Malaika." Subsequent tracks such as 2019's "Marathon Runner" blended modern Afro-pop and hip-hop influences, maintaining an optimistic, confident outlook. Preceded by a virtual concert that was streamed online, Nyashinski released his debut solo album, Lucky You, in April of 2020.

Follow Boomplay and keep up to date with latest Nyashinski songs and information.

Nyashinski Songs
• Hapo Tu
• Malaika
• Bebi Bebi
• Mungu Pekee
• Hayawani
• Free
• Now You Know
• Lift Me Up
• Hello
• Marathon Runner
• Wach Wach
• Na Bado
• Serious
• Finyo
• KEBS
• Fathela
• Aminia
• Goals
• Glory
• #Letigo
• Whoopty Freestyle
• TOP FORM
• Balance
• Greener
• Sweet Aroma
• Flowers
• Everyday
• Too Much
• Chukua Selfie
• Lucky You
• Properly

Nyashinski songs are included in Boomplay music playlists. Search to stream and download Nyashinski songs MP3/ single/ albums on the Boomplay....more

Country/Region : Kenya
Listen to Nyashinski's new songs including "Malaika", "Mungu Pekee", "Bebi Bebi" and many more. Enjoy Nyashinski's latest songs and explore the Nyashinski's new music albums. If you want to download Nyashinski songs MP3, use the Boomplay App to download the Nyashinski songs for free. Discover Nyashinski's latest songs, popular songs, trending songs all on Boomplay.
Kenyan rapper and singer Nyashinski became famous as a member of the influential, award-winning hip-hop trio Kleptomaniax before successfully launching his solo career during the 2010s. His 2020 full-length Lucky You demonstrated his lyrical skills and songwriting talents, encompassing lighter, more uplifting songs as well as aggressive street tracks.

Many of Nyashinski songs become very popular and trendy online with great number of streaming and downloads on Boomplay now.
CAREER AND ACHIEVEMENTS
Nyashinski (Nyamari Ongegu) formed Kleptomaniax with Roba (Robert Manyasa) and Collo (Collins Majale) in 1999, when the trio were students at the Nairobi School. The group signed to the Ogopa DJ's label and released debut single "Freak It" in 2002. Performing in a style called kapuka, blending rap with dance-pop, the trio became highly popular, winning accolades from the Chat Awards and Kisima Music Awards. Their biggest hit was 2004's "Tuendelee," a response to those who criticized their sound for being too commercial. Kleptomaniax released their debut album, M4E, in 2005, and were nominated Best African Act at the same year's MTV Europe Music Awards. The group toured the United States two years later. Following 2009's NITT, the three musicians focused on their solo careers.

Nyashinski returned in 2016, releasing a string of hit singles such as the gospel-inspired "Mungu Pekee" and the romantic ballad "Malaika." Subsequent tracks such as 2019's "Marathon Runner" blended modern Afro-pop and hip-hop influences, maintaining an optimistic, confident outlook. Preceded by a virtual concert that was streamed online, Nyashinski released his debut solo album, Lucky You, in April of 2020.

Follow Boomplay and keep up to date with latest Nyashinski songs and information.

Nyashinski Songs
• Hapo Tu
• Malaika
• Bebi Bebi
• Mungu Pekee
• Hayawani
• Free
• Now You Know
• Lift Me Up
• Hello
• Marathon Runner
• Wach Wach
• Na Bado
• Serious
• Finyo
• KEBS
• Fathela
• Aminia
• Goals
• Glory
• #Letigo
• Whoopty Freestyle
• TOP FORM
• Balance
• Greener
• Sweet Aroma
• Flowers
• Everyday
• Too Much
• Chukua Selfie
• Lucky You
• Properly

Nyashinski songs are included in Boomplay music playlists. Search to stream and download Nyashinski songs MP3/ single/ albums on the Boomplay.
New Comments(
428

)
FAQs about Nyashinski
Where is Nyashinski from?
He is from Kenya.
How to download songs of Nyashinski?
You can download songs of Nyashinski from Boomplay App for free.
Firstly, install Boomplay app on your mobile phone.
Secondly, navigate to the song you would like to download.
Thirdly, Tap on More > Download.