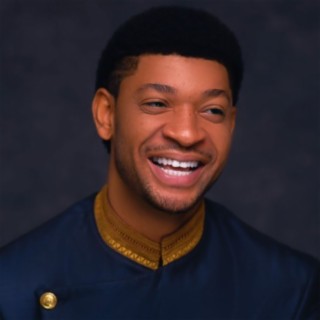 Steve Crown
Current #80

All Time #30

Steve Crown Uche Okolo (born 27 september 1990) popularly known as Steve Crown is a Gospel Music Minister. Many of Steve songs become very popular and trendy online with a great number of streaming and downloads on Boomplay.

He hails from Benue State, North Central of Nigeria, but was born and grew up in Abuja.

Steve Crown became interested in music when he was four and at the age of eight, he joined his church choir (Saint John's Anglican Church). Later he became a part of well-known club Deacon Kids Band.

He has a diploma in law from the University of Abuja and went further to the Federal Polytechnic, Kaura Namoda in Zamfara State where he read Office Technology and Management with the hope of taking more courses in the near future.

Career
Steve's Crown has been into music professionally over two years but he has been into music since he was a kid. He grew up to see his parents in the music world. He was born into an orthodox family that goes to a church where they do all the sofa notes—Do-Re-Mi-Fa Hu-Ha-Ha, and he also got to learn from his mother. Every morning while they observe their morning devotion they usually sing together, worshipping God and since then it became a lifestyle for him, little did he know that it would lead him to the music industry as he was not looking forward to a career in music. Steve Crown, however, continues to sing gospel songs in concerts, making videos for his songs, and sending his message to the world.

Steve began singing at age four and later joined the choir in his local Anglican church at eight. He developed a love for drumming and he often irked his parents with his frequent drumming.

He was more into visual arts and often did paintings, music was hardly in his future plans but destiny had to prevail. In his awe of God's magnificence and mystery of creation, he was inspired to sing "you are great" and that was it.

He never envisaged fame and the myriad of attention, he just wanted to touch lives with his songs, he only needed to express how awestruck he was about the enigma of God's existence. Steve today is preoccupied with ministries around the country, which was an offshoot of the success of his hit single "you are great". Steve Crown is now into music full time.

Steve Crown is the founder and president of "Lakelight Entertainment". A record label with a vision and mission to discover talents, listen and help create a platform that will help them create a positive impact in the society. Lakelight Entertainment also aims at helping young gospel music aspirants find their place in life, achieve their goals and teach them to work hard for the achievement of their goals and discover the Greatness of God and to also help transform the lives of people with gospel medley.

Lakelight Entertainment is also a platform used in promoting God's works through music and saving of souls. Lakelight Entertainment also started a foundation which gave birth to " Nations will Rise and Sing Concert" which took place in Abuja on the 22nd of October 2017.

Achievements
• He was nominated during the 2016 African Entertainment legendary award for the Best Artist of the year category
• He was nominated during the 2016 African Entertainment legendary award for the Gospel song of the year category
• He was also nominated at the Christian Legendary impact makers awards

Follow Boomplay and keep up-to-date with the latest Steve Crown songs and information.

Steve Crown Songs
• You Are Great
• You are yahweh
• We Wait On You
• Healing Wings,
• All the Glory
• Angels Bow
• Awesome God
• Imela
• You Alone Egbe jesu Ga
• Ejiro
• God Of Wonders
• Spirit of God
• Sunansa

Steve Crown songs are included in Boomplay music playlists. Search to stream and download Steve Crown songs MP3/ single/ albums on the platform....more

Country/Region : Nigeria
Listen to Steve Crown's new songs including "You Are Yahweh", "You Are Great", "All The Glory" and many more. Enjoy Steve Crown's latest songs and explore the Steve Crown's new music albums. If you want to download Steve Crown songs MP3, use the Boomplay App to download the Steve Crown songs for free. Discover Steve Crown's latest songs, popular songs, trending songs all on Boomplay.
Steve Crown Uche Okolo (born 27 september 1990) popularly known as Steve Crown is a Gospel Music Minister. Many of Steve songs become very popular and trendy online with a great number of streaming and downloads on Boomplay.

He hails from Benue State, North Central of Nigeria, but was born and grew up in Abuja.

Steve Crown became interested in music when he was four and at the age of eight, he joined his church choir (Saint John's Anglican Church). Later he became a part of well-known club Deacon Kids Band.

He has a diploma in law from the University of Abuja and went further to the Federal Polytechnic, Kaura Namoda in Zamfara State where he read Office Technology and Management with the hope of taking more courses in the near future.

Career
Steve's Crown has been into music professionally over two years but he has been into music since he was a kid. He grew up to see his parents in the music world. He was born into an orthodox family that goes to a church where they do all the sofa notes—Do-Re-Mi-Fa Hu-Ha-Ha, and he also got to learn from his mother. Every morning while they observe their morning devotion they usually sing together, worshipping God and since then it became a lifestyle for him, little did he know that it would lead him to the music industry as he was not looking forward to a career in music. Steve Crown, however, continues to sing gospel songs in concerts, making videos for his songs, and sending his message to the world.

Steve began singing at age four and later joined the choir in his local Anglican church at eight. He developed a love for drumming and he often irked his parents with his frequent drumming.

He was more into visual arts and often did paintings, music was hardly in his future plans but destiny had to prevail. In his awe of God's magnificence and mystery of creation, he was inspired to sing "you are great" and that was it.

He never envisaged fame and the myriad of attention, he just wanted to touch lives with his songs, he only needed to express how awestruck he was about the enigma of God's existence. Steve today is preoccupied with ministries around the country, which was an offshoot of the success of his hit single "you are great". Steve Crown is now into music full time.

Steve Crown is the founder and president of "Lakelight Entertainment". A record label with a vision and mission to discover talents, listen and help create a platform that will help them create a positive impact in the society. Lakelight Entertainment also aims at helping young gospel music aspirants find their place in life, achieve their goals and teach them to work hard for the achievement of their goals and discover the Greatness of God and to also help transform the lives of people with gospel medley.

Lakelight Entertainment is also a platform used in promoting God's works through music and saving of souls. Lakelight Entertainment also started a foundation which gave birth to " Nations will Rise and Sing Concert" which took place in Abuja on the 22nd of October 2017.

Achievements
• He was nominated during the 2016 African Entertainment legendary award for the Best Artist of the year category
• He was nominated during the 2016 African Entertainment legendary award for the Gospel song of the year category
• He was also nominated at the Christian Legendary impact makers awards

Follow Boomplay and keep up-to-date with the latest Steve Crown songs and information.

Steve Crown Songs
• You Are Great
• You are yahweh
• We Wait On You
• Healing Wings,
• All the Glory
• Angels Bow
• Awesome God
• Imela
• You Alone Egbe jesu Ga
• Ejiro
• God Of Wonders
• Spirit of God
• Sunansa

Steve Crown songs are included in Boomplay music playlists. Search to stream and download Steve Crown songs MP3/ single/ albums on the platform.