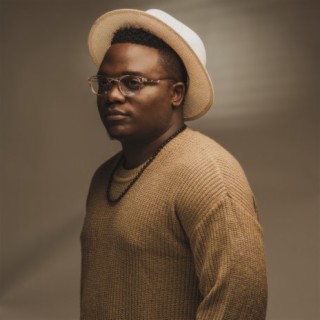 Joel Lwaga
Current #1,858

All Time #1,822

Joel Lwaga was born on the 23rd of September in a Christian family from Dar es Salaam. He completed his primary, secondary and university education before venturing into full-time music. He holds a bachelor's degree in Economics. Many of Joel Lwaga songs become very popular and trendy online with a great number of streaming and downloads on Boomplay.

Career
Joel Lwaga discovered his musical talent at a very early age and started working hard towards achieving his dreams of being a successful singer. His songs revolve around hope, truth, and love of God. His music styles also entail praise and worship and he is also known to be a good piano player.

Lwaga is also a talented and reputable songwriter. Most of his songs are focused on his personal experiences with God. He once confessed that with this inspiration, he finds it easy to write music.
He is one of the biggest Tanzanian gospel artistes, having ministered in almost all the countries in Eastern Africa, including Kenya. His passion has also earned him multiple awards, including the highly coveted EastAfrica Male Artist of the Year 2019.

Asides from singing, Lwaga is a recognized preacher and popular across East Africa. In 2018, he ministered in Kenya. He has also been opportune to minister in several other East African countries.
Joel Lwaga is an award-winning Tanzanian Gospel minister and recording artist, currently signed to Heaven Culture on Earth (HCE).

Achievements
• In 2018, he won the Maranatha Global Worship Music Awards Best Petition Song for 'Sitabaki Kama Nilivyo'.
• In 2019, he was the EastAfrica Male Artist of the Year 2019.

Follow Boomplay and keep up to date with the latest Joel Lwaga songs and information.

Other Info
Joel Lwaga got married to his longtime girlfriend, Peace Jopec in November 2020. The wedding came months after Peace got engaged to Joel during an invite-only affair that happened in July 2020. The beautiful ceremony wat the talk of the day, as it was graced by close family members, friends and musicians from the Tanzanian gospel industry.

Joel Lwaga Songs
• Wanitazama
• Wadumu Milele
• Waweza
• Unaweza
• Nafasi Nyingine
• Yote Mema
• Umejua Kunifurahisha
• Mimi ni Wajuu

Joel Lwaga songs are included in Boomplay music playlists. Search to stream and download Joel Lwaga songs MP3/ single/ albums on the platform....more

Country/Region : Tanzania
Listen to Joel Lwaga's new songs including "Umejua Kunifurahisha ft.Chris Shalom", "Nafasi Nyingine", "Mimi Ni Wa Juu" and many more. Enjoy Joel Lwaga's latest songs and explore the Joel Lwaga's new music albums. If you want to download Joel Lwaga songs MP3, use the Boomplay App to download the Joel Lwaga songs for free. Discover Joel Lwaga's latest songs, popular songs, trending songs all on Boomplay.
Joel Lwaga was born on the 23rd of September in a Christian family from Dar es Salaam. He completed his primary, secondary and university education before venturing into full-time music. He holds a bachelor's degree in Economics. Many of Joel Lwaga songs become very popular and trendy online with a great number of streaming and downloads on Boomplay.

Career
Joel Lwaga discovered his musical talent at a very early age and started working hard towards achieving his dreams of being a successful singer. His songs revolve around hope, truth, and love of God. His music styles also entail praise and worship and he is also known to be a good piano player.

Lwaga is also a talented and reputable songwriter. Most of his songs are focused on his personal experiences with God. He once confessed that with this inspiration, he finds it easy to write music.
He is one of the biggest Tanzanian gospel artistes, having ministered in almost all the countries in Eastern Africa, including Kenya. His passion has also earned him multiple awards, including the highly coveted EastAfrica Male Artist of the Year 2019.

Asides from singing, Lwaga is a recognized preacher and popular across East Africa. In 2018, he ministered in Kenya. He has also been opportune to minister in several other East African countries.
Joel Lwaga is an award-winning Tanzanian Gospel minister and recording artist, currently signed to Heaven Culture on Earth (HCE).

Achievements
• In 2018, he won the Maranatha Global Worship Music Awards Best Petition Song for 'Sitabaki Kama Nilivyo'.
• In 2019, he was the EastAfrica Male Artist of the Year 2019.

Follow Boomplay and keep up to date with the latest Joel Lwaga songs and information.

Other Info
Joel Lwaga got married to his longtime girlfriend, Peace Jopec in November 2020. The wedding came months after Peace got engaged to Joel during an invite-only affair that happened in July 2020. The beautiful ceremony wat the talk of the day, as it was graced by close family members, friends and musicians from the Tanzanian gospel industry.

Joel Lwaga Songs
• Wanitazama
• Wadumu Milele
• Waweza
• Unaweza
• Nafasi Nyingine
• Yote Mema
• Umejua Kunifurahisha
• Mimi ni Wajuu

Joel Lwaga songs are included in Boomplay music playlists. Search to stream and download Joel Lwaga songs MP3/ single/ albums on the platform.