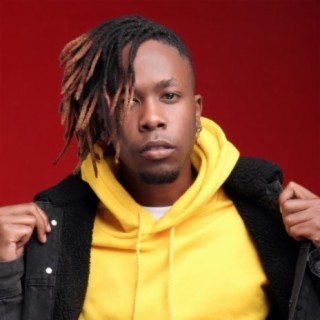 Lexsil
Current #2,830

All Time #3,589

Alex Mosongo Popularly known as Lexsil is a Kenyan Afrobeat singer, song writer and a performing artist. Born and raised in Kenya, Lexsil is one of a kind artist who strive for success and fame. Many of Lexsil's Songs became very popular and trendy on social media in line with a great number of streaming and downloads on Boomplay.

Career.
Alex was born and raised in Nakuru but later moved to Nairobi to make his dreams come true since his passion for music ignited when he was still a teen. He used to do freestyles whenever he was bored and this really boosted his talent and passion for music. Lexsil made his debut in the music scene with his first single bambam.

The song was produced by Letrupers with the video being done by Danny Igizza And So Fly Keirahn. Kenyan music has a lot of spice in the past that many might have already been forgotten, with it having a long history of filthy lyrics in it.

The music industry In Kenya has Hooted musical talents and every month there is fresh music hitting the airwaves. It is evident that the industry has grown in leaps and bounds over the years. He has over 5 albums and his latest album being "Bounce: which was released on 3rd Dec 2021. His other albums "Remedy" featuring Otile brown, "Marry Me" ft Jovial, "Dance Along" and Your Love have been such a great-bangers for the artists' career.

The Kenyan Afro-Pop Artist has become a renowned artist known for his versatility, storytelling and dynamic range. He is a vibrant entertainer and musician who likes to get his audience involved with singing and dancing. He is featured on Boomplays playlist Focus: Lexsil where all his songs have been promoted. He has had quite a success on Boomplay with his total jams gaining massive hits of over 2.2 Million streams Follow Boomplay and keep up-to-date with the latest songs of Lexsil and information.

Lexsil's Songs
• Bounce
• Remedy
• Marry You
• Dance Along
• Your Love
• Die For You
• Nataka Kulewa

Lexsil's Songs are included in Boomplay music playlists. Search, stream, and download Lexsil's Songs, his latest singles and albums in MP3 only on the Boomplay platform for free....more

Country/Region : Kenya
Listen to Lexsil's new songs including "Bounce ft. Otile Brown", "Let Me Love You ft. Phina", "By Your Side ft. Rayvanny" and many more. Enjoy Lexsil's latest songs and explore the Lexsil's new music albums. If you want to download Lexsil songs MP3, use the Boomplay App to download the Lexsil songs for free. Discover Lexsil's latest songs, popular songs, trending songs all on Boomplay.
Alex Mosongo Popularly known as Lexsil is a Kenyan Afrobeat singer, song writer and a performing artist. Born and raised in Kenya, Lexsil is one of a kind artist who strive for success and fame. Many of Lexsil's Songs became very popular and trendy on social media in line with a great number of streaming and downloads on Boomplay.

Career.
Alex was born and raised in Nakuru but later moved to Nairobi to make his dreams come true since his passion for music ignited when he was still a teen. He used to do freestyles whenever he was bored and this really boosted his talent and passion for music. Lexsil made his debut in the music scene with his first single bambam.

The song was produced by Letrupers with the video being done by Danny Igizza And So Fly Keirahn. Kenyan music has a lot of spice in the past that many might have already been forgotten, with it having a long history of filthy lyrics in it.

The music industry In Kenya has Hooted musical talents and every month there is fresh music hitting the airwaves. It is evident that the industry has grown in leaps and bounds over the years. He has over 5 albums and his latest album being "Bounce: which was released on 3rd Dec 2021. His other albums "Remedy" featuring Otile brown, "Marry Me" ft Jovial, "Dance Along" and Your Love have been such a great-bangers for the artists' career.

The Kenyan Afro-Pop Artist has become a renowned artist known for his versatility, storytelling and dynamic range. He is a vibrant entertainer and musician who likes to get his audience involved with singing and dancing. He is featured on Boomplays playlist Focus: Lexsil where all his songs have been promoted. He has had quite a success on Boomplay with his total jams gaining massive hits of over 2.2 Million streams Follow Boomplay and keep up-to-date with the latest songs of Lexsil and information.

Lexsil's Songs
• Bounce
• Remedy
• Marry You
• Dance Along
• Your Love
• Die For You
• Nataka Kulewa

Lexsil's Songs are included in Boomplay music playlists. Search, stream, and download Lexsil's Songs, his latest singles and albums in MP3 only on the Boomplay platform for free.
New Comments(
23

)
FAQs about Lexsil
Where is Lexsil from?
He is from Kenya.
What are the latest songs of Lexsil?
The latest songs of Lexsil are By Your Side ft. Rayvanny, Let Me Love You ft. Phina and This Love.
What are the best songs of Lexsil?
The best songs of Lexsil are Bounce ft. Otile Brown, Remedy ft. Otile Brown and Marry You ft. Jovial.
What are the best albums of Lexsil?
The best albums of Lexsil are Bounce, Remedy ft. Otile Brown and Marry You.
How to download songs of Lexsil?
You can download songs of Lexsil from Boomplay App for free.
Firstly, install Boomplay app on your mobile phone.
Secondly, navigate to the song you would like to download.
Thirdly, Tap on More > Download.