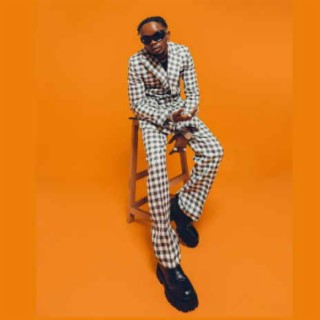 Marioo
Current #295

All Time #246

Omari Mwanga, popularly known as Marioo, is a Tanzanian singer, songwriter, and record producer born in 1995. Many of Marioo (TZ) songs become very popular and trendy online with a great number of streaming and downloads on Boomplay.

Career
Marioo began his career as a welding technician in Dar es Salaam, where he was motivated to become a singer despite financial obstacles. Dar Kugumu, his debut album, was recorded in 2017 and released in January 2018 by Instinct Records.

In the same year, he composed a series of successful tracks, including Wasikudanganye, which was sung by Nandy, Nampa PAPA, which was performed by Gigy Money, Nabembea, which was performed by Ditto, and PAMBE, which was performed by Christian Bella.

His debut single (Dar Kugumu) was a huge success, reaching number one on nearly all Tanzanian radio stations.

He's written songs for artists like Nandy, Gigy Money, Ditto, and Christian Bella.

In 2018, he released his first single, 'Dar Kugumu.' The song was an instant smash, and it was played on big nightclubs and local radio stations.

He has since released several songs, including 'Chibonge,' 'Inatosha,' and 'Ya Uchungu.'

Marioo is best known for his singles 'Unanikosha' and 'Chibonge'.

Follow Boomplay and keep up to date with the latest Marioo (TZ) songs and information.

Marioo (TZ) Songs
• Mi Amor
• Inatosha
• Mama Amina
• Unanionea
• Raha
• Unanikosha
• Subira
• WOW
• Aya
• Yale

Marioo (TZ) songs are included in Boomplay music playlists. Search to stream and download Marioo songs MP3/ single/ albums on the platform....more

Country/Region : Tanzania
Listen to Marioo's new songs including "For You", "Inatosha", "Unanionea" and many more. Enjoy Marioo's latest songs and explore the Marioo's new music albums. If you want to download Marioo songs MP3, use the Boomplay App to download the Marioo songs for free. Discover Marioo's latest songs, popular songs, trending songs all on Boomplay.
Omari Mwanga, popularly known as Marioo, is a Tanzanian singer, songwriter, and record producer born in 1995. Many of Marioo (TZ) songs become very popular and trendy online with a great number of streaming and downloads on Boomplay.

Career
Marioo began his career as a welding technician in Dar es Salaam, where he was motivated to become a singer despite financial obstacles. Dar Kugumu, his debut album, was recorded in 2017 and released in January 2018 by Instinct Records.

In the same year, he composed a series of successful tracks, including Wasikudanganye, which was sung by Nandy, Nampa PAPA, which was performed by Gigy Money, Nabembea, which was performed by Ditto, and PAMBE, which was performed by Christian Bella.

His debut single (Dar Kugumu) was a huge success, reaching number one on nearly all Tanzanian radio stations.

He's written songs for artists like Nandy, Gigy Money, Ditto, and Christian Bella.

In 2018, he released his first single, 'Dar Kugumu.' The song was an instant smash, and it was played on big nightclubs and local radio stations.

He has since released several songs, including 'Chibonge,' 'Inatosha,' and 'Ya Uchungu.'

Marioo is best known for his singles 'Unanikosha' and 'Chibonge'.

Follow Boomplay and keep up to date with the latest Marioo (TZ) songs and information.

Marioo (TZ) Songs
• Mi Amor
• Inatosha
• Mama Amina
• Unanionea
• Raha
• Unanikosha
• Subira
• WOW
• Aya
• Yale

Marioo (TZ) songs are included in Boomplay music playlists. Search to stream and download Marioo songs MP3/ single/ albums on the platform.
New Comments(
336

)
FAQs about Marioo
Where is Marioo from?
He is from Tanzania.
How to download songs of Marioo?
You can download songs of Marioo from Boomplay App for free.
Firstly, install Boomplay app on your mobile phone.
Secondly, navigate to the song you would like to download.
Thirdly, Tap on More > Download.