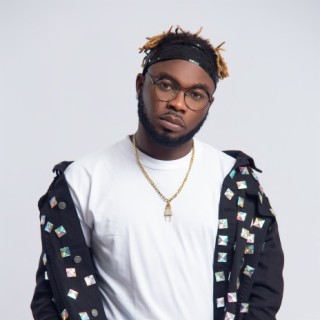 Slimcase
Current #3,413

All Time #1,241

Oluwafemi Oladapo (born August 22, 1982) is widely known by the moniker, Slimcase, a 39 years old Nigerian recording artist, rapper, songwriter, hypeman, and actor. Many of Slimcase songs become very popular and trendy online with a great number of streaming and downloads on Boomplay.

Slimcase, who had been working as a hypeman for clubs and parties, hit it big in the industry after being featured on the hit single, Shepeteri, by Idowest. Known for being one of the promoters of the street dance, Shaku Shaku, he became more popular after the release of the songs, Issa Banger and Codeine Diet. As a result, Slimcase won the City People Entertainment Award for Best Collabo in 2018.

Career
Slimcase took up an interest in music during his senior year in high school, and he aspired to be a rapper. Starting out with rapping only in English, he began infusing his native dialect, Yoruba, into his songs.

Breaking into the industry wasn't an easy task for Slimcase due to the thousands of talents in the country. Since he was yet to make any money from his music pursuit, he decided to work as a hypeman and make music on the side.

This was the start of great things for Slimcase because he moved from performing at a single job to doing gigs at multiple clubs within months of taking up the profession. It wasn't long before he became one of the highest-paid hypemen in Lagos State, a nightlife entertainment hub.

Because Slimcase performed at some of the top clubs and lounges in Nigeria, he got the opportunity to meet with a lot of music stars who came to have a good time at those establishments. And he was able to build a relationship with these artists, which would prove helpful when he decided to launch his music career once again.

Slimcase got his chance when indigenous rapper, Idowest featured him on the popular single, Shepeteri. The song was a massive hit across the country and was voted one of the top-charting Street-Pop songs of 2017 and 2018. The song also helped promote the street dance, Shaku Shaku, which became the preferred dance move of many Nigerians.

Riding on the wave of Shepeteri's success, Slimcase released his own hit songs, Oshozondi and Otunba Lamba. The songs were quite popular among Street-Pop music lovers, which brought many collaboration opportunities to Slimcase.

Within two years, Slimcase had worked with some of the country's biggest artists such as Tiwa Savage, DJ Neptune, Mr Real, D'banj, DJ Enimoney, Olamide, Zlatan Ibile, 2Baba, Larry Gaaga, Mz Kiss, Wizkid, Yemi Alade, Mr Eazi, CDQ and Peruzzi.

In his bid to help upcoming artists achieve success in the industry, Slimcase organizes and hosts a weekly IG Live session for rappers. Every week, he invites an underground rapper to the show to display their talent. The goal is to help these music acts build their fanbase.

Follow Boomplay and keep up-to-date with the latest Slimcase songs and information.

Slimcase Songs
• Ijoba
• Azaman
• Focus Vibe
• Eze Ego
• Diet
• Erica
• Pongilah
• Help!!!
• LambaXtra
• Hawahoo
• MajeOmo
• Furoonaire
• Kalamo
• Mr Dickson
• Omo Shepeteri
• Otunba Lamba
• Oh Baby Ringtone

Achievement
• The 2018 City People Entertainment Award for Best Collabo
• Nominated for Best Street-Hop Artiste at The Headies 2018
• Nominated for Best New Act at the Nigerian Entertainment Awards in 2018

Slimcase songs are included in Boomplay music playlists. Search to stream and download Slimcase songs MP3/ single/ albums on the platform....more

Country/Region : Nigeria
Listen to Slimcase's new songs including "Focus Vibe", "Pongilah ft. Zlatan", "Erica" and many more. Enjoy Slimcase's latest songs and explore the Slimcase's new music albums. If you want to download Slimcase songs MP3, use the Boomplay App to download the Slimcase songs for free. Discover Slimcase's latest songs, popular songs, trending songs all on Boomplay.
Oluwafemi Oladapo (born August 22, 1982) is widely known by the moniker, Slimcase, a 39 years old Nigerian recording artist, rapper, songwriter, hypeman, and actor. Many of Slimcase songs become very popular and trendy online with a great number of streaming and downloads on Boomplay.

Slimcase, who had been working as a hypeman for clubs and parties, hit it big in the industry after being featured on the hit single, Shepeteri, by Idowest. Known for being one of the promoters of the street dance, Shaku Shaku, he became more popular after the release of the songs, Issa Banger and Codeine Diet. As a result, Slimcase won the City People Entertainment Award for Best Collabo in 2018.

Career
Slimcase took up an interest in music during his senior year in high school, and he aspired to be a rapper. Starting out with rapping only in English, he began infusing his native dialect, Yoruba, into his songs.

Breaking into the industry wasn't an easy task for Slimcase due to the thousands of talents in the country. Since he was yet to make any money from his music pursuit, he decided to work as a hypeman and make music on the side.

This was the start of great things for Slimcase because he moved from performing at a single job to doing gigs at multiple clubs within months of taking up the profession. It wasn't long before he became one of the highest-paid hypemen in Lagos State, a nightlife entertainment hub.

Because Slimcase performed at some of the top clubs and lounges in Nigeria, he got the opportunity to meet with a lot of music stars who came to have a good time at those establishments. And he was able to build a relationship with these artists, which would prove helpful when he decided to launch his music career once again.

Slimcase got his chance when indigenous rapper, Idowest featured him on the popular single, Shepeteri. The song was a massive hit across the country and was voted one of the top-charting Street-Pop songs of 2017 and 2018. The song also helped promote the street dance, Shaku Shaku, which became the preferred dance move of many Nigerians.

Riding on the wave of Shepeteri's success, Slimcase released his own hit songs, Oshozondi and Otunba Lamba. The songs were quite popular among Street-Pop music lovers, which brought many collaboration opportunities to Slimcase.

Within two years, Slimcase had worked with some of the country's biggest artists such as Tiwa Savage, DJ Neptune, Mr Real, D'banj, DJ Enimoney, Olamide, Zlatan Ibile, 2Baba, Larry Gaaga, Mz Kiss, Wizkid, Yemi Alade, Mr Eazi, CDQ and Peruzzi.

In his bid to help upcoming artists achieve success in the industry, Slimcase organizes and hosts a weekly IG Live session for rappers. Every week, he invites an underground rapper to the show to display their talent. The goal is to help these music acts build their fanbase.

Follow Boomplay and keep up-to-date with the latest Slimcase songs and information.

Slimcase Songs
• Ijoba
• Azaman
• Focus Vibe
• Eze Ego
• Diet
• Erica
• Pongilah
• Help!!!
• LambaXtra
• Hawahoo
• MajeOmo
• Furoonaire
• Kalamo
• Mr Dickson
• Omo Shepeteri
• Otunba Lamba
• Oh Baby Ringtone

Achievement
• The 2018 City People Entertainment Award for Best Collabo
• Nominated for Best Street-Hop Artiste at The Headies 2018
• Nominated for Best New Act at the Nigerian Entertainment Awards in 2018

Slimcase songs are included in Boomplay music playlists. Search to stream and download Slimcase songs MP3/ single/ albums on the platform.
New Comments(
106

)
FAQs about Slimcase
Where is Slimcase from?
He is from Nigeria.
What are the latest songs of Slimcase?
The latest songs of Slimcase are Azaman ft. Peruzzi, dj neptune, 2baba & Larry Gaaga, XL ft. Lord Sky and Getty Ehh ft. Terri.
What are the best songs of Slimcase?
The best songs of Slimcase are Focus Vibe, Pongilah ft. Zlatan and Erica.
What are the best albums of Slimcase?
The best albums of Slimcase are Focus Vibe, THE SLIM CASE SHOW - The Evolution and Pongilah.
How to download songs of Slimcase?
You can download songs of Slimcase from Boomplay App for free.
Firstly, install Boomplay app on your mobile phone.
Secondly, navigate to the song you would like to download.
Thirdly, Tap on More > Download.