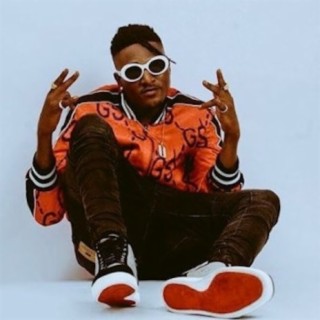 Idowest
Current #3,107

All Time #2,053

Adekunle Idowu (born November 2, 1992) is a popular Nigerian rapper and songwriter who goes by the stage name, Idowest. Many of Idowest songs become very popular and trendy online with a great number of streaming and downloads on Boomplay. The musical act is currently signed to Davido Music Worldwide record label.

He came to the limelight in 2017 after he dropped the hit single, Shepeteri. Idowest was bred in the mainland part of the city of Lagos. He is a Yoruba boy who hails from one of the southwest states. He became interested in music as a teenager and started composing music lyrics to rap.

Idowest rapped mainly in his Yoruba dialect and pidgin. He always did freestyle raps in the presence of his mates in school and neighborhood. Together with his friends, C Blvck and Abramsoul, he formed the music group, M.A.F.I.A.

Career
As an upcoming artist, Idowest often visited a studio close to his house to record singles. As his popularity as a rapper grew, he started receiving invitations to perform at local shows and concerts in Lagos.

Idowest came to the limelight in 2017 after he dropped the hit single, Shepeteri, featuring Slimcase.

In 2018, he added to his success by signing a recording deal with Davido Music Worldwide. Thus he became a part of the DMW family, joining co-label acts Peruzzi, Mayorkun, Dremo, Yonda.

In December 2020, he released the hit single, No Girlfriend No Problem (NPNG). He featured Zlatan Ibile in the song. At the moment, the song is trending on major music platforms across the world. It has also become an anthem in the streets.

In a career spanning the past five years, Idowest has worked with some of Nigeria's top music acts such as Davido, Olamide, Danagog, Dammy Krane, Jaywon, Peruzzi, and Zlatan Ibile. Idowest is the brand ambassador of the cryptocurrency trading firm, Jeroid Nigeria.

Follow Boomplay and keep up-to-date with the latest Idowest songs and information.

Idowest Songgs
• No Problem No Girlfriend
• Shepeteri
• Ji Masun
• Eko
• Handkerchief
• Gbese Nle
• Bebedi
• Owanle Eko
• G Level
• Movement (For My Arena) (featured by Small Baddo)

Idowest songs are included in Boomplay music playlists. Search to stream and download Idowest songs MP3/ single/ albums on the platform....more

Country/Region : Nigeria
Songs

(36)

Albums

(17)

Playlists

(2)
1

2

3

4

5

6

7

8

9

10

11

12

13

14

15

16

17

18

19

20

21

22

23

24

25

26

27

28

29

30

31

32

33

34

35

36
Listen to Idowest's new songs including "Kabaa ft. Mayorkun", "Mafia Tension ft. Bella Shmurda", "Caro ft. Davido" and many more. Enjoy Idowest's latest songs and explore the Idowest's new music albums. If you want to download Idowest songs MP3, use the Boomplay App to download the Idowest songs for free. Discover Idowest's latest songs, popular songs, trending songs all on Boomplay.
Adekunle Idowu (born November 2, 1992) is a popular Nigerian rapper and songwriter who goes by the stage name, Idowest. Many of Idowest songs become very popular and trendy online with a great number of streaming and downloads on Boomplay. The musical act is currently signed to Davido Music Worldwide record label.

He came to the limelight in 2017 after he dropped the hit single, Shepeteri. Idowest was bred in the mainland part of the city of Lagos. He is a Yoruba boy who hails from one of the southwest states. He became interested in music as a teenager and started composing music lyrics to rap.

Idowest rapped mainly in his Yoruba dialect and pidgin. He always did freestyle raps in the presence of his mates in school and neighborhood. Together with his friends, C Blvck and Abramsoul, he formed the music group, M.A.F.I.A.

Career
As an upcoming artist, Idowest often visited a studio close to his house to record singles. As his popularity as a rapper grew, he started receiving invitations to perform at local shows and concerts in Lagos.

Idowest came to the limelight in 2017 after he dropped the hit single, Shepeteri, featuring Slimcase.

In 2018, he added to his success by signing a recording deal with Davido Music Worldwide. Thus he became a part of the DMW family, joining co-label acts Peruzzi, Mayorkun, Dremo, Yonda.

In December 2020, he released the hit single, No Girlfriend No Problem (NPNG). He featured Zlatan Ibile in the song. At the moment, the song is trending on major music platforms across the world. It has also become an anthem in the streets.

In a career spanning the past five years, Idowest has worked with some of Nigeria's top music acts such as Davido, Olamide, Danagog, Dammy Krane, Jaywon, Peruzzi, and Zlatan Ibile. Idowest is the brand ambassador of the cryptocurrency trading firm, Jeroid Nigeria.

Follow Boomplay and keep up-to-date with the latest Idowest songs and information.

Idowest Songgs
• No Problem No Girlfriend
• Shepeteri
• Ji Masun
• Eko
• Handkerchief
• Gbese Nle
• Bebedi
• Owanle Eko
• G Level
• Movement (For My Arena) (featured by Small Baddo)

Idowest songs are included in Boomplay music playlists. Search to stream and download Idowest songs MP3/ single/ albums on the platform.
New Comments(
31

)
FAQs about Idowest
Where is Idowest from?
He is from Nigeria.
How to download songs of Idowest?
You can download songs of Idowest from Boomplay App for free.
Firstly, install Boomplay app on your mobile phone.
Secondly, navigate to the song you would like to download.
Thirdly, Tap on More > Download.