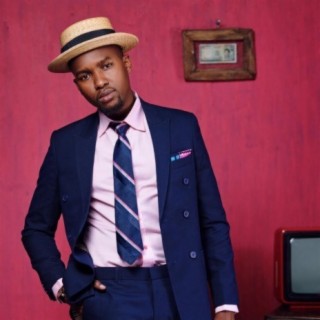 G Nako
Current #11.4k

All Time #5,117

George Sixtus Mdemu alias Gnako is a Tanzanian rapper, stylist and designer. Many G Nako's songs become very popular and trendy online with a great number of streaming and downloads on Boomplay.

He was born in May 1983. He is the first son of three children in the family of Mdemu. He has two sisters who are not really known in the public scene.

Career
Gnako started out his music career back in 1998 while studying at Nangwa Technical School with his friend Bunako, who together they formed the chronic Mob group. Later in the year 2000,G Nako left his friend to join another group called Nako 2 Nako (N2N) Soldiers led by Isaac Waziri popularly known as Lord Eyes. While at N2N, G Nako was able to produce a number of top songs. In his music career, he has been able to brush shoulders with the who is who in the music industry.

Achievement
Under the Weusi Music group they got the award of the best music group at the Kilimanjaro Music Awards of 2012 - 2013.

Follow Boomplay and keep up-to-date with the latest G Nako's songs and information.

G Nako Songs:
• Ma Ole
• Gusanisha
• Mfalme
• Lucky me
• Nuru
• Edda
• Morale
• Nuru
• Nyatu Nyatu

Net Worth:
His net worth has not been publicly declared, but from a look at his social media pages, he is doing well enough to fend for his family.

G Nako's songs are included in Boomplay music playlists. Search to stream and download G Nako's songs MP3/Single/Albums on the platform....more

Country : Tanzania
Songs

(38)

Albums

(30)

Playlists

(13)
1

2

3

4

5

6

7

8

9

10

11

12

13

14

15

16

17

18

19

20

21

22

23

24

25

26

27

28

29

30

31

32

33

34

35

36

37

38
Listen to G Nako's new songs including "Shika Shika ft. Young Lunya", "Poison ft. Country Wizzy", "Acha Dharau" and many more. Enjoy G Nako's latest songs and explore the G Nako's new music albums. If you want to download G Nako songs MP3, use the Boomplay App to download the G Nako songs for free. Discover G Nako's latest songs, popular songs, trending songs all on Boomplay.
George Sixtus Mdemu alias Gnako is a Tanzanian rapper, stylist and designer. Many G Nako's songs become very popular and trendy online with a great number of streaming and downloads on Boomplay.

He was born in May 1983. He is the first son of three children in the family of Mdemu. He has two sisters who are not really known in the public scene.

Career
Gnako started out his music career back in 1998 while studying at Nangwa Technical School with his friend Bunako, who together they formed the chronic Mob group. Later in the year 2000,G Nako left his friend to join another group called Nako 2 Nako (N2N) Soldiers led by Isaac Waziri popularly known as Lord Eyes. While at N2N, G Nako was able to produce a number of top songs. In his music career, he has been able to brush shoulders with the who is who in the music industry.

Achievement
Under the Weusi Music group they got the award of the best music group at the Kilimanjaro Music Awards of 2012 - 2013.

Follow Boomplay and keep up-to-date with the latest G Nako's songs and information.

G Nako Songs:
• Ma Ole
• Gusanisha
• Mfalme
• Lucky me
• Nuru
• Edda
• Morale
• Nuru
• Nyatu Nyatu

Net Worth:
His net worth has not been publicly declared, but from a look at his social media pages, he is doing well enough to fend for his family.

G Nako's songs are included in Boomplay music playlists. Search to stream and download G Nako's songs MP3/Single/Albums on the platform.
New Comments(
28

)