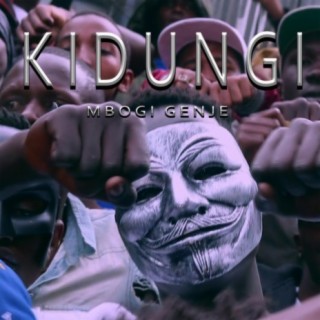 Mbogi Genje
Current #11.9k

All Time #9,240

Mbogi Genje is a musical group made up of three members namely; Smady (Antony Odhiambo), Guzman (Teddy Ochieng) and Militant (Malaka Yuen). They hail from Umoja, Eastlands, Nairobi. At first, the group was made up of Smady Tingz and Militant who had been rapping from a young age.

Later, Guzman joined the equation to form a three-man group. Their song lyrics are mostly written in Sheng, a lingua franca that is very popular among Kenyan youth, especially those from the hood.

Many of Mbogi Genje's Songs became very popular and trendy on social media in line with a great number of streaming and downloads on Boomplay.

Career
While breaking through the music scenes in the past was such a hustle, today it's a bit easy. One still has to work hard and get a huge fan base but now social media platforms and YouTube have made it easier for some artists including Mbogi Genje.

The trio became famous after their first song became a hit. Thanks to YouTube and other social media platforms, 'Ngumi Mbwegze' became a sensation. This song which propelled them to the limelight was a true work of art and gave a different vibe compared to most of today's songs.

The video had no vixens but was rather a raw piece depicting crime and drugs. This song and the others they released after have been well received by many, even parents. This is because unlike most other groups, this particular group is yet to do sexualized songs. The trio later revealed that their focus is not on gengetone only but other genres, such as dancehall and hip hop. The inspiration of their music comes from their experiences while growing up.

They aspire to see youths come out of poverty and make something out of their lives. Guzman who is a reformed drug peddler further urges the youth to use their talent rather than crime to make money. The group recently had a meeting with Nairobi governor Mike Sonko who gave them a macbook pro, cash and even promised to provide them with an office where they can conduct business.

The group has been made ambassadors against drug abuse by RFH healthcare. On 3rd June 2020, they discussed the myths most people have with them, such as associating them with gangsterism which they are not. They are inspired by old school artists such as Vybz Kartel, Mavado and Tommy Lee.

Achievements
The group continues to enjoy success in its musical career. They attribute this to their hard work and consistency at their craft. They have won awards and gotten nominations and recognitions over their career such as the Kisima award. Some of their songs include Ngumi Bwegze, Bloodwar, Kuja Mbaya, Kidunga, and Warena.

Warena is the song that caught the attention of James Orengo during the Skiza Tune celebrations terming it as greatly artistic. The group has worked with other Kenyan artists including Bahati and Papa Jones hoping to work with more international artists.

The group's net worth is approximately $100,000. While the group is not that old in the game, they seem to be doing well. In fact, were it not for the pandemic, they could have performed in a number of shows this. According to media reports, the group has moved to a new posh address.

Follow Boomplay and keep up-to-date with the latest songs of Mbogi Genje and information.

Mbogi Genje's Songs
The group has a number of hits. All their songs contain hard hitting Sheng lyrics that are so hard to understand, even among some who are familiar with the lingua franca. The songs have been listened to by millions of people and even Octo, izzo called them his best gengetone group. The songs include:
• Ngumi Bwegze
• Kidungi
• Kuja mbaya
• Blood war
• Kamkoba
• Ikijipa
• Wamocho ft Richy Haniel and Mejja
• Full Degree

Mbogi Genje has also featured in Bahati's song 'Ndoto.' They met the singer and recorded the song in September but it was permitted on YouTube on 1st October 2020.

The three-man group shares most of their songs through YouTube. Their channel has garnered over 88,000 subscribers with their song views being millions. Some of their songs have thousands of views while some have exceeded a million views.

Mbogi Genje's Songs are included in Boomplay music playlists. Search, stream, and download Mbogi Genje's Songs, his latest singles and albums in MP3 only on the Boomplay platform for free....more

Country/Region : Kenya
Songs

(25)

Albums

(13)

Playlists

(5)
1

2

3

4

5

6

7

8

9

10

11

12

13

14

15

16

17

18

19

20

21

22

23

24

25
Listen to Mbogi Genje's new songs including "Fukuru ft. Kushman", "Ikijipa ft. Rix Roro & Dede Tarshian", "Fire ft. Raila Odinga" and many more. Enjoy Mbogi Genje's latest songs and explore the Mbogi Genje's new music albums. If you want to download Mbogi Genje songs MP3, use the Boomplay App to download the Mbogi Genje songs for free. Discover Mbogi Genje's latest songs, popular songs, trending songs all on Boomplay.
Mbogi Genje is a musical group made up of three members namely; Smady (Antony Odhiambo), Guzman (Teddy Ochieng) and Militant (Malaka Yuen). They hail from Umoja, Eastlands, Nairobi. At first, the group was made up of Smady Tingz and Militant who had been rapping from a young age.

Later, Guzman joined the equation to form a three-man group. Their song lyrics are mostly written in Sheng, a lingua franca that is very popular among Kenyan youth, especially those from the hood.

Many of Mbogi Genje's Songs became very popular and trendy on social media in line with a great number of streaming and downloads on Boomplay.

Career
While breaking through the music scenes in the past was such a hustle, today it's a bit easy. One still has to work hard and get a huge fan base but now social media platforms and YouTube have made it easier for some artists including Mbogi Genje.

The trio became famous after their first song became a hit. Thanks to YouTube and other social media platforms, 'Ngumi Mbwegze' became a sensation. This song which propelled them to the limelight was a true work of art and gave a different vibe compared to most of today's songs.

The video had no vixens but was rather a raw piece depicting crime and drugs. This song and the others they released after have been well received by many, even parents. This is because unlike most other groups, this particular group is yet to do sexualized songs. The trio later revealed that their focus is not on gengetone only but other genres, such as dancehall and hip hop. The inspiration of their music comes from their experiences while growing up.

They aspire to see youths come out of poverty and make something out of their lives. Guzman who is a reformed drug peddler further urges the youth to use their talent rather than crime to make money. The group recently had a meeting with Nairobi governor Mike Sonko who gave them a macbook pro, cash and even promised to provide them with an office where they can conduct business.

The group has been made ambassadors against drug abuse by RFH healthcare. On 3rd June 2020, they discussed the myths most people have with them, such as associating them with gangsterism which they are not. They are inspired by old school artists such as Vybz Kartel, Mavado and Tommy Lee.

Achievements
The group continues to enjoy success in its musical career. They attribute this to their hard work and consistency at their craft. They have won awards and gotten nominations and recognitions over their career such as the Kisima award. Some of their songs include Ngumi Bwegze, Bloodwar, Kuja Mbaya, Kidunga, and Warena.

Warena is the song that caught the attention of James Orengo during the Skiza Tune celebrations terming it as greatly artistic. The group has worked with other Kenyan artists including Bahati and Papa Jones hoping to work with more international artists.

The group's net worth is approximately $100,000. While the group is not that old in the game, they seem to be doing well. In fact, were it not for the pandemic, they could have performed in a number of shows this. According to media reports, the group has moved to a new posh address.

Follow Boomplay and keep up-to-date with the latest songs of Mbogi Genje and information.

Mbogi Genje's Songs
The group has a number of hits. All their songs contain hard hitting Sheng lyrics that are so hard to understand, even among some who are familiar with the lingua franca. The songs have been listened to by millions of people and even Octo, izzo called them his best gengetone group. The songs include:
• Ngumi Bwegze
• Kidungi
• Kuja mbaya
• Blood war
• Kamkoba
• Ikijipa
• Wamocho ft Richy Haniel and Mejja
• Full Degree

Mbogi Genje has also featured in Bahati's song 'Ndoto.' They met the singer and recorded the song in September but it was permitted on YouTube on 1st October 2020.

The three-man group shares most of their songs through YouTube. Their channel has garnered over 88,000 subscribers with their song views being millions. Some of their songs have thousands of views while some have exceeded a million views.

Mbogi Genje's Songs are included in Boomplay music playlists. Search, stream, and download Mbogi Genje's Songs, his latest singles and albums in MP3 only on the Boomplay platform for free.
New Comments(
22

)
FAQs about Mbogi Genje
Where is Mbogi Genje from?
He is from Kenya.
What are the latest songs of Mbogi Genje?
The latest songs of Mbogi Genje are Limbo (Remix) ft. Petra Bockle & Kingpheezle, Full Degree and Mtu Bad ft. Smady Tings.
What are the best songs of Mbogi Genje?
The best songs of Mbogi Genje are KIDUNGI, Ikijipa ft. Rix Roro & Dede Tarshian and Fire ft. Raila Odinga.
What are the best albums of Mbogi Genje?
The best albums of Mbogi Genje are Full Degree, KIDUNGI and Ting Ting.
How to download songs of Mbogi Genje?
You can download songs of Mbogi Genje from Boomplay App for free.
Firstly, install Boomplay app on your mobile phone.
Secondly, navigate to the song you would like to download.
Thirdly, Tap on More > Download.