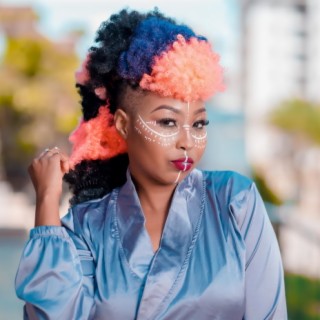 Vivian (KE)
Current #8,266

All Time #3,027

Vivian Wambui famously known by her stage name Vivian was born on 15th March and raised in Nairobi's Pangani estate as the third born in a family of four. She is a Kenyan musician, singer, songwriter and recording artist. She is the stunning musical artist who has become a favorite to many people in the country. Many of Vivian's Songs became very popular and trendy on social media in line with a great number of streaming and downloads on Boomplay.

Career
Vivian attended primary school in the Marion Group of Schools and proceeded to secondary school at Statehouse Girls in Nairobi. On completion, she enrolled to study Marketing at the Kenya School of Professional Studies. Her career as a recording artist did not begin immediately she left college as it was not an easy task getting a record to sign her. She therefore had to find other means of survival and feeding herself.

She explained that she had to at one point hawk household items such as plates and cups to make an income for herself. This is one of the tough points she faced in her life.

After struggling for some time, she got signed by the record label Main Switch Studios. Here she began producing music and despite being a good artist, the money did not start flooding in immediately. She actually had to sleep hungry at times despite having her songs being played all across town.

Such a paradox. That is how the business in the industry is however and she gave it time and with more hard work and patience, things began to change.

She has over time been able to land collaborations and associations with top artists such as Jaguar where they produced the song 'My Dream', features with Sauti Sol and Naiboi. She recently launched a new song with Stevo Simple Boy titled 'Simpo Simpo' which she released in August 2020. Some of her top songs include, 'Chum Chum', Teren Teren' and 'Feel Me'.

Achievements
Vivian's career comes with achievements not only on musical basis but also in life/ background basis. From a hawkwer to a stardom thats not something we see typically on the industry.

Follow Boomplay and keep up-to-date with the latest songs of Vivian and information.

Vivian's Latest Songs
• Chum Chum
• Tu Tan Tranquilla
• Sugar
• Island Commune
• Battle song
• Tick Tock Talk
• The Wraped Glimmer
• Lovesong

Vivian's Songs are included in Boomplay music playlists. Search, stream, and download Vivian's Songs, his latest singles and albums in MP3 only on the Boomplay platform for free....more

Country/Region : Kenya
Listen to Vivian (KE)'s new songs including "Chachisha ft. Sosuun", "Chum Chum", "Heart Of A Lion ft. Trio Mio" and many more. Enjoy Vivian (KE)'s latest songs and explore the Vivian (KE)'s new music albums. If you want to download Vivian (KE) songs MP3, use the Boomplay App to download the Vivian (KE) songs for free. Discover Vivian (KE)'s latest songs, popular songs, trending songs all on Boomplay.
Vivian Wambui famously known by her stage name Vivian was born on 15th March and raised in Nairobi's Pangani estate as the third born in a family of four. She is a Kenyan musician, singer, songwriter and recording artist. She is the stunning musical artist who has become a favorite to many people in the country. Many of Vivian's Songs became very popular and trendy on social media in line with a great number of streaming and downloads on Boomplay.

Career
Vivian attended primary school in the Marion Group of Schools and proceeded to secondary school at Statehouse Girls in Nairobi. On completion, she enrolled to study Marketing at the Kenya School of Professional Studies. Her career as a recording artist did not begin immediately she left college as it was not an easy task getting a record to sign her. She therefore had to find other means of survival and feeding herself.

She explained that she had to at one point hawk household items such as plates and cups to make an income for herself. This is one of the tough points she faced in her life.

After struggling for some time, she got signed by the record label Main Switch Studios. Here she began producing music and despite being a good artist, the money did not start flooding in immediately. She actually had to sleep hungry at times despite having her songs being played all across town.

Such a paradox. That is how the business in the industry is however and she gave it time and with more hard work and patience, things began to change.

She has over time been able to land collaborations and associations with top artists such as Jaguar where they produced the song 'My Dream', features with Sauti Sol and Naiboi. She recently launched a new song with Stevo Simple Boy titled 'Simpo Simpo' which she released in August 2020. Some of her top songs include, 'Chum Chum', Teren Teren' and 'Feel Me'.

Achievements
Vivian's career comes with achievements not only on musical basis but also in life/ background basis. From a hawkwer to a stardom thats not something we see typically on the industry.

Follow Boomplay and keep up-to-date with the latest songs of Vivian and information.

Vivian's Latest Songs
• Chum Chum
• Tu Tan Tranquilla
• Sugar
• Island Commune
• Battle song
• Tick Tock Talk
• The Wraped Glimmer
• Lovesong

Vivian's Songs are included in Boomplay music playlists. Search, stream, and download Vivian's Songs, his latest singles and albums in MP3 only on the Boomplay platform for free.
New Comments(
53

)
FAQs about Vivian (KE)
Where is Vivian (KE) from?
She is from Kenya.
How to download songs of Vivian (KE)?
You can download songs of Vivian (KE) from Boomplay App for free.
Firstly, install Boomplay app on your mobile phone.
Secondly, navigate to the song you would like to download.
Thirdly, Tap on More > Download.