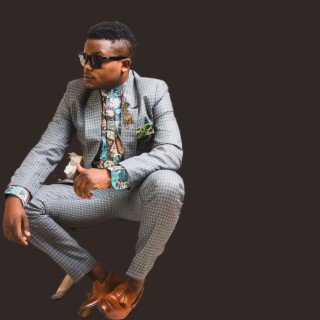 T-sean
Current #8,114

All Time #4,203

Sean Richard Mutenya was born in Zambia on 19 August. T-Sean has been part of Zambia's music industry since releasing his first songs in 2010. Many of T-Sean songs become very popular and trendy online with a great number of streaming and downloads on Boomplay.

Career
In 2010, T-Sean established himself as a reggae and dancehall artist. His first songs Wonder Why, which featured Feat B1, and Show Me Ya Swag which featured some of Zambia's biggest artists Macky2, Cactus, Milz, Daxon, Camster and T.boy.

This was just the beginning of his musical collaborations with the dancehall artist T.boy (whose real name is Tamonya Nswaria). He wrote and performed songs that received major radio airplay and in 2011 he was nominated for a Born and Bred Award, for his song Sinizaibala.

In 2012, the two musicians would launched their own record label, Bizzy-Baila International. T-Sean released his first few songs under the record label K-Army, but didn't stay long and left the label.

In the same year he also wrote songs for Judy, Where You Are, and for T.boy the sing Woman of my Life. These songs were huge musical hits for the artists and also showed what a prolific songwriter T-Sean is. In 2012, he released his debut album Adamu.

Over the years, T-Sean said he found his musical inspiration from other artists like Morgan Heritage, Lyaz, Sean Paul and Busy Signal. His musical sound had been compared to Gyptian and Beenie Man.

When he released his second and third album, named 90 Days and Mu Mirror respectively, his fans revelled in the music. Some of his most popular songs include Lekelela Bokosi, Mulipo, Permanent, Daily Daily and Umuyo.

T-Sean once again showed of his rapping band singing skills on the tracks Adamu and Wonder Why, something his fans are very appreciative of.

T-Sean has always used his music as a platform for his social commentary, and with his sold-out performances across Zambia, his fans always know what's on his mind and what issues he is championing for.

And his music has been recognised with several nominations and wins at the Born and Bred and Zambia Music Awards. He continues to keep releasing great music for his fans and in 2020 he revealed that he had dropped the single, 'I Love You' and 'Killer Love'.

Follow Boomplay and keep up-to-date with the latest T-Sean songs and information.

Achievement
• 2014 - Best Dancehall Album at the Zambia Music Awards (Won)
• 2015 - Best R'n'B Video of the Year at the Born & Bred Awards (Won)
• 2015 - Best Dancehall Album at the Born & Bred Awards (Won)
• 2015 - Video of the Year at the Born & Bred Awards (Won)

T-Sean songs are included in Boomplay music playlists. Search to stream and download T-Sean songs MP3/ single/ albums on the platform....more

Country : Zambia
Listen to T-sean's new songs including "Ungashanshe ft. Izrael", and many more. Enjoy T-sean's latest songs and explore the T-sean's new music albums. If you want to download T-sean songs MP3, use the Boomplay App to download the T-sean songs for free. Discover T-sean's latest songs, popular songs, trending songs all on Boomplay.
Sean Richard Mutenya was born in Zambia on 19 August. T-Sean has been part of Zambia's music industry since releasing his first songs in 2010. Many of T-Sean songs become very popular and trendy online with a great number of streaming and downloads on Boomplay.

Career
In 2010, T-Sean established himself as a reggae and dancehall artist. His first songs Wonder Why, which featured Feat B1, and Show Me Ya Swag which featured some of Zambia's biggest artists Macky2, Cactus, Milz, Daxon, Camster and T.boy.

This was just the beginning of his musical collaborations with the dancehall artist T.boy (whose real name is Tamonya Nswaria). He wrote and performed songs that received major radio airplay and in 2011 he was nominated for a Born and Bred Award, for his song Sinizaibala.

In 2012, the two musicians would launched their own record label, Bizzy-Baila International. T-Sean released his first few songs under the record label K-Army, but didn't stay long and left the label.

In the same year he also wrote songs for Judy, Where You Are, and for T.boy the sing Woman of my Life. These songs were huge musical hits for the artists and also showed what a prolific songwriter T-Sean is. In 2012, he released his debut album Adamu.

Over the years, T-Sean said he found his musical inspiration from other artists like Morgan Heritage, Lyaz, Sean Paul and Busy Signal. His musical sound had been compared to Gyptian and Beenie Man.

When he released his second and third album, named 90 Days and Mu Mirror respectively, his fans revelled in the music. Some of his most popular songs include Lekelela Bokosi, Mulipo, Permanent, Daily Daily and Umuyo.

T-Sean once again showed of his rapping band singing skills on the tracks Adamu and Wonder Why, something his fans are very appreciative of.

T-Sean has always used his music as a platform for his social commentary, and with his sold-out performances across Zambia, his fans always know what's on his mind and what issues he is championing for.

And his music has been recognised with several nominations and wins at the Born and Bred and Zambia Music Awards. He continues to keep releasing great music for his fans and in 2020 he revealed that he had dropped the single, 'I Love You' and 'Killer Love'.

Follow Boomplay and keep up-to-date with the latest T-Sean songs and information.

Achievement
• 2014 - Best Dancehall Album at the Zambia Music Awards (Won)
• 2015 - Best R'n'B Video of the Year at the Born & Bred Awards (Won)
• 2015 - Best Dancehall Album at the Born & Bred Awards (Won)
• 2015 - Video of the Year at the Born & Bred Awards (Won)

T-Sean songs are included in Boomplay music playlists. Search to stream and download T-Sean songs MP3/ single/ albums on the platform.
New Comments(
26

)