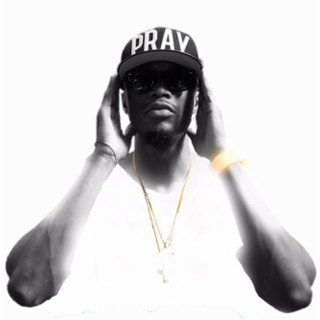 E.L
Current #4,039

All Time #3,814

Elom Adablah (born 28 June 1989), better known by his stage name E.L, is a Ghanaian Afrobeats musician, rapper, singer and producer. Many E.L songs become very popular and trendy online with a great number of streaming and downloads on Boomplay.

E.L grew up in Dansoman, a suburb of Accra. He first attended St. Martin De Porres School in Dansoman and later transferred to Jack and Jill where he completed his Junior Secondary School level. He then gained admission into Presbyterian Boys Secondary School (PRESEC), where he discovered music. After high school, he pursued a degree in economics and political science at the University of Ghana, Legon.

Career
During his first year in the university, EL signed to Jayso's Skillions Records and helped Jayso co-produce the Skillionaires Demotape. However, after graduating from university, the Skillions broke up and EL became a solo artist. He acquired a studio in Asylum Down and began working on a new mixtape.

He went as far as releasing a single, "Chale (So Fli)", with Jay Foley, Wolf and Kwaku T (remix). However, the mixtape was never released. EL relocated to a better studio at Osu, and invested all his available funds in acquiring equipment.

Follow Boomplay and keep up-to-date with the latest E.L songs and information.

Achievement.
2009-2012: Something Else. EL got signed to BBnZ live His debut double album, Something Else, was released on 1 June 2012 by Akwaaba Music, and is a blend of different varieties of music inspired from various sources.

2014: B.A.R Mix Tape. EL released The Best African Rapper album, shortened as The B.A.R on 20 May 2014. It featured Ayigbe Edem, Sarkodie, Joey B, C-Real, Gemini, Telvin, Frozen, Lil Shaker, Stargo, P. K. and Dex Kwasi.

2015: B.A.R 2. EL announced he was working on B.A.R 2, releasing the cover art and later releasing three songs "All Black", "State of the Nation" and "King Without A Crown".On 29 August 2015, he followed up with the B.A.R 2 concert featuring Wanlov, Ko-Jo Cue, DJ Mic Smith and more.

2016: Elom. EL released his second studio album entitled Elom (Everybody loves original music). The album included singles "Mi Naa Bo Po", "Watch The Way You Dey Waka" and "Nkrumah Pt. 2" featuring Obrafour.

On 15 April 2016 Lauryn Hill headlined a concert dubbed Ms. Lauryn Hill Presents Diaspora Calling! in association with Tidal at Kings Theater, the concert was intended to celebrate the rich tapestry of artists from African Diaspora and included E.L and Stonebwoy from Ghana, also Wondaboy and Mr. Eazi from Nigeria.

2017: B.A.R 4. The success of the previous installment of the BAR franchise saw the birth of another mixtape. This featured both establishment rappers and also included rising rappers as Teephlow, Kojo-Cue, Medikal. one notable track on the album is Nina, which is storyline song about a psychopathic groupie. Other hard core raps songs as Change, Superstar and Lalafalama were also lauded; as was Bars.

2018: BAR V. E.L released his fifth studio album titled BAR V (stylised as BVR), a 15 track album. It included rap singles like "Nobody", The Greatest and "Thinkin'." E.L featured Nigerian artiste, Falz, and Ghanaian acts Akan and Bryan The Mensah.

2019: The Linkop - EL & AI. This was a joint album with another Ghanaian musician, Ayisi - AI. This will be the first time EL released a joint album. Nonetheless, it will mark the second notable joint album from Ghana as Sarkodie (rapper) and Jayso had same with TMG collaboration. The Linkop album came to bear after the excellent chemistry generated in their collaboration on the Adwuma song. This album has seven track ranging from Afrobeats to Dancehall to Reggae fusion. One track that seems to appeal to masses is the For 2 song.

2020: Songs For Girls 3 EP. This featured seven songs of different genres. The award-winning rapper took New decade in a whole different mode.

2020: Leaks1. The beginning of a new decade saw EL drop a series of projects - few singles and two different tapes. First of which was the Leaks1. This featured talented rappers even as they were not well known. One of such rappers is Yung Pabi whom he featured on the song titled Respect. This album had three songs.

2020: Leaks2. Just as the previous tape before this, it had three tracks. Interesting tracks as they are, some industry pundits/critics labelled as masterpieces. Most prominent track was Track 3 - J.J. Rawlings which featured friend and frequent collaborator Gemini Orleans.

E.L Songs
• E.L's singles includes
• Obuu Mo
• Kaalu
• One Ghana
• Auntie Martha
• Shelele
• Mi Naa Bo Po
• Koko
• KaaBuAme
• See me Sometime
• Abaa
• Pay Like a Boss

His debut album was Something Else (2012).E.L released a mixtape he calls The BAR (Best African Rapper) and in 2017, he released the fourth one called BAR IV.

He won Artiste of the Year and Hip-life/Hip-hop Artiste of the Year at the 2015/2016 Vodafone Ghana Music Awards.

E.L songs are included in Boomplay music playlists. Search to stream and dow...more

Country/Region : Ghana
Listen to E.L's new songs including "Frodo Baggins ft. Nova Blaq", "EFA WO HO BEN", "JJ RAWLINGS" and many more. Enjoy E.L's latest songs and explore the E.L's new music albums. If you want to download E.L songs MP3, use the Boomplay App to download the E.L songs for free. Discover E.L's latest songs, popular songs, trending songs all on Boomplay.
Elom Adablah (born 28 June 1989), better known by his stage name E.L, is a Ghanaian Afrobeats musician, rapper, singer and producer. Many E.L songs become very popular and trendy online with a great number of streaming and downloads on Boomplay.

E.L grew up in Dansoman, a suburb of Accra. He first attended St. Martin De Porres School in Dansoman and later transferred to Jack and Jill where he completed his Junior Secondary School level. He then gained admission into Presbyterian Boys Secondary School (PRESEC), where he discovered music. After high school, he pursued a degree in economics and political science at the University of Ghana, Legon.

Career
During his first year in the university, EL signed to Jayso's Skillions Records and helped Jayso co-produce the Skillionaires Demotape. However, after graduating from university, the Skillions broke up and EL became a solo artist. He acquired a studio in Asylum Down and began working on a new mixtape.

He went as far as releasing a single, "Chale (So Fli)", with Jay Foley, Wolf and Kwaku T (remix). However, the mixtape was never released. EL relocated to a better studio at Osu, and invested all his available funds in acquiring equipment.

Follow Boomplay and keep up-to-date with the latest E.L songs and information.

Achievement.
2009-2012: Something Else. EL got signed to BBnZ live His debut double album, Something Else, was released on 1 June 2012 by Akwaaba Music, and is a blend of different varieties of music inspired from various sources.

2014: B.A.R Mix Tape. EL released The Best African Rapper album, shortened as The B.A.R on 20 May 2014. It featured Ayigbe Edem, Sarkodie, Joey B, C-Real, Gemini, Telvin, Frozen, Lil Shaker, Stargo, P. K. and Dex Kwasi.

2015: B.A.R 2. EL announced he was working on B.A.R 2, releasing the cover art and later releasing three songs "All Black", "State of the Nation" and "King Without A Crown".On 29 August 2015, he followed up with the B.A.R 2 concert featuring Wanlov, Ko-Jo Cue, DJ Mic Smith and more.

2016: Elom. EL released his second studio album entitled Elom (Everybody loves original music). The album included singles "Mi Naa Bo Po", "Watch The Way You Dey Waka" and "Nkrumah Pt. 2" featuring Obrafour.

On 15 April 2016 Lauryn Hill headlined a concert dubbed Ms. Lauryn Hill Presents Diaspora Calling! in association with Tidal at Kings Theater, the concert was intended to celebrate the rich tapestry of artists from African Diaspora and included E.L and Stonebwoy from Ghana, also Wondaboy and Mr. Eazi from Nigeria.

2017: B.A.R 4. The success of the previous installment of the BAR franchise saw the birth of another mixtape. This featured both establishment rappers and also included rising rappers as Teephlow, Kojo-Cue, Medikal. one notable track on the album is Nina, which is storyline song about a psychopathic groupie. Other hard core raps songs as Change, Superstar and Lalafalama were also lauded; as was Bars.

2018: BAR V. E.L released his fifth studio album titled BAR V (stylised as BVR), a 15 track album. It included rap singles like "Nobody", The Greatest and "Thinkin'." E.L featured Nigerian artiste, Falz, and Ghanaian acts Akan and Bryan The Mensah.

2019: The Linkop - EL & AI. This was a joint album with another Ghanaian musician, Ayisi - AI. This will be the first time EL released a joint album. Nonetheless, it will mark the second notable joint album from Ghana as Sarkodie (rapper) and Jayso had same with TMG collaboration. The Linkop album came to bear after the excellent chemistry generated in their collaboration on the Adwuma song. This album has seven track ranging from Afrobeats to Dancehall to Reggae fusion. One track that seems to appeal to masses is the For 2 song.

2020: Songs For Girls 3 EP. This featured seven songs of different genres. The award-winning rapper took New decade in a whole different mode.

2020: Leaks1. The beginning of a new decade saw EL drop a series of projects - few singles and two different tapes. First of which was the Leaks1. This featured talented rappers even as they were not well known. One of such rappers is Yung Pabi whom he featured on the song titled Respect. This album had three songs.

2020: Leaks2. Just as the previous tape before this, it had three tracks. Interesting tracks as they are, some industry pundits/critics labelled as masterpieces. Most prominent track was Track 3 - J.J. Rawlings which featured friend and frequent collaborator Gemini Orleans.

E.L Songs
• E.L's singles includes
• Obuu Mo
• Kaalu
• One Ghana
• Auntie Martha
• Shelele
• Mi Naa Bo Po
• Koko
• KaaBuAme
• See me Sometime
• Abaa
• Pay Like a Boss

His debut album was Something Else (2012).E.L released a mixtape he calls The BAR (Best African Rapper) and in 2017, he released the fourth one called BAR IV.

He won Artiste of the Year and Hip-life/Hip-hop Artiste of the Year at the 2015/2016 Vodafone Ghana Music Awards.

E.L songs are included in Boomplay music playlists. Search to stream and dow
New Comments(
48

)
FAQs about E.L
Where is E.L from?
He is from Ghana.
How to download songs of E.L?
You can download songs of E.L from Boomplay App for free.
Firstly, install Boomplay app on your mobile phone.
Secondly, navigate to the song you would like to download.
Thirdly, Tap on More > Download.