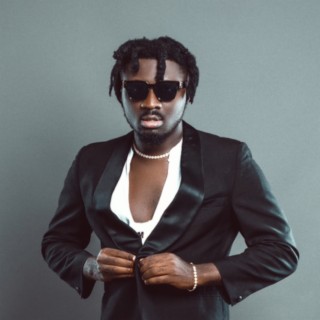 Amerado
Current #3,035

All Time #3,094

Derrick Sarfo Kantanka known by the stage name Amerado is a Ghanaian rapper and musician from Kumasi. He was born and raised in Ejisu, Kumasi in the Ashanti Region of Ghana. He attended KNUST Senior High School for his senior high school education.
Amerado started his career when he was discovered by Azee Ntwene in 2015 as he emerged third at the Solid FM Freestyle Show to join fellow rapper Strongman Burner at MicBurnerz Music. He became well-known when he was crowned the winner of DM Network's Promo Plan for Upcoming musicians. He was summoned to feature on the GH Youth All-Stars hosted by Mix Master Garzy to compose the official peace song for the 2016 general elections held in Ghana.

In 2017, Amerado released his lead single "I AM" which announced his presence in the music industry in Ghana. The song was rated 3rd in the Top 10 Ghanaian songs of January 2017 listed by Pulse Ghana.

In 2020, he become a popular household name with his weekly Yeete Nsem series amidst the corona....more

Boom ID : 96737089 Country : Ghana Gender : Male
Songs

(109)

Albums

(62)

Playlists

(34)
1

2

3

4

5

6

7

8

9

10

11

12

13

14

15

16

17

18

19

20

21

22

23

24

25

26

27

28

29

30

31

32

33

34

35

36

37

38

39

40

41

42

43

44

45

46

47

48

49

50

51

52

53

54

55

56

57

58

59

60

61

62

63

64

65

66

67

68

69

70

71

72

73

74

75

76

77

78

79

80

81

82

83

84

85

86

87

88

89

90

91

92

93

94

95

96

97

98

99

100
Listen to Amerado's new songs including "Twa So ft. Fameye", "Box Of Memories", "Indelible Flow" and many more. Enjoy Amerado's latest songs and explore the Amerado's new music albums. If you want to download Amerado songs MP3, use the Boomplay App to download the Amerado songs for free. Discover Amerado's latest songs, popular songs, trending songs all on Boomplay.
Derrick Sarfo Kantanka known by the stage name Amerado is a Ghanaian rapper and musician from Kumasi. He was born and raised in Ejisu, Kumasi in the Ashanti Region of Ghana. He attended KNUST Senior High School for his senior high school education.
Amerado started his career when he was discovered by Azee Ntwene in 2015 as he emerged third at the Solid FM Freestyle Show to join fellow rapper Strongman Burner at MicBurnerz Music. He became well-known when he was crowned the winner of DM Network's Promo Plan for Upcoming musicians. He was summoned to feature on the GH Youth All-Stars hosted by Mix Master Garzy to compose the official peace song for the 2016 general elections held in Ghana.

In 2017, Amerado released his lead single "I AM" which announced his presence in the music industry in Ghana. The song was rated 3rd in the Top 10 Ghanaian songs of January 2017 listed by Pulse Ghana.

In 2020, he become a popular household name with his weekly Yeete Nsem series amidst the corona.
New Comments(
42

)