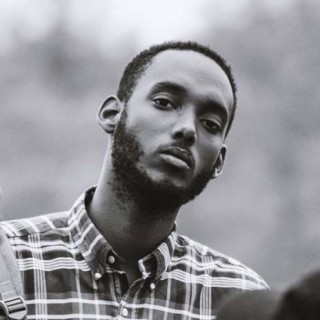 Mike Kayihura
Current #8,205

All Time #6,659

Mike Kayihura a 28-year-old Rwandan storyteller and RnB singer and songwriter who was trained to sing and write songs in Ethiopia. Many of Mike Kayihura songs become very popular and trendy online with a great number of streaming and downloads on Boomplay.

He hails from Kigali, Rwanda. Kayihura's passion for singing started at the age of 13 at Christ's church's choir in Gacuriro. His parents had a lot of influence and he got inspired to be a singer. He first started as a keyboardist and a singer to a mixture of classics like Bob Marley covers.

CAREER AND ACHIEVEMENTS
His career as a singer started after the release of his first song, "Let your worries go" produced by Barick in the year 2014. However, he has so far featured with a few artists like; Angell Mutoni, Eric one key, Kanaka, Eloi el, Mucyo, and "The Kingdom Choir" in the UK.

He is best known for his biggest hit "Sabrina" produced by Danny Beats, a catchy song that took the streets of the country by the moment it was promoted on all streaming sites.

His most recent release "Anytime" displays how he blends the Kinyarwanda with English as he promotes the Kinyatrap style of music.

Follow Boomplay and keep up-to-date with the latest Mike Kayihura songs and information.

Mike Kayihura Songs
• Tuza
• Anytime
• Jaribu
• Sabrina
• Kante
• Trust Me
• Zuba
• Iyoroshye
• Ride My Wave
• Broskies
• Besties
• Kicukiro Late 90's
• Don't Let Them Know
• We Go
• Just to Let You Know
• I Just Want to Be There
• Sleepy Mind
• Cabron
• Stickin' 2 U
• Intro
• Bee's Intro
• I'll Be Your Light
• Golden Love Child
• Boneza
• Higher
• Down 4 The Ride
• Nina With The Side Eye

Mike Kayihura songs are included in Boomplay music playlists. Search to stream and download Mike Kayihura songs MP3/ single/ albums on the platform....more

Country/Region : Rwanda
Songs

(9)

Albums

(3)

Playlists

(0)
Listen to Mike Kayihura's new songs including "Tuza", "Anytime", "Zuba" and many more. Enjoy Mike Kayihura's latest songs and explore the Mike Kayihura's new music albums. If you want to download Mike Kayihura songs MP3, use the Boomplay App to download the Mike Kayihura songs for free. Discover Mike Kayihura's latest songs, popular songs, trending songs all on Boomplay.
Mike Kayihura a 28-year-old Rwandan storyteller and RnB singer and songwriter who was trained to sing and write songs in Ethiopia. Many of Mike Kayihura songs become very popular and trendy online with a great number of streaming and downloads on Boomplay.

He hails from Kigali, Rwanda. Kayihura's passion for singing started at the age of 13 at Christ's church's choir in Gacuriro. His parents had a lot of influence and he got inspired to be a singer. He first started as a keyboardist and a singer to a mixture of classics like Bob Marley covers.

CAREER AND ACHIEVEMENTS
His career as a singer started after the release of his first song, "Let your worries go" produced by Barick in the year 2014. However, he has so far featured with a few artists like; Angell Mutoni, Eric one key, Kanaka, Eloi el, Mucyo, and "The Kingdom Choir" in the UK.

He is best known for his biggest hit "Sabrina" produced by Danny Beats, a catchy song that took the streets of the country by the moment it was promoted on all streaming sites.

His most recent release "Anytime" displays how he blends the Kinyarwanda with English as he promotes the Kinyatrap style of music.

Follow Boomplay and keep up-to-date with the latest Mike Kayihura songs and information.

Mike Kayihura Songs
• Tuza
• Anytime
• Jaribu
• Sabrina
• Kante
• Trust Me
• Zuba
• Iyoroshye
• Ride My Wave
• Broskies
• Besties
• Kicukiro Late 90's
• Don't Let Them Know
• We Go
• Just to Let You Know
• I Just Want to Be There
• Sleepy Mind
• Cabron
• Stickin' 2 U
• Intro
• Bee's Intro
• I'll Be Your Light
• Golden Love Child
• Boneza
• Higher
• Down 4 The Ride
• Nina With The Side Eye

Mike Kayihura songs are included in Boomplay music playlists. Search to stream and download Mike Kayihura songs MP3/ single/ albums on the platform.
New Comments(
9

)
FAQs about Mike Kayihura
Where is Mike Kayihura from?
He is from Rwanda.
What are the best songs of Mike Kayihura?
The best songs of Mike Kayihura are Tuza, Anytime and Zuba.
What are the best albums of Mike Kayihura?
The best albums of Mike Kayihura are Zuba, Anytime and Cabron (La Maladie D'amour).
How to download songs of Mike Kayihura?
You can download songs of Mike Kayihura from Boomplay App for free.
Firstly, install Boomplay app on your mobile phone.
Secondly, navigate to the song you would like to download.
Thirdly, Tap on More > Download.