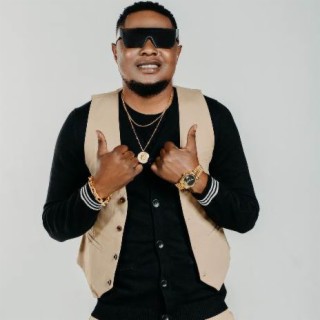 Christian Bella
Current #1,703

All Time #2,163

Christian Bella is a remarkable and energetic African musician based in Dar Es Salaam Tanzania. He is a citizen of the Democratic Republic of Congo (DRC). Many of Christian Bella songs become very popular and trendy online with a great number of streaming and downloads on Boomplay.

Career
Bella officially got into music since the age of 15 years, where he was the leader of the band of the Chateau, which was owned by Frank, a close ally of musician Papa Wemba. He is nick-named 'Mfalme wa Masauti' (King of Voices), Bella's popularity has continued to expand and increase ever since he was brought in by musician King Dodoo, as fans began to accept his natural talent rapidly one song after the other.

King Dodoo began to 'recognize' Bella in some of his songs and album tracks while performing live shows in Nairobi, Kenya.

At the time they made the album with Chateau Du Soleil Band. He later joined the Akudo and his first song was 'Walimwengu si Binadamu'. Bella started from the bottom with a bunch of local youth composing songs and dances, among these includes was Fally Ipupa who later left to go to Koffi Olomide. At 16, he approached Koffi for trials and was accepted. However, was not given the opportunity to hit the stage and so ended up sitting on the side. It was then that he decided to join Akudo Impact but all his thoughts were to return to Koffi.

Koffi's band had some internal issues and when Bella found out about this he sensed his dreams would be fulfilled given the chance. However, before he made the decision to leave in return for Koffi, his friend advised him to release another Swahili song after "Walimwengu si Binadamu" before departing.

That is was the source of his hit song 'Yako Wapi Mapenzi' which was a big hit and this forced Bella to change his decision to return to DRC and instead venture into the music industry in Tanzania. Currently, Bella is the leader of Malaika Band Music based in Mbagala Magenge Ishirini in Dar es Salam which is owned and managed by director Daniel Denga. Malaika Band is made up of very talented and experienced artist like Adaya, Petit Mauzo, Pilu, Mico Bella, Chesco Vuvuzela, Yanick Soslo, Babu Bomba and Kadogoo Machine. Christian is married with a son and the wife resides in Sweden.

Follow Boomplay and keep up-to-date with the latest Christian Bella songs and information.

Christian Bella Songs
• Nani Kama Mama
• Nishike
• Nashindwa
• Usilie
• Ollah
• Msaliti
• Yako Wapi Mapenzi
• Umeniteka
• Teamo
• Pambe
• Si Ulisema
• Tingisha Mguu
• Nisamehe
• Niende Wapi
• Bukombe
• Alenda
• Nakuhitaji
• Pacha

Christian Bella songs are included in Boomplay music playlists. Search to stream and download Christian Bella songs MP3/ single/ albums on the platform....more

Country/Region : Tanzania
Listen to Christian Bella's new songs including "Natamani ft. Saraphina", "Only You ft. Rosa Ree", "Nishike" and many more. Enjoy Christian Bella's latest songs and explore the Christian Bella's new music albums. If you want to download Christian Bella songs MP3, use the Boomplay App to download the Christian Bella songs for free. Discover Christian Bella's latest songs, popular songs, trending songs all on Boomplay.
Christian Bella Biography
Christian Bella is a remarkable and energetic African musician based in Dar Es Salaam Tanzania. He is a citizen of the Democratic Republic of Congo (DRC). Many of Christian Bella songs become very popular and trendy online with a great number of streaming and downloads on Boomplay.

Career
Bella officially got into music since the age of 15 years, where he was the leader of the band of the Chateau, which was owned by Frank, a close ally of musician Papa Wemba. He is nick-named 'Mfalme wa Masauti' (King of Voices), Bella's popularity has continued to expand and increase ever since he was brought in by musician King Dodoo, as fans began to accept his natural talent rapidly one song after the other.

King Dodoo began to 'recognize' Bella in some of his songs and album tracks while performing live shows in Nairobi, Kenya.

At the time they made the album with Chateau Du Soleil Band. He later joined the Akudo and his first song was 'Walimwengu si Binadamu'. Bella started from the bottom with a bunch of local youth composing songs and dances, among these includes was Fally Ipupa who later left to go to Koffi Olomide. At 16, he approached Koffi for trials and was accepted. However, was not given the opportunity to hit the stage and so ended up sitting on the side. It was then that he decided to join Akudo Impact but all his thoughts were to return to Koffi.

Koffi's band had some internal issues and when Bella found out about this he sensed his dreams would be fulfilled given the chance. However, before he made the decision to leave in return for Koffi, his friend advised him to release another Swahili song after "Walimwengu si Binadamu" before departing.

That is was the source of his hit song 'Yako Wapi Mapenzi' which was a big hit and this forced Bella to change his decision to return to DRC and instead venture into the music industry in Tanzania. Currently, Bella is the leader of Malaika Band Music based in Mbagala Magenge Ishirini in Dar es Salam which is owned and managed by director Daniel Denga. Malaika Band is made up of very talented and experienced artist like Adaya, Petit Mauzo, Pilu, Mico Bella, Chesco Vuvuzela, Yanick Soslo, Babu Bomba and Kadogoo Machine. Christian is married with a son and the wife resides in Sweden.

Follow Boomplay and keep up-to-date with the latest Christian Bella songs and information.

Christian Bella Songs
• Nani Kama Mama
• Nishike
• Nashindwa
• Usilie
• Ollah
• Msaliti
• Yako Wapi Mapenzi
• Umeniteka
• Teamo
• Pambe
• Si Ulisema
• Tingisha Mguu
• Nisamehe
• Niende Wapi
• Bukombe
• Alenda
• Nakuhitaji
• Pacha

Christian Bella songs are included in Boomplay music playlists. Search to stream and download Christian Bella songs MP3/ single/ albums on the platform.
FAQs about Christian Bella
Where is Christian Bella from?
He is from Tanzania.
How to download songs of Christian Bella?
You can download songs of Christian Bella from Boomplay App for free.
Firstly, install Boomplay app on your mobile phone.
Secondly, navigate to the song you would like to download.
Thirdly, Tap on More > Download.