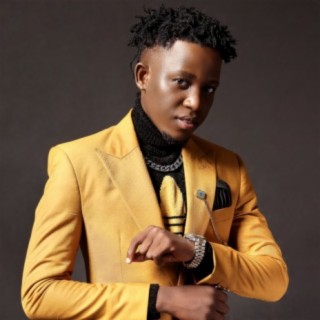 Victor Ruz
Current #1,112

All Time #1,613

Wajja Victor professionally known as Victor Ruz, is a Ugandan RnB, afrobeat artist, and songwriter. He was born on 10th October 2000 in Jinja (Jinja Main hospital) Uganda. He grew up with his mother in Entebbe where he got an interest to join music. His smooth vocals and lyrical abilities have made him stand out in a short period of time as an artist. Many of Victor Ruz Songs became very popular and trendy on social media in line with a great number of streaming and downloads on Boomplay.

Career
He released his first album made of 16 tracks "Simple19" where he featured Chosen Becky on the song "akwagala" and other singles such as Nali Naloba, Healer, Tondoba, Zina bwoti, and many others. His love for music later dragged him into the music industry, kicking off his career with Love Legend in 2019. Victor Ruz always had a passion for music since he was a kid.

He was inspired by his mother who always thought he had a unique talent in him. He would not miss out on any events and performances around him. In July 2019, he got into mainstream music with the release of his first song "Love legend" which received a good reception. This was followed up by other songs like; Kikomando, Ndeese Love, Official and Rebecca.

In 2021, amid a heated election period for the Speakership of the Parliament of Uganda, Victor Ruz released a song; Rebecca for the then reigning Speaker of Parliament, Rt. Hon. Rebecca Alitwala Kadaga after she had been dropped as a flag bearer by her Political party and chose to run as an independent candidate.

In 2021 after releasing the single "Official", Victor Ruz announced the closure of his introductory episode into the music industry and announced the genesis of his next episode where he made it clear that his fans would be in charge of their brand. He proved this when he gave them an opportunity to decide which of the two songs Tattoo & Wansala would drop first. The latter took it home and he, therefore, dropped it on 16 July 2021....more

Country/Region : Uganda
Songs

(4)

Albums

(4)

Playlists

(0)

Similar Artists

(10)
Listen to Victor Ruz's new songs including "Webale", "Ogeza", "Official" and many more. Enjoy Victor Ruz's latest songs and explore the Victor Ruz's new music albums. If you want to download Victor Ruz songs MP3, use the Boomplay App to download the Victor Ruz songs for free. Discover Victor Ruz's latest songs, popular songs, trending songs all on Boomplay.
Wajja Victor professionally known as Victor Ruz, is a Ugandan RnB, afrobeat artist, and songwriter. He was born on 10th October 2000 in Jinja (Jinja Main hospital) Uganda. He grew up with his mother in Entebbe where he got an interest to join music. His smooth vocals and lyrical abilities have made him stand out in a short period of time as an artist. Many of Victor Ruz Songs became very popular and trendy on social media in line with a great number of streaming and downloads on Boomplay.

Career
He released his first album made of 16 tracks "Simple19" where he featured Chosen Becky on the song "akwagala" and other singles such as Nali Naloba, Healer, Tondoba, Zina bwoti, and many others. His love for music later dragged him into the music industry, kicking off his career with Love Legend in 2019. Victor Ruz always had a passion for music since he was a kid.

He was inspired by his mother who always thought he had a unique talent in him. He would not miss out on any events and performances around him. In July 2019, he got into mainstream music with the release of his first song "Love legend" which received a good reception. This was followed up by other songs like; Kikomando, Ndeese Love, Official and Rebecca.

In 2021, amid a heated election period for the Speakership of the Parliament of Uganda, Victor Ruz released a song; Rebecca for the then reigning Speaker of Parliament, Rt. Hon. Rebecca Alitwala Kadaga after she had been dropped as a flag bearer by her Political party and chose to run as an independent candidate.

In 2021 after releasing the single "Official", Victor Ruz announced the closure of his introductory episode into the music industry and announced the genesis of his next episode where he made it clear that his fans would be in charge of their brand. He proved this when he gave them an opportunity to decide which of the two songs Tattoo & Wansala would drop first. The latter took it home and he, therefore, dropped it on 16 July 2021.
New Comments(
115

)