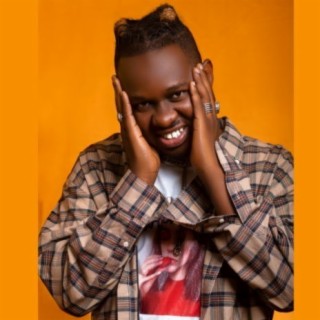 Lava Lava
Current #507

All Time #573

Lava Lava is a Tanzanian musician whose real name is Abdul Juma Idd, Born on 27th March 1993 in Tanzania. Many of Lava Lava songs become very popular and trendy online with a great number of streaming and downloads on Boomplay.

Career
He had the desire and the energy to practice his talent, which is singing; however, he never realized where to begin from. His mom was absolutely against him being an artist which made things somewhat hard for him since she was the one he depended on for help like money for him to attend music occasions.

On the first occasion when he went to record a tune, he was driven away from the studio since he didn't understand music congruity. He then chose to join the Tanzania House of Talents (THT) where he learned music. Upon completion of his music study, a companion from Wasafi requested that he present himself to Wasafi records and he was fortunate to be marked in. While at Wasafi records it took him two years before being uncovered to the fans. He remained for an entire year at Wasafi records without officially meeting Diamond Platnumz.

Lava Lava managed to grab different music charts in the country with his hit songs like Go Gaga & Nieuwe. Lava Lava's song "Wanga" went viral after the American singer Swizz Beatz together with Alicia Keys shared a clip dancing and listening to the song and later decide to make a remix out of it.

Diamond Platnumz discovered Lava's ability somewhat early yet needed to check his character and individuality before endorsing him. Diamond at one time claimed that he wanted to buy a song from him but was surprised when Lava offered to give the song to Diamond free of charge. He did not wish Diamond to pay him even a single coin.

The act softened Diamond's heart, and so Lava Lava was officially endorsed at WCB following that incident and has since proved to the world that Diamond Platnumz did not mistake in signing him. Lava is currently consistent in releasing hit songs, one after the other, and that is the thing a music industry needs.

He has released already an overwhelming number of songs, and he is not done yet. We expect to listen to more of his music soon god willingly. He has collaborated with some other musicians on some of his songs, but most of them are solo projects. To name some of the musicians he has worked with, include Diamond Platnumz, Mbosso, Harmonize, Susumila and Masauti. Missing from the list is Rayvanny who most of Lava's fans would love to see them collaborate to release some sweet song.

Follow Boomplay and keep up to date with the latest Lava Lava songs and information.

Lava Lava Songs
• Saula featuring Harmonize
• Warembo featuring Susumila
• Niue
• Gundu
• Teja
• Tuachane
• Habibi
• Jibebe
• Hatuachani
• Tukaze Roho
• Utatulia
• Go gaga
• Wanga
• Tekenya
• Corona
• Bachela
• Single
• Nimekuchagua
• Dede
• Tattoo
• Balaa
• Ya Ramadhan
• Kizungu zungu
• Dondosa

Lava Lava songs are included in Boomplay music playlists. Search to stream and download Lava Lava songs MP3/ single/ albums on the platform....more

Country/Region : Tanzania
Songs

(38)

Albums

(35)

Playlists

(56)
1

2

3

4

5

6

7

8

9

10

11

12

13

14

15

16

17

18

19

20

21

22

23

24

25

26

27

28

29

30

31

32

33

34

35

36

37

38
Listen to Lava Lava's new songs including "Desh Desh", "Ng'ari Ng'ari", "Tajiri" and many more. Enjoy Lava Lava's latest songs and explore the Lava Lava's new music albums. If you want to download Lava Lava songs MP3, use the Boomplay App to download the Lava Lava songs for free. Discover Lava Lava's latest songs, popular songs, trending songs all on Boomplay.
Lava Lava is a Tanzanian musician whose real name is Abdul Juma Idd, Born on 27th March 1993 in Tanzania. Many of Lava Lava songs become very popular and trendy online with a great number of streaming and downloads on Boomplay.

Career
He had the desire and the energy to practice his talent, which is singing; however, he never realized where to begin from. His mom was absolutely against him being an artist which made things somewhat hard for him since she was the one he depended on for help like money for him to attend music occasions.

On the first occasion when he went to record a tune, he was driven away from the studio since he didn't understand music congruity. He then chose to join the Tanzania House of Talents (THT) where he learned music. Upon completion of his music study, a companion from Wasafi requested that he present himself to Wasafi records and he was fortunate to be marked in. While at Wasafi records it took him two years before being uncovered to the fans. He remained for an entire year at Wasafi records without officially meeting Diamond Platnumz.

Lava Lava managed to grab different music charts in the country with his hit songs like Go Gaga & Nieuwe. Lava Lava's song "Wanga" went viral after the American singer Swizz Beatz together with Alicia Keys shared a clip dancing and listening to the song and later decide to make a remix out of it.

Diamond Platnumz discovered Lava's ability somewhat early yet needed to check his character and individuality before endorsing him. Diamond at one time claimed that he wanted to buy a song from him but was surprised when Lava offered to give the song to Diamond free of charge. He did not wish Diamond to pay him even a single coin.

The act softened Diamond's heart, and so Lava Lava was officially endorsed at WCB following that incident and has since proved to the world that Diamond Platnumz did not mistake in signing him. Lava is currently consistent in releasing hit songs, one after the other, and that is the thing a music industry needs.

He has released already an overwhelming number of songs, and he is not done yet. We expect to listen to more of his music soon god willingly. He has collaborated with some other musicians on some of his songs, but most of them are solo projects. To name some of the musicians he has worked with, include Diamond Platnumz, Mbosso, Harmonize, Susumila and Masauti. Missing from the list is Rayvanny who most of Lava's fans would love to see them collaborate to release some sweet song.

Follow Boomplay and keep up to date with the latest Lava Lava songs and information.

Lava Lava Songs
• Saula featuring Harmonize
• Warembo featuring Susumila
• Niue
• Gundu
• Teja
• Tuachane
• Habibi
• Jibebe
• Hatuachani
• Tukaze Roho
• Utatulia
• Go gaga
• Wanga
• Tekenya
• Corona
• Bachela
• Single
• Nimekuchagua
• Dede
• Tattoo
• Balaa
• Ya Ramadhan
• Kizungu zungu
• Dondosa

Lava Lava songs are included in Boomplay music playlists. Search to stream and download Lava Lava songs MP3/ single/ albums on the platform.
FAQs about Lava Lava
Where is Lava Lava from?
He is from Tanzania.
How to download songs of Lava Lava?
You can download songs of Lava Lava from Boomplay App for free.
Firstly, install Boomplay app on your mobile phone.
Secondly, navigate to the song you would like to download.
Thirdly, Tap on More > Download.