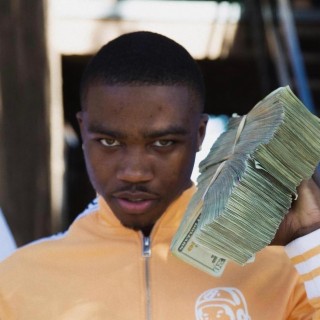 Roddy Ricch
Current #551

All Time #367

Born Rodrick Wayne Moore, Jr. on October 22, 1998, Roddy Ricch already had an interest in music ever since childhood. He started singing and rapping at the age of 8, but didn't start performing in front of crowds until he reached 15. However, he never took music seriously and simply saw it as a side gig. That all changed when he got put behind the bars due to his street life. Upon release, after spending several weeks in prison, he decided to seriously pursue a music career.

Roddy first started off as a SoundCloud rapper and released his debut mixtape "Feed Tha Streets" in November 2017. The effort earned praises from the likes of Meek Mill and Nipsey Hussle, the latter of whom then brought the young star as his guest at a PowerHouse concert in Los Angeles. Prior to the appearance, Roddy released an EP titled "Be 4 Tha Fame" in March 2018.

He made his breakthrough when he put out London On Da Track produced single "Die Young". The song garnered 120 million streams on Spotify. Following the success of the song, Roddy collaborated with Meek on his album "Championships" as well as released his second mixtape "Feed Tha Streets II". He also unveiled a single called "Racks in the Middle" in February 2019. It later became his first top 40 hit on Billboard's Hot 100.

Roddy spent the rest of the 2019 working on his debut studio album "Please Excuse Me for Being Antisocial", which was released on December 6. The effort debuted at No. 1 on Billboard 200, marking his first chart-topping album in the United States. Meanwhile, one of its tracks, "The Box", became his first No. 1 single on Hot 100....more

Boom ID : 125402272 Country : United States Gender : Male
Listen to Roddy Ricch's new songs including "Ricch Vibes", "Feed tha Streets", "Chase tha Bag" and many more. Enjoy Roddy Ricch's latest songs and explore the Roddy Ricch's new music albums. If you want to download Roddy Ricch songs MP3, use the Boomplay App to download the Roddy Ricch songs for free. Discover Roddy Ricch's latest songs, popular songs, trending songs all on Boomplay.
Born Rodrick Wayne Moore, Jr. on October 22, 1998, Roddy Ricch already had an interest in music ever since childhood. He started singing and rapping at the age of 8, but didn't start performing in front of crowds until he reached 15. However, he never took music seriously and simply saw it as a side gig. That all changed when he got put behind the bars due to his street life. Upon release, after spending several weeks in prison, he decided to seriously pursue a music career.

Roddy first started off as a SoundCloud rapper and released his debut mixtape "Feed Tha Streets" in November 2017. The effort earned praises from the likes of Meek Mill and Nipsey Hussle, the latter of whom then brought the young star as his guest at a PowerHouse concert in Los Angeles. Prior to the appearance, Roddy released an EP titled "Be 4 Tha Fame" in March 2018.

He made his breakthrough when he put out London On Da Track produced single "Die Young". The song garnered 120 million streams on Spotify. Following the success of the song, Roddy collaborated with Meek on his album "Championships" as well as released his second mixtape "Feed Tha Streets II". He also unveiled a single called "Racks in the Middle" in February 2019. It later became his first top 40 hit on Billboard's Hot 100.

Roddy spent the rest of the 2019 working on his debut studio album "Please Excuse Me for Being Antisocial", which was released on December 6. The effort debuted at No. 1 on Billboard 200, marking his first chart-topping album in the United States. Meanwhile, one of its tracks, "The Box", became his first No. 1 single on Hot 100.
New Comments(
393

)