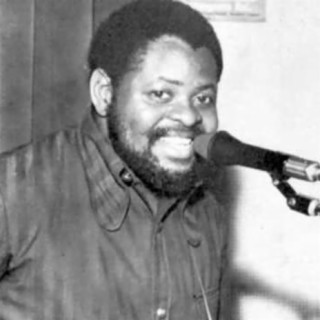 Mbaraka Mwinshehe
Current #10.4k

All Time #9,458

Mbaraka Mwinshehe (1944-1979) is a Tanzanian guitarist/bandleader, musician and song-writer. Many of Mbaraka Mwinshehe songs become very popular and trendy online with a great number of streaming and downloads on Boomplay.

Born 27th June 1944 in Morogoro, Tanzania. He joined Morogoro Jazz Band in 1964 and continued to write songs and perform with the group until 1973 when he moved to Kenya and formed his own group Orchestre Super Volcano.

Mbaraka Mwinshehe died in a motor accident in Mombasa, Kenya on 12th January 1979, resulted in the loss of one of the spearheads of East African dance music. He is the only musician to have won a Chinese competition decades ago and defeated Franco.

Having established his reputation as a member of Morogoro Jazz, between 1964 and 1973, Mwinshehe continued to make his influence felt as the leader of his own band, Super Volcano, from 1973 until his untimely death six years later.

Career
Mbaraka Mwinshehe started participating in the Morogoro Jazz show when he was in school, at which time he enjoyed playing the whistle in South African style with the famous drummers like Spokes Mashiyan, and it was very popular with the school youth and many jiving groups. high schools.

So, he participated as a whistleblower during the weekends. One day in 1965, while Morogoro Jazz musicians were relaxing outside their club. Mbaraka came in with a big bag . imagine his fate.

The next day the musicians were surprised to find Mbaraka practicing guitar as they knew him as a flute player, as they had a rhythm problem they begged him to leave Dar and stay in the band as a rhythm player, he agreed. At that time only trumpets , saxaphone and solo guitar were paid for the month, the rest received a small allowance each time the dance was performed.

One day they were invited to Dar es Salaam for a competition with Kilwa Jazz, before leaving Mbaraka refused to go because he was not paid, the band elders agreed to pay him 120 shillings a month, the soloist who was paid sh150 refused to go to Dar arguing that the rhythm player did not deserve payment, so Mbaraka said he would also play solo, the band went to Dar if and doubt as Kilwa Jazz Band at the time was a threat, and they were going without a soloist.

Mbaraka did a very good solo in the competition and the band won. He was promoted to 250 shillings which was a very high rate, and from then on until he left the band and went on to form his own band Super Volcano , Mbaraka became a soloist for the Morogoro Jazz Band .

His guitar playing, is a very good lesson for a drummer who wants to develop himself in solo guitar playing. In his episodes from Morogoro Jazz to Super Volcano he went through many musical styles, some like Sululu, Likembe, Masika Zolezole and so on. Unlike many bands that change the names of styles without changing the music themselves, Mbaraka's styles showed a change.

The songs in the Likembe style were different from those of Masika Zolezole. During that time music lovers were able to leave Dar es Salaam and go to Morogoro to enjoy a weekend of either Cuban Marimba music , or Morogoro Jazz.

Follow Boomplay and keep up to date with the latest Mbaraka Mwinshehe songs and information.

Mbaraka Mwinshehe Songs
• Mapenzi Yanitesa
• Dawa Ya Mapenzi
• Matusi ya nini
• Nisalimie Wana Zaire
• Nitamtuma Mshenga
• Matamko Ya Viongozi Wetu
• Masimango
• Shida
• Baba Mdogo
• Akula Mwembe Songo
• Matamko Ya Viongozi Wetu
• Mapenzi Shuleni
• Ushamba Umekutoka
• Paka Akitoka Panya Hutawala
• Moro Jazz
• Urafiki Wa Mwisho Wa Mwenzi
• Pole Dada
• Harusi Imevunjika
• Maudhi
• Ewe Mwana
• Jogoo La Shamba
• Unanitafutia Nini
• Matamko Ya Viongozi Wetu
• Tina Turudiane
• Matamko Ya Viongozi Wetu
• Nikupendeje
• Kifo Cha Pesa
• Kifo Cha Karume
• Hallo Betty
• Harusi Imevunjika
• Makao Makuu Dodoma
• Matamko Ya Viongozi Wetu
• Dawa Ya Mapenzi
• Sululu Ya Moro
• Mtaa Wa Saba
• Daktari Ni Mimi
• Paka Akitoka Panya Hutawala
• Penzi La Mashaka
• Esta Wangu

Mbaraka Mwinshehe songs are included in Boomplay music playlists. Search to stream and download Mbaraka Mwinshehe songs MP3/ single/ albums on the platform....more

Country/Region : Tanzania
Songs

(103)

Albums

(14)

Playlists

(2)
1

2

3

4

5

6

7

8

9

10

11

12

13

14

15

16

17

18

19

20

21

22

23

24

25

26

27

28

29

30

31

32

33

34

35

36

37

38

39

40

41

42

43

44

45

46

47

48

49

50

51

52

53

54

55

56

57

58

59

60

61

62

63

64

65

66

67

68

69

70

71

72

73

74

75

76

77

78

79

80

81

82

83

84

85

86

87

88

89

90

91

92

93

94

95

96

97

98

99

100
Listen to Mbaraka Mwinshehe's new songs including "Mtaa Wa Saba", "Shida Pt 1& 2", "Mapenzi ya nitesa" and many more. Enjoy Mbaraka Mwinshehe's latest songs and explore the Mbaraka Mwinshehe's new music albums. If you want to download Mbaraka Mwinshehe songs MP3, use the Boomplay App to download the Mbaraka Mwinshehe songs for free. Discover Mbaraka Mwinshehe's latest songs, popular songs, trending songs all on Boomplay.
Mbaraka Mwinshehe (1944-1979) is a Tanzanian guitarist/bandleader, musician and song-writer. Many of Mbaraka Mwinshehe songs become very popular and trendy online with a great number of streaming and downloads on Boomplay.

Born 27th June 1944 in Morogoro, Tanzania. He joined Morogoro Jazz Band in 1964 and continued to write songs and perform with the group until 1973 when he moved to Kenya and formed his own group Orchestre Super Volcano.

Mbaraka Mwinshehe died in a motor accident in Mombasa, Kenya on 12th January 1979, resulted in the loss of one of the spearheads of East African dance music. He is the only musician to have won a Chinese competition decades ago and defeated Franco.

Having established his reputation as a member of Morogoro Jazz, between 1964 and 1973, Mwinshehe continued to make his influence felt as the leader of his own band, Super Volcano, from 1973 until his untimely death six years later.

Career
Mbaraka Mwinshehe started participating in the Morogoro Jazz show when he was in school, at which time he enjoyed playing the whistle in South African style with the famous drummers like Spokes Mashiyan, and it was very popular with the school youth and many jiving groups. high schools.

So, he participated as a whistleblower during the weekends. One day in 1965, while Morogoro Jazz musicians were relaxing outside their club. Mbaraka came in with a big bag . imagine his fate.

The next day the musicians were surprised to find Mbaraka practicing guitar as they knew him as a flute player, as they had a rhythm problem they begged him to leave Dar and stay in the band as a rhythm player, he agreed. At that time only trumpets , saxaphone and solo guitar were paid for the month, the rest received a small allowance each time the dance was performed.

One day they were invited to Dar es Salaam for a competition with Kilwa Jazz, before leaving Mbaraka refused to go because he was not paid, the band elders agreed to pay him 120 shillings a month, the soloist who was paid sh150 refused to go to Dar arguing that the rhythm player did not deserve payment, so Mbaraka said he would also play solo, the band went to Dar if and doubt as Kilwa Jazz Band at the time was a threat, and they were going without a soloist.

Mbaraka did a very good solo in the competition and the band won. He was promoted to 250 shillings which was a very high rate, and from then on until he left the band and went on to form his own band Super Volcano , Mbaraka became a soloist for the Morogoro Jazz Band .

His guitar playing, is a very good lesson for a drummer who wants to develop himself in solo guitar playing. In his episodes from Morogoro Jazz to Super Volcano he went through many musical styles, some like Sululu, Likembe, Masika Zolezole and so on. Unlike many bands that change the names of styles without changing the music themselves, Mbaraka's styles showed a change.

The songs in the Likembe style were different from those of Masika Zolezole. During that time music lovers were able to leave Dar es Salaam and go to Morogoro to enjoy a weekend of either Cuban Marimba music , or Morogoro Jazz.

Follow Boomplay and keep up to date with the latest Mbaraka Mwinshehe songs and information.

Mbaraka Mwinshehe Songs
• Mapenzi Yanitesa
• Dawa Ya Mapenzi
• Matusi ya nini
• Nisalimie Wana Zaire
• Nitamtuma Mshenga
• Matamko Ya Viongozi Wetu
• Masimango
• Shida
• Baba Mdogo
• Akula Mwembe Songo
• Matamko Ya Viongozi Wetu
• Mapenzi Shuleni
• Ushamba Umekutoka
• Paka Akitoka Panya Hutawala
• Moro Jazz
• Urafiki Wa Mwisho Wa Mwenzi
• Pole Dada
• Harusi Imevunjika
• Maudhi
• Ewe Mwana
• Jogoo La Shamba
• Unanitafutia Nini
• Matamko Ya Viongozi Wetu
• Tina Turudiane
• Matamko Ya Viongozi Wetu
• Nikupendeje
• Kifo Cha Pesa
• Kifo Cha Karume
• Hallo Betty
• Harusi Imevunjika
• Makao Makuu Dodoma
• Matamko Ya Viongozi Wetu
• Dawa Ya Mapenzi
• Sululu Ya Moro
• Mtaa Wa Saba
• Daktari Ni Mimi
• Paka Akitoka Panya Hutawala
• Penzi La Mashaka
• Esta Wangu

Mbaraka Mwinshehe songs are included in Boomplay music playlists. Search to stream and download Mbaraka Mwinshehe songs MP3/ single/ albums on the platform.