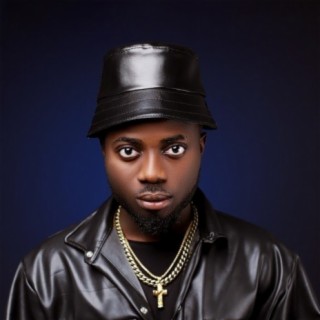 Superwozzy
Current #6,343

All Time #3,364

Awodoyin Oluwamayokun Oluwasuntele Isaac popularly know as Superwozzy a fast growing upcoming musicians in Nigeria was born in the year 1998 in osun state Nigeria.

Superwozzy songs become very popular and trendy online with a great number of streaming and downloads on Boomplay.

Career
Superwozzy Started singing from childhood with his class mate back them he was inspired by the following artist Chris Brown, Taylor Sift, trey song, 2face, Sound Sultan, and Bob this artist inspired by this artist which helped prepare him for the opportunities that would one day arise in the music industry.

At age 17 superwozzy released his first track in collaboration with a friend and a hip-hop artist: STEADY., creating a buzz in his hometown and garnering the attention of SHALOM PRODUCTION ILE IFE.

Follow Boomplay and keep up-to-date with the latest Superwozzy songs and information.

Superwozzy Songs
• Akobi Dragon in 2016
• Legend in 2019
• The process in 2019
• Billion Daughter Dream in 2019
• Gratitude in 2020

Superwozzy songs are included in Boomplay music playlists. Search to stream and download Superwozzy songs MP3/ single/ albums on the platform....more

Country/Region : Nigeria
Songs

(14)

Albums

(8)

Playlists

(0)
1

2

3

4

5

6

7

8

9

10

11

12

13

14
Listen to Superwozzy's new songs including "Higher feat. Bella Shmurda", "Gratitude (feat. Barry Jhay)", "Keys To My Heart (feat. Oxlade)" and many more. Enjoy Superwozzy's latest songs and explore the Superwozzy's new music albums. If you want to download Superwozzy songs MP3, use the Boomplay App to download the Superwozzy songs for free. Discover Superwozzy's latest songs, popular songs, trending songs all on Boomplay.
Awodoyin Oluwamayokun Oluwasuntele Isaac popularly know as Superwozzy a fast growing upcoming musicians in Nigeria was born in the year 1998 in osun state Nigeria.

Superwozzy songs become very popular and trendy online with a great number of streaming and downloads on Boomplay.

Career
Superwozzy Started singing from childhood with his class mate back them he was inspired by the following artist Chris Brown, Taylor Sift, trey song, 2face, Sound Sultan, and Bob this artist inspired by this artist which helped prepare him for the opportunities that would one day arise in the music industry.

At age 17 superwozzy released his first track in collaboration with a friend and a hip-hop artist: STEADY., creating a buzz in his hometown and garnering the attention of SHALOM PRODUCTION ILE IFE.

Follow Boomplay and keep up-to-date with the latest Superwozzy songs and information.

Superwozzy Songs
• Akobi Dragon in 2016
• Legend in 2019
• The process in 2019
• Billion Daughter Dream in 2019
• Gratitude in 2020

Superwozzy songs are included in Boomplay music playlists. Search to stream and download Superwozzy songs MP3/ single/ albums on the platform.
New Comments(
6

)