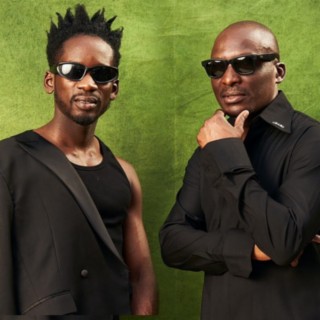 Choplife Soundsystem
Current #4,619

All Time #5,968

Mr Eazi, the Nigerian-born musician, entrepreneur and international nomad, announced the formation of Choplife Soundsystem, a new pan-African music group.

The group will also feature DJ Edu, a Kenyan-born afrobeats selector and tastemaker based in the UK, as its resident DJ. Alongside Edu, an informal crew of DJs, artists, and producers from across the continent will contribute to Choplife Soundsystem. Mr Eazi, who will be the primary vocalist on the group's recordings, will also serve as its MC, or 'Minister of Enjoyment,' during live events.

Choplife Soundsystem derives its name from the popular West African pidgin slang phrase chop life, meaning "enjoy life," along with the traditional soundsystems that are the backbone of Jamaican music culture. In Jamaican parlance, a soundsystem is a mobile crew of DJs and MCs, typically financed by a prominent local businessperson, who present music together at public events, such as street parties, clubs and festivals.

Recent years have seen international outfits like producer Diplo's Major Lazer project put their own spin on the format, functioning as both creators and performers of original music, as well as a tastemaking DJ crew. With Choplife Soundsystem, Mr Eazi is putting a modern, African twist on soundsystem culture, incorporating genres like amapiano and afrobeats to curate the ultimate African party experience— both on original studio recordings and at curated live events.

After being inspired by the vibe and spirit of his successful Ghana holiday party Detty Rave, Mr Eazi launched Choplife Soundsystem with events in Cotonou, Benin; Stockholm, Sweden; and Kigali, Rwanda, in 2022. These events served as a 'soft launch' for the group. Mr Eazi plans to reveal more details about Choplife Soundsystem, such as new music releases, partnerships, and live events, later this spring....more

Country/Region : Nigeria
Songs

(18)

Albums

(4)

Playlists

(0)
1

2

3

4

5

6

7

8

9

10

11

12

13

14

15

16

17

18
Listen to Choplife Soundsystem's new songs including "Wena ft. Mr Eazi & Ami Faku", "Inside ft. Mr Eazi, Mellow & Sleazy, Joey B & Major League DJz", "By Force ft. Mr Eazi, Focalistic & Anatii" and many more. Enjoy Choplife Soundsystem's latest songs and explore the Choplife Soundsystem's new music albums. If you want to download Choplife Soundsystem songs MP3, use the Boomplay App to download the Choplife Soundsystem songs for free. Discover Choplife Soundsystem's latest songs, popular songs, trending songs all on Boomplay.
Choplife Soundsystem Biography
Mr Eazi, the Nigerian-born musician, entrepreneur and international nomad, announced the formation of Choplife Soundsystem, a new pan-African music group.

The group will also feature DJ Edu, a Kenyan-born afrobeats selector and tastemaker based in the UK, as its resident DJ. Alongside Edu, an informal crew of DJs, artists, and producers from across the continent will contribute to Choplife Soundsystem. Mr Eazi, who will be the primary vocalist on the group's recordings, will also serve as its MC, or 'Minister of Enjoyment,' during live events.

Choplife Soundsystem derives its name from the popular West African pidgin slang phrase chop life, meaning "enjoy life," along with the traditional soundsystems that are the backbone of Jamaican music culture. In Jamaican parlance, a soundsystem is a mobile crew of DJs and MCs, typically financed by a prominent local businessperson, who present music together at public events, such as street parties, clubs and festivals.

Recent years have seen international outfits like producer Diplo's Major Lazer project put their own spin on the format, functioning as both creators and performers of original music, as well as a tastemaking DJ crew. With Choplife Soundsystem, Mr Eazi is putting a modern, African twist on soundsystem culture, incorporating genres like amapiano and afrobeats to curate the ultimate African party experience— both on original studio recordings and at curated live events.

After being inspired by the vibe and spirit of his successful Ghana holiday party Detty Rave, Mr Eazi launched Choplife Soundsystem with events in Cotonou, Benin; Stockholm, Sweden; and Kigali, Rwanda, in 2022. These events served as a 'soft launch' for the group. Mr Eazi plans to reveal more details about Choplife Soundsystem, such as new music releases, partnerships, and live events, later this spring.
New Comments(
0

)

What do you think of this artist?
FAQs about Choplife Soundsystem
Where is Choplife Soundsystem from?
They are from Nigeria.
How to download songs of Choplife Soundsystem?
You can download songs of Choplife Soundsystem from Boomplay App for free.
Firstly, install Boomplay app on your mobile phone.
Secondly, navigate to the song you would like to download.
Thirdly, Tap on More > Download.