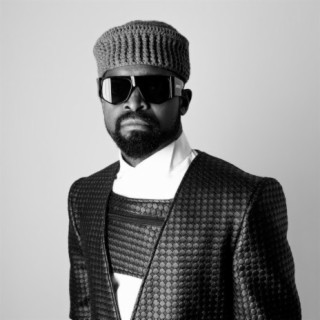 Basketmouth
Current #5,361

All Time #2,324

Bright Okpocha popularly known and recognized by his stage name Basketmouth. Many of Basketmouth songs become very popular and trendy online with a great number of streaming and downloads on Boomplay.

Basket mouth was (born 14 September 1978 in Lagos State, Nigeria) but hails from Isikwuato local government in Abia State, Nigeria. He completed his primary and secondary school in Apapa, Lagos and moved on to the University of Benin, Edo State to study for a degree in Sociology and Anthropology.

He discovered his skill in drumming in 1991, after which he took up to rapping in 1994. He later formed a group called "Da Psychopaths" which had 7 members and they started going for shows and rapping in 1995, however they broke up before releasing any material.

He went on to form another rap group known as "Da Oddz" with his brother Godwin and Muyiwa Osunrobi: they performed a couple of shows but didn't break through as their brand of rap was not accepted in Nigeria.

Basketmouth who is now referred to as "African kings of comedy" occupying a fair spot on the list of top 10 richest and funniest Nigerian comedian 2017 grew up wanting to become a musician or comedian and he had always had that as his reply anytime he was asked as a child what he would like to become in future, to the extent when one of his friend's parents asked them what they would like to become in future and he said: "I want to be a comedian when I grow up".

The ambition to become a comedian did not just surface from nowhere it was like he had it in his blood all his life and he is now being loved for his exceptional manifestation and showcasing of his comedy talent.

Comedy Career
Basketmouth's professional career as a comedian began at the age of 20 and this time his passion for the career became stronger. As at that time only a few were really making money in Nigeria by cracking jokes. Parents would always prefer their kids to go for a more lucrative profession such as medicine or law, but Bright (Basketmouth) did not want any professional course in the university because his path in life was different.

Comedy career started for Basketmouth in the year 1999 when he was given a mic to perform in an event but unfortunately, he got shewed off the stage. He was very sad as he had to go back to the drawing board to research on what kind and style of comedy could sell in UNIBEN, he comes back the same year this time he was more bold, well packaged and refined.

Bright's (Basketmouth) professional stand up performance came into existence in the year 2000 and he came into limelight when he met Ali Baba. With the influence of his mentor Ali Baba he got billed to perform at Lagbaja's monthly concert at Motherland, on October 1st, 2000. He finally made his debut appearance at the renowned Nite of a 1000 laughs. He rose to stardom after this show and he started performing from one big show to another.

In 1999, Basket mouth got involved in events management alongside his comedy acts. He and his friend (Bayo Adekeye) promoted and packaged shows that featured the likes of plantation boyz, remedies, and a host of other artists. It was during that period that Laff n Jamz was conceptualized.

On the 1st of November 2000, the concept came to reality featuring Ali Baba, Paul Play, Teju babyface, mandy, Mr Patrick and a host of others. The event turned out to be a huge success and immediately after the event he was asked to come down to Lagos to expose his skills by the king of Nigerian comedy business, Ali Baba. W.

Follow Boomplay and keep up-to-date with the latest Basketmouth songs and information.

Music career
He launched a record label Barons World Entertainment in 2014.

He released a highlife album titled 'Yabasi' as a soundtrack for the movie 'Papa Benji' in November 2020. The album featured artists like Ladipoe, BOJ, The Cavemen, Bez, Waje, Duncan Mighty, Flavour and Phyno.

In 2022, he released the album titled Horoscope, which features guests artiste, Johnny Drilled, Simi, M.I Abaga, Buju, Peruzzi, Oxlade, Reekado Banks, Flaz, Magnito, Illbliss, Dremo, and Flavour.

Basketmouth Album
• Horoscopes
• Yabasi

Basketmouth songs are included in Boomplay music playlists. Search to stream and download Basketmouth songs MP3/ single/ albums on the platform....more

Country/Region : Nigeria
Songs

(11)

Albums

(2)

Playlists

(5)
1

2

3

4

5

6

7

8

9

10

11
Listen to Basketmouth's new songs including "One Bo ft. Umu Obiligbo", "Myself ft. Show Dem Camp & Oxlade", "World People ft. Flash & BOJ" and many more. Enjoy Basketmouth's latest songs and explore the Basketmouth's new music albums. If you want to download Basketmouth songs MP3, use the Boomplay App to download the Basketmouth songs for free. Discover Basketmouth's latest songs, popular songs, trending songs all on Boomplay.
Bright Okpocha popularly known and recognized by his stage name Basketmouth. Many of Basketmouth songs become very popular and trendy online with a great number of streaming and downloads on Boomplay.

Basket mouth was (born 14 September 1978 in Lagos State, Nigeria) but hails from Isikwuato local government in Abia State, Nigeria. He completed his primary and secondary school in Apapa, Lagos and moved on to the University of Benin, Edo State to study for a degree in Sociology and Anthropology.

He discovered his skill in drumming in 1991, after which he took up to rapping in 1994. He later formed a group called "Da Psychopaths" which had 7 members and they started going for shows and rapping in 1995, however they broke up before releasing any material.

He went on to form another rap group known as "Da Oddz" with his brother Godwin and Muyiwa Osunrobi: they performed a couple of shows but didn't break through as their brand of rap was not accepted in Nigeria.

Basketmouth who is now referred to as "African kings of comedy" occupying a fair spot on the list of top 10 richest and funniest Nigerian comedian 2017 grew up wanting to become a musician or comedian and he had always had that as his reply anytime he was asked as a child what he would like to become in future, to the extent when one of his friend's parents asked them what they would like to become in future and he said: "I want to be a comedian when I grow up".

The ambition to become a comedian did not just surface from nowhere it was like he had it in his blood all his life and he is now being loved for his exceptional manifestation and showcasing of his comedy talent.

Comedy Career
Basketmouth's professional career as a comedian began at the age of 20 and this time his passion for the career became stronger. As at that time only a few were really making money in Nigeria by cracking jokes. Parents would always prefer their kids to go for a more lucrative profession such as medicine or law, but Bright (Basketmouth) did not want any professional course in the university because his path in life was different.

Comedy career started for Basketmouth in the year 1999 when he was given a mic to perform in an event but unfortunately, he got shewed off the stage. He was very sad as he had to go back to the drawing board to research on what kind and style of comedy could sell in UNIBEN, he comes back the same year this time he was more bold, well packaged and refined.

Bright's (Basketmouth) professional stand up performance came into existence in the year 2000 and he came into limelight when he met Ali Baba. With the influence of his mentor Ali Baba he got billed to perform at Lagbaja's monthly concert at Motherland, on October 1st, 2000. He finally made his debut appearance at the renowned Nite of a 1000 laughs. He rose to stardom after this show and he started performing from one big show to another.

In 1999, Basket mouth got involved in events management alongside his comedy acts. He and his friend (Bayo Adekeye) promoted and packaged shows that featured the likes of plantation boyz, remedies, and a host of other artists. It was during that period that Laff n Jamz was conceptualized.

On the 1st of November 2000, the concept came to reality featuring Ali Baba, Paul Play, Teju babyface, mandy, Mr Patrick and a host of others. The event turned out to be a huge success and immediately after the event he was asked to come down to Lagos to expose his skills by the king of Nigerian comedy business, Ali Baba. W.

Follow Boomplay and keep up-to-date with the latest Basketmouth songs and information.

Music career
He launched a record label Barons World Entertainment in 2014.

He released a highlife album titled 'Yabasi' as a soundtrack for the movie 'Papa Benji' in November 2020. The album featured artists like Ladipoe, BOJ, The Cavemen, Bez, Waje, Duncan Mighty, Flavour and Phyno.

In 2022, he released the album titled Horoscope, which features guests artiste, Johnny Drilled, Simi, M.I Abaga, Buju, Peruzzi, Oxlade, Reekado Banks, Flaz, Magnito, Illbliss, Dremo, and Flavour.

Basketmouth Album
• Horoscopes
• Yabasi

Basketmouth songs are included in Boomplay music playlists. Search to stream and download Basketmouth songs MP3/ single/ albums on the platform.
New Comments(
12

)
FAQs about Basketmouth
Where is Basketmouth from?
He is from Nigeria.
What are the latest songs of Basketmouth?
The latest song of Basketmouth is Eba (feat. Broda Shaggi).
What are the best songs of Basketmouth?
The best songs of Basketmouth are Your Body ft. Bnxn, Listen ft. Wande Coal and Ghana Jollof ft. Falz & Kwabena Kwabena.
What are the best albums of Basketmouth?
The best albums of Basketmouth are Horoscopes, Your Body (feat. Bnxn) and Yabasi.
How to download songs of Basketmouth?
You can download songs of Basketmouth from Boomplay App for free.
Firstly, install Boomplay app on your mobile phone.
Secondly, navigate to the song you would like to download.
Thirdly, Tap on More > Download.