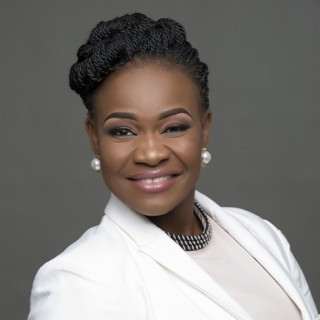 PatUwaje King
Current #8,711

All Time #2,446

Pat Uwaje King is a member and lead singer of the award-winning, gospel music group, Midnight Crew, popularly known for their hit track, IGWE.
She started her music career about two decades ago, singing in church and campus fellowships and directing choirs. She has written and performed a number of jingles for many products and corporate organisations, one of which is the popular A.I.T Jingle (First Among the rest is A, the best is I......etc).
Patricia is a graduate of Creative Arts from the University of Lagos, Nigeria. A prolific music writer and composer, powerful vocalist, and well travelled, she has performed on the MidNight Crew platform across Nigeria, several African countries, and in many cities and states in the U.K and U.S.A respectively.
A lover of God and people, Patricia's dream is to have a music centre where God's name will be lifted up and one which will be a model to lovers of good music within the shores of Africa and beyond....more

Boom ID : 101296426 Country : Nigeria Gender : Female
Songs

(23)

Albums

(6)

Playlists

(2)
1

2

3

4

5

6

7

8

9

10

11

12

13

14

15

16

17

18

19

20

21

22

23
Listen to PatUwaje King's new songs including "Amara", "Hear My Call", "Hossanah ft. Odunayo Ojo-Onasanya" and many more. Enjoy PatUwaje King's latest songs and explore the PatUwaje King's new music albums. If you want to download PatUwaje King songs MP3, use the Boomplay App to download the PatUwaje King songs for free. Discover PatUwaje King's latest songs, popular songs, trending songs all on Boomplay.
Pat Uwaje King is a member and lead singer of the award-winning, gospel music group, Midnight Crew, popularly known for their hit track, IGWE.
She started her music career about two decades ago, singing in church and campus fellowships and directing choirs. She has written and performed a number of jingles for many products and corporate organisations, one of which is the popular A.I.T Jingle (First Among the rest is A, the best is I......etc).
Patricia is a graduate of Creative Arts from the University of Lagos, Nigeria. A prolific music writer and composer, powerful vocalist, and well travelled, she has performed on the MidNight Crew platform across Nigeria, several African countries, and in many cities and states in the U.K and U.S.A respectively.
A lover of God and people, Patricia's dream is to have a music centre where God's name will be lifted up and one which will be a model to lovers of good music within the shores of Africa and beyond.
New Comments(
10

)