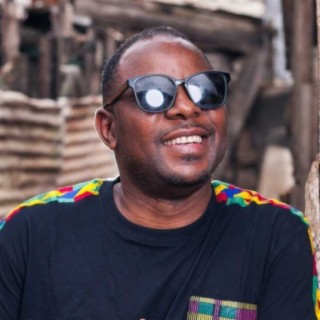 Koppo
Current #11.3k

All Time #3,419

Patrice Minko'o (Koppo) became a star in Cameroon with his 2004 hit « Je go ». The song is a ballad where Koppo is rapping about him being a young Cameroonian fed up with poverty and lack of prospects to a better future, announcing his departure for France to his girlfriend. Many of Koppo songs become very popular and trendy online with a great number of streaming and downloads on Boomplay. He sings in Camfranglais, a mix of French, English and words of several Cameroonian languages, that is used by Cameroonian youth in order to communicate with each other while excluding older people from understanding. This, and the subject of the song itself are the reasons for the song's appeal to young Cameroonians.

Career
Koppo made his first steps in music at school, during play-back sessions, but after his school exams he studies theatre at the University of Yaoundé. But music remained appealing and he started composing only in 2002, and performed at the Fête de la Musique in Yaoundé on 21 June 2003 for the first time. From time to time though, he was and still is active as an actor in theatre and TV productions.

Inspired by MC Solaar, Doc Gyneco and others, and supported by Blick Bassy, the lead singer of Macase, he recorded a first album in 2004. Apart from « Je go », songs like « Emma », « Confessions » and « J'en ai marre » (starring Charlotte Dipanda) show Koppo's noteworthy talent for penning intelligent and lyrics full of humour, giving a fresh look on modern day life in Cameroon.

The album was released in Cameroon in 2004, and it was planned that the album would be released in France in 2006. This did not happen, but in 2012 the album became available as a download on the various international platforms. After years of silence, during which Koppo hosted a radio show, he was selected for a three months stay in France early 2015, within the Visas pour la création project.

Follow Boomplay and keep up to date with the latest Koppo songs and information.

Koppo Songs
• Gromologie
• Texas Hold'Em (feat. Kleva, Bandit, Real & Elee)
• Le ngata du ndolo
• Sainte Margot
• Together
• Angelina
• Laisse comme ça
• C'est la vie
• Miséricorde
• Soir au village
• Kongolibong
• Belle beauté
• Suzon
• Back Back
• Emma
• Kota show
• Foe
• Je Go
• Confessions
• Si tu vois ma Go

Koppo songs are included in Boomplay music playlists. Search to stream and download Koppo songs MP3/ single/ albums on the platform....more

Country/Region : Cameroon
Songs

(27)

Albums

(10)

Playlists

(0)
1

2

3

4

5

6

7

8

9

10

11

12

13

14

15

16

17

18

19

20

21

22

23

24

25

26

27
Listen to Koppo's new songs including "Le ngata du ndolo ft. Donny Elwood", "Angelina ft. Lady Ponce", "Laisse comme ça" and many more. Enjoy Koppo's latest songs and explore the Koppo's new music albums. If you want to download Koppo songs MP3, use the Boomplay App to download the Koppo songs for free. Discover Koppo's latest songs, popular songs, trending songs all on Boomplay.
Patrice Minko'o (Koppo) became a star in Cameroon with his 2004 hit « Je go ». The song is a ballad where Koppo is rapping about him being a young Cameroonian fed up with poverty and lack of prospects to a better future, announcing his departure for France to his girlfriend. Many of Koppo songs become very popular and trendy online with a great number of streaming and downloads on Boomplay. He sings in Camfranglais, a mix of French, English and words of several Cameroonian languages, that is used by Cameroonian youth in order to communicate with each other while excluding older people from understanding. This, and the subject of the song itself are the reasons for the song's appeal to young Cameroonians.

Career
Koppo made his first steps in music at school, during play-back sessions, but after his school exams he studies theatre at the University of Yaoundé. But music remained appealing and he started composing only in 2002, and performed at the Fête de la Musique in Yaoundé on 21 June 2003 for the first time. From time to time though, he was and still is active as an actor in theatre and TV productions.

Inspired by MC Solaar, Doc Gyneco and others, and supported by Blick Bassy, the lead singer of Macase, he recorded a first album in 2004. Apart from « Je go », songs like « Emma », « Confessions » and « J'en ai marre » (starring Charlotte Dipanda) show Koppo's noteworthy talent for penning intelligent and lyrics full of humour, giving a fresh look on modern day life in Cameroon.

The album was released in Cameroon in 2004, and it was planned that the album would be released in France in 2006. This did not happen, but in 2012 the album became available as a download on the various international platforms. After years of silence, during which Koppo hosted a radio show, he was selected for a three months stay in France early 2015, within the Visas pour la création project.

Follow Boomplay and keep up to date with the latest Koppo songs and information.

Koppo Songs
• Gromologie
• Texas Hold'Em (feat. Kleva, Bandit, Real & Elee)
• Le ngata du ndolo
• Sainte Margot
• Together
• Angelina
• Laisse comme ça
• C'est la vie
• Miséricorde
• Soir au village
• Kongolibong
• Belle beauté
• Suzon
• Back Back
• Emma
• Kota show
• Foe
• Je Go
• Confessions
• Si tu vois ma Go

Koppo songs are included in Boomplay music playlists. Search to stream and download Koppo songs MP3/ single/ albums on the platform.
New Comments(
7

)
FAQs about Koppo
Where is Koppo from?
He is from Cameroon.
What are the latest songs of Koppo?
The latest songs of Koppo are Legend, 84s in the Wind ft. YahYeezy and Elbows Swang.
What are the best songs of Koppo?
The best songs of Koppo are Le ngata du ndolo ft. Donny Elwood, Angelina ft. Lady Ponce and Laisse comme ça.
What are the best albums of Koppo?
The best albums of Koppo are EBOTAN, Gromologie and Rollin' 2021.
How to download songs of Koppo?
You can download songs of Koppo from Boomplay App for free.
Firstly, install Boomplay app on your mobile phone.
Secondly, navigate to the song you would like to download.
Thirdly, Tap on More > Download.