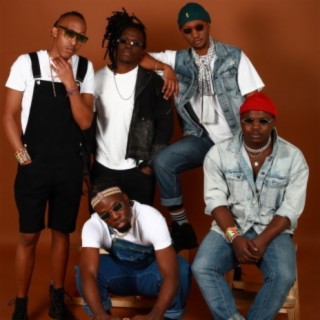 Matata
Current #8,435

All Time #7,783

Matata is a Kenyan boy dance group based in Oslo, Norway. The group consists of five members namely Marcus Ojiambo, Ken Kimathi, Richie Mathu, Freddy Munye and Festus Kwenda. The were all raised in Nairobi and their music reflects their experience in the city. Many of Matata's Songs became very popular and trendy on social media in line with a great number of streaming and downloads on Boomplay.

Career
Matata's music career has a background in and is influenced heavily by dance. Freddy and Marcus were originally members of the renowned FBI Dance group. Festus, Ken and Richie were also part of other dance groups before the formation of the group.

By a rare stroke of serendipity, the five met in Oslo while studying in college and this eventually led to the birth of Matata. The group's debut single release - Denge - came in 2019. Keeping it true to their roots in dance, the visuals accompanying the song featured professional dance choreography that appealed to many.

Mare Mare - the group's second release, is however what is considered their breakout hit. The song featured Lamaz K.O.B, a Kenyan rapper. It enjoyed heavy rotation on radio and TV due to its wide popularity in Kenya.

The music video accompanying the song currently has a total of nearly 6 million views on YouTube. Matata's musical style is characterised by rap in a mixture of Sheng(Kenyan slang) and Kikuyu. The group has also been on the frontline in the Gengetone genre wave in Kenya since around 2018.

Achievements
In conjuction with Sol Generation signees Bensoul and Nviiri the Storyteller, Matata released a surprise EP by the name Unaware in 2021. The four-track EP spawned the singles Matatu (feat. Bensoul) and Pombe na Kizungu Mingi (feat. Bensoul) whose accompanying visuals have been doing quite well on YouTube.

The EP has already surpassed the 1 million mark on Boomplay, hence being certified platinum. The group has hinted on releasing its debut album by name Matata 2.0 which is predicted for mid or late 2022.

Follow Boomplay and keep up-to-date with the latest songs of Matata and information.

Matata's Latest Songs
• Kata
• Ruracio
• Mapema
• Gengetone Love
• Achuu (feat. STL)
• Chini Chini (feat. Mejja)

Matata's Songs are included in Boomplay music playlists. Search, stream, and download Matata's Songs, his latest singles and albums in MP3 only on the Boomplay platform for free....more

Country/Region : Kenya
Songs

(7)

Albums

(4)

Playlists

(7)
Listen to Matata's new songs including "Chini Chini ft. Mejja", "Pombe Na Kizungu Mingi ft. Nviiri The Storyteller & Bensoul", "WABABA" and many more. Enjoy Matata's latest songs and explore the Matata's new music albums. If you want to download Matata songs MP3, use the Boomplay App to download the Matata songs for free. Discover Matata's latest songs, popular songs, trending songs all on Boomplay.
Matata is a Kenyan boy dance group based in Oslo, Norway. The group consists of five members namely Marcus Ojiambo, Ken Kimathi, Richie Mathu, Freddy Munye and Festus Kwenda. The were all raised in Nairobi and their music reflects their experience in the city. Many of Matata's Songs became very popular and trendy on social media in line with a great number of streaming and downloads on Boomplay.

Career
Matata's music career has a background in and is influenced heavily by dance. Freddy and Marcus were originally members of the renowned FBI Dance group. Festus, Ken and Richie were also part of other dance groups before the formation of the group.

By a rare stroke of serendipity, the five met in Oslo while studying in college and this eventually led to the birth of Matata. The group's debut single release - Denge - came in 2019. Keeping it true to their roots in dance, the visuals accompanying the song featured professional dance choreography that appealed to many.

Mare Mare - the group's second release, is however what is considered their breakout hit. The song featured Lamaz K.O.B, a Kenyan rapper. It enjoyed heavy rotation on radio and TV due to its wide popularity in Kenya.

The music video accompanying the song currently has a total of nearly 6 million views on YouTube. Matata's musical style is characterised by rap in a mixture of Sheng(Kenyan slang) and Kikuyu. The group has also been on the frontline in the Gengetone genre wave in Kenya since around 2018.

Achievements
In conjuction with Sol Generation signees Bensoul and Nviiri the Storyteller, Matata released a surprise EP by the name Unaware in 2021. The four-track EP spawned the singles Matatu (feat. Bensoul) and Pombe na Kizungu Mingi (feat. Bensoul) whose accompanying visuals have been doing quite well on YouTube.

The EP has already surpassed the 1 million mark on Boomplay, hence being certified platinum. The group has hinted on releasing its debut album by name Matata 2.0 which is predicted for mid or late 2022.

Follow Boomplay and keep up-to-date with the latest songs of Matata and information.

Matata's Latest Songs
• Kata
• Ruracio
• Mapema
• Gengetone Love
• Achuu (feat. STL)
• Chini Chini (feat. Mejja)

Matata's Songs are included in Boomplay music playlists. Search, stream, and download Matata's Songs, his latest singles and albums in MP3 only on the Boomplay platform for free.
New Comments(
12

)