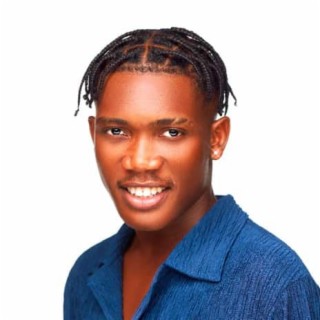 Malcolm Nuna
Current #3,111

All Time #3,307

Malcolm Nuna real name Malcolm Nunana Hehetror is a Ghanaian musician, songwriter, and rapper. He hails from Hohoe in the Volta Region of Ghana but lives at Spintex-Accra. Many Malcolm Nuna songs become very popular and trendy online with a great number of streaming and downloads on Boomplay.

CAREER AND ACHIEVEMENTS
Currently, he is a final year student of Ghana National College. He has been doing music since age 8. His first inspiration to write came after listening to "Good Intentions" by Dappy. He looks up to other greats in the Ghanaian music industry such as Sarkodie, EL, and Joey B. He is considered as one of the most successful high school artists in the country currently, with three singles to his credit.

Malcolm was born and raised in Spintex, a suburb of Accra, with three siblings. He is currently a final year student of Ghana National College where his love for music was greatly developed and was discovered through Alkiains Entertainment's Lisa Quama, a dancer and his schoolmate.

Following his introduction to Nelson Ansong, CEO of Alkians Group: the parent company of Alkians Entertainment, he recorded his first studio single titled "Staircase" and went on to record two more singles for his maiden EP. He has performed alongside Tulenkey, CJ Biggerman, Shaker, Fameye, Kofi Mole, Queen Hazel and DWP Academy

Malcolm is known for his peculiar outfits and is mostly seen wearing hooded sweatshirts. He is also considered a music powerhouse in the high school circles for his ability to write and deliver music effortlessly. He has been on various Senior High School stages including Mfantsipim School, Accra Academy, and his school Ghana National College.

Malcolm Nuna songs are included in Boomplay music playlists. Search to stream and download Malcolm Nuna songs MP3/ single/ albums on the platform.

Follow Boomplay and keep up-to-date with the latest Malcolm Nuna songs and information....more

Country/Region : Ghana
Listen to Malcolm Nuna's new songs including "Party", "Que Sera Sera ft. Lisaquama", "Man Like Nuna" and many more. Enjoy Malcolm Nuna's latest songs and explore the Malcolm Nuna's new music albums. If you want to download Malcolm Nuna songs MP3, use the Boomplay App to download the Malcolm Nuna songs for free. Discover Malcolm Nuna's latest songs, popular songs, trending songs all on Boomplay.
Malcolm Nuna real name Malcolm Nunana Hehetror is a Ghanaian musician, songwriter, and rapper. He hails from Hohoe in the Volta Region of Ghana but lives at Spintex-Accra. Many Malcolm Nuna songs become very popular and trendy online with a great number of streaming and downloads on Boomplay.

CAREER AND ACHIEVEMENTS
Currently, he is a final year student of Ghana National College. He has been doing music since age 8. His first inspiration to write came after listening to "Good Intentions" by Dappy. He looks up to other greats in the Ghanaian music industry such as Sarkodie, EL, and Joey B. He is considered as one of the most successful high school artists in the country currently, with three singles to his credit.

Malcolm was born and raised in Spintex, a suburb of Accra, with three siblings. He is currently a final year student of Ghana National College where his love for music was greatly developed and was discovered through Alkiains Entertainment's Lisa Quama, a dancer and his schoolmate.

Following his introduction to Nelson Ansong, CEO of Alkians Group: the parent company of Alkians Entertainment, he recorded his first studio single titled "Staircase" and went on to record two more singles for his maiden EP. He has performed alongside Tulenkey, CJ Biggerman, Shaker, Fameye, Kofi Mole, Queen Hazel and DWP Academy

Malcolm is known for his peculiar outfits and is mostly seen wearing hooded sweatshirts. He is also considered a music powerhouse in the high school circles for his ability to write and deliver music effortlessly. He has been on various Senior High School stages including Mfantsipim School, Accra Academy, and his school Ghana National College.

Malcolm Nuna songs are included in Boomplay music playlists. Search to stream and download Malcolm Nuna songs MP3/ single/ albums on the platform.

Follow Boomplay and keep up-to-date with the latest Malcolm Nuna songs and information.
New Comments(
61

)