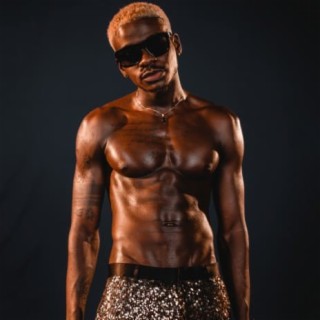 Grenade Official
Current #5,916

All Time #2,343

Grenade Official aka Deus Ndugwa was born on 14th, July 1997 in Lyantode. He went to Kitebi primary school and joined Makindye Secondary school for Ordinary level. Many Grenade's songs became very popular and trendy on social media in line with a great number of streaming and downloads on Boomplay.

Career
He did his first song in 2014, Walayi featuring Kevin Killer and Wagwan is his second song. Singer Grenade is a Ugandan performer known for his vibrant, dancehall and R&B-influenced pop. He broke through with his 2019 hit "Nkuloga."

That same year, he also performed at the African Music Festival in Dubai. Other tracks followed, including "Olimba," "Mpulira Bibyo," and "Amen." Image. The talented young star who recently signed under Gifted Music Group is set to take over the music scene by storm and he is already causing threats to the fading artists.

Follow Boomplay and keep up to date with the latest songs of Grenade Official and information.

Grenade Official Songs
• Alright
• Onkomayo
• Mukago
• Nteredde
• Zarinah
• Kusimuuka
• Dis Dat
• Where you De
• Felling

Grenade Official Songs are included in Boomplay music playlists. Search, stream, and download Grenade Official Songs, her latest singles and albums in MP3 only on the Boomplay platform for free....more

Country/Region : Uganda
Songs

(4)

Albums

(4)

Playlists

(0)

Similar Artists

(10)
Listen to Grenade Official's new songs including "Alright", "Zarinah", "Riddim" and many more. Enjoy Grenade Official's latest songs and explore the Grenade Official's new music albums. If you want to download Grenade Official songs MP3, use the Boomplay App to download the Grenade Official songs for free. Discover Grenade Official's latest songs, popular songs, trending songs all on Boomplay.
Grenade Official aka Deus Ndugwa was born on 14th, July 1997 in Lyantode. He went to Kitebi primary school and joined Makindye Secondary school for Ordinary level. Many Grenade's songs became very popular and trendy on social media in line with a great number of streaming and downloads on Boomplay.

Career
He did his first song in 2014, Walayi featuring Kevin Killer and Wagwan is his second song. Singer Grenade is a Ugandan performer known for his vibrant, dancehall and R&B-influenced pop. He broke through with his 2019 hit "Nkuloga."

That same year, he also performed at the African Music Festival in Dubai. Other tracks followed, including "Olimba," "Mpulira Bibyo," and "Amen." Image. The talented young star who recently signed under Gifted Music Group is set to take over the music scene by storm and he is already causing threats to the fading artists.

Follow Boomplay and keep up to date with the latest songs of Grenade Official and information.

Grenade Official Songs
• Alright
• Onkomayo
• Mukago
• Nteredde
• Zarinah
• Kusimuuka
• Dis Dat
• Where you De
• Felling

Grenade Official Songs are included in Boomplay music playlists. Search, stream, and download Grenade Official Songs, her latest singles and albums in MP3 only on the Boomplay platform for free.
New Comments(
11

)