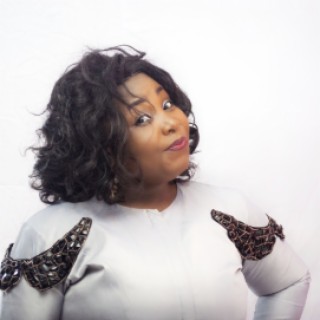 Tonia Omoh
Current #4,053

All Time #2,513

Tonia Omoh is a gospel artiste of great repute. A powerful singer, she hails from Benue State and has great hit songs to her credit.

Tonia Omoh songs become very popular and trendy online with a great number of streaming and downloads on Boomplay.

Career
The versatile and exceptional singer who is a music linguist, sings in diverse Nigerian dialect and English language too. She started her music career in the year 1998 released her debut single in the year 2007.

Tonia Omoh,the gospel music sensation renowned for her vocal dexterity,jazzy flip,her rich sound and versatility

Her debut album "Appointed Time" has been greeted with so much lovely embrace and wide acceptance which is 10 tracked, is an album for everybody and it's loaded with musical versatility, depth, intensity and it is also a blend of church meets street for the satisfaction of your every musical craving.

Tonia Omoh who is a highly sought after music minister is also a pastor, photographer and an entrepreneur specially anointed and graced with an exclusive homomgeneity both on stage and in the studios.

She is happily married to her hearthrob and blessed with Children.

Tonia Omoh Follow Boomplay and keep up-to-date with the latest Tonia Omoh songs and information.

Tonia Omoh Songs
• Na My Time
• Appointed Time
• Wekobiro
• Jesus
• Testimony
• Halleluyah
• Aladewura
• It Is God

Tonia Omoh songs are included in Boomplay music playlists. Search to stream and download Tonia Omoh songs MP3/ single/ albums on the platform....more

Country/Region : Nigeria
Listen to Tonia Omoh's new songs including "Amen (Reprise)", "You Know Me You Dey Do Me", "JESUS" and many more. Enjoy Tonia Omoh's latest songs and explore the Tonia Omoh's new music albums. If you want to download Tonia Omoh songs MP3, use the Boomplay App to download the Tonia Omoh songs for free. Discover Tonia Omoh's latest songs, popular songs, trending songs all on Boomplay.
Tonia Omoh is a gospel artiste of great repute. A powerful singer, she hails from Benue State and has great hit songs to her credit.

Tonia Omoh songs become very popular and trendy online with a great number of streaming and downloads on Boomplay.

Career
The versatile and exceptional singer who is a music linguist, sings in diverse Nigerian dialect and English language too. She started her music career in the year 1998 released her debut single in the year 2007.

Tonia Omoh,the gospel music sensation renowned for her vocal dexterity,jazzy flip,her rich sound and versatility

Her debut album "Appointed Time" has been greeted with so much lovely embrace and wide acceptance which is 10 tracked, is an album for everybody and it's loaded with musical versatility, depth, intensity and it is also a blend of church meets street for the satisfaction of your every musical craving.

Tonia Omoh who is a highly sought after music minister is also a pastor, photographer and an entrepreneur specially anointed and graced with an exclusive homomgeneity both on stage and in the studios.

She is happily married to her hearthrob and blessed with Children.

Tonia Omoh Follow Boomplay and keep up-to-date with the latest Tonia Omoh songs and information.

Tonia Omoh Songs
• Na My Time
• Appointed Time
• Wekobiro
• Jesus
• Testimony
• Halleluyah
• Aladewura
• It Is God

Tonia Omoh songs are included in Boomplay music playlists. Search to stream and download Tonia Omoh songs MP3/ single/ albums on the platform.
New Comments(
26

)
FAQs about Tonia Omoh
Where is Tonia Omoh from?
She is from Nigeria.
How to download songs of Tonia Omoh?
You can download songs of Tonia Omoh from Boomplay App for free.
Firstly, install Boomplay app on your mobile phone.
Secondly, navigate to the song you would like to download.
Thirdly, Tap on More > Download.