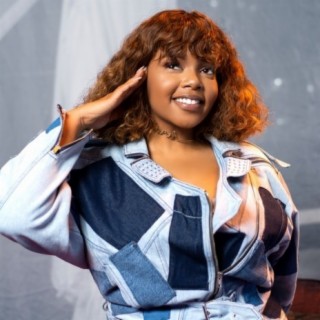 Shekhinah
Current #2,038

All Time #2,917

Shekhinah, born Shekhinah Thandi Donnell, is a Pop/R&B vocalist and songwriter born in Durban, South Africa. After singing and performing in musicals for many years throughout her childhood and early teens, the young artist landed her first major gig competing in South Africa's 7th Season of the hit television show, IDOLS, where she made Top 32. After being eliminated Shekhinah proceeded to enter the competition in its 8th season where she landed in the Top 6 of the overall competition. She went on to complete a Live Performance degree at AFDA in 2017.

Many of Shekhinah songs become very popular and trendy online with great number of streaming and downloads on Boomplay now.

Career:
In 2017, Shekinah released her debut album "Rosegold" leading with the single "Suited". The track peaked at No. 1 on South Africa Music charts and was certified with diamond plaque by the Recording industry of South Africa (RiSA). In 2018, "Please Mr" and "Different" was released same year, "Please Mr" was certified with gold plaque.

On October 6, 2017, her debut studio album Rose Gold was released in South Africa by Sony Music Entertainment Africa.

On 7 May 2021, her second studio album Trouble In Paradise was released in South Africa.

Achievement:
• 2016: MTV Africa Music Award for Best Pop & Alternative
• 2018: South African Music Award for Album of the Year
• 2018: South African Music Award for Best Female Artist
• 2018: South African Music Award for Best Newcomer
• South African Music Awards
• All Africa Music Awards

Follow Boomplay and keep up to date with latest Shekhinah songs and information.

Shekhinah Songs:
• Suited
• Please Mr
• Let You Know
• Back To The Beach
• Different
• Any Way I Want
• Power to She
• Deme
• Into the Jungle
• The Sound
• Never Change
• Just Fine
• Thirsty
• Overdose

Net worth:
under $1 million

Shekhinah songs are included in Boomplay music playlists. Search to stream and download Shekhinah songs MP3/ single/ albums on the Boomplay....more

Country/Region : South Africa
Songs

(1)

Albums

(1)

Playlists

(2)
Listen to Shekhinah's new songs including "Back To The Beach ft. Kyle Deutsch", and many more. Enjoy Shekhinah's latest songs and explore the Shekhinah's new music albums. If you want to download Shekhinah songs MP3, use the Boomplay App to download the Shekhinah songs for free. Discover Shekhinah's latest songs, popular songs, trending songs all on Boomplay.
Shekhinah, born Shekhinah Thandi Donnell, is a Pop/R&B vocalist and songwriter born in Durban, South Africa. After singing and performing in musicals for many years throughout her childhood and early teens, the young artist landed her first major gig competing in South Africa's 7th Season of the hit television show, IDOLS, where she made Top 32. After being eliminated Shekhinah proceeded to enter the competition in its 8th season where she landed in the Top 6 of the overall competition. She went on to complete a Live Performance degree at AFDA in 2017.

Many of Shekhinah songs become very popular and trendy online with great number of streaming and downloads on Boomplay now.

Career:
In 2017, Shekinah released her debut album "Rosegold" leading with the single "Suited". The track peaked at No. 1 on South Africa Music charts and was certified with diamond plaque by the Recording industry of South Africa (RiSA). In 2018, "Please Mr" and "Different" was released same year, "Please Mr" was certified with gold plaque.

On October 6, 2017, her debut studio album Rose Gold was released in South Africa by Sony Music Entertainment Africa.

On 7 May 2021, her second studio album Trouble In Paradise was released in South Africa.

Achievement:
• 2016: MTV Africa Music Award for Best Pop & Alternative
• 2018: South African Music Award for Album of the Year
• 2018: South African Music Award for Best Female Artist
• 2018: South African Music Award for Best Newcomer
• South African Music Awards
• All Africa Music Awards

Follow Boomplay and keep up to date with latest Shekhinah songs and information.

Shekhinah Songs:
• Suited
• Please Mr
• Let You Know
• Back To The Beach
• Different
• Any Way I Want
• Power to She
• Deme
• Into the Jungle
• The Sound
• Never Change
• Just Fine
• Thirsty
• Overdose

Net worth:
under $1 million

Shekhinah songs are included in Boomplay music playlists. Search to stream and download Shekhinah songs MP3/ single/ albums on the Boomplay.
New Comments(
1

)