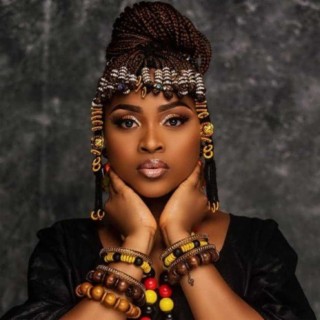 Adina Thembi
Current #2,649

All Time #6,192

Adina Thembi Ndamse better known by her stage name as Adina is a Ghanainan- South african Singer, Songwriter, Actress and a reluctant Model. Born on the 3rd of october 1989 in Liberia to the late Dr. Richard Sekumbuzo Ndamse a South African and a Ghanaian mother Mrs. Mercy Ndamse.

She attended Wesley Girls Senior High School and then to the Central University where she obtained a degree in Environmental and Development Studies

Many Adina Thembi songs become very popular and trendy online with a great number of streaming and downloads on Boomplay.

Career
The talented singer started singing in her early childhood, she joined the National Theatre Choir where she performed at Kidafest and Fun world shows.

At the age of 19 the sensational singer won the music reality show, stars of the future in 2008 organised by Charter House Ghana and eventually became prominence in the Ghana music scene.

Follow Boomplay and keep up-to-date with the latest Adina Thembi songs and information.

Achievement
She is a multiple award-winning female vocalist. Her eighth music titled "Too Late" won her two awards, record of the year and female vocalist of the year at the 2018 Vodaphone Music awards in Ghana.

And in 2017 she won Afropop Song of the Year and Best Female Vocalist at Vodaphone Music awards in Ghana.

In 2021 she got 10 nominations in the Vodafone Ghana Music Awards which she won 3: Best Reggae Dancehall Song of the Year, Record of the Year and Album of the Year.

In the same year she was awarded the 'Best Female Artiste' of the Year category in the Entertainment Achievement Awards and her song WHY was the Reggae Dancehall Song of the Year in the 3Music Awards.

Adina Thembi Songs
• These are some few songs by
• Adina
• Why
• Sika
• Take care of you
• Runaway
• On my way
• Daddy's little girl
• Game over
• Too late

Adina Thembi songs are included in Boomplay music playlists. Search to stream and download Adina Thembi songs MP3/ single/ albums on the platform....more

Country/Region : Ghana
Listen to Adina Thembi's new songs including "Take Care of You (Mixed) ft. Stonebwoy", "On My Way (Mixed)", "Shoulder (yeriba) [Mixed] ft. Mr JazziQ" and many more. Enjoy Adina Thembi's latest songs and explore the Adina Thembi's new music albums. If you want to download Adina Thembi songs MP3, use the Boomplay App to download the Adina Thembi songs for free. Discover Adina Thembi's latest songs, popular songs, trending songs all on Boomplay.
Adina Thembi Ndamse better known by her stage name as Adina is a Ghanainan- South african Singer, Songwriter, Actress and a reluctant Model. Born on the 3rd of october 1989 in Liberia to the late Dr. Richard Sekumbuzo Ndamse a South African and a Ghanaian mother Mrs. Mercy Ndamse.

She attended Wesley Girls Senior High School and then to the Central University where she obtained a degree in Environmental and Development Studies

Many Adina Thembi songs become very popular and trendy online with a great number of streaming and downloads on Boomplay.

Career
The talented singer started singing in her early childhood, she joined the National Theatre Choir where she performed at Kidafest and Fun world shows.

At the age of 19 the sensational singer won the music reality show, stars of the future in 2008 organised by Charter House Ghana and eventually became prominence in the Ghana music scene.

Follow Boomplay and keep up-to-date with the latest Adina Thembi songs and information.

Achievement
She is a multiple award-winning female vocalist. Her eighth music titled "Too Late" won her two awards, record of the year and female vocalist of the year at the 2018 Vodaphone Music awards in Ghana.

And in 2017 she won Afropop Song of the Year and Best Female Vocalist at Vodaphone Music awards in Ghana.

In 2021 she got 10 nominations in the Vodafone Ghana Music Awards which she won 3: Best Reggae Dancehall Song of the Year, Record of the Year and Album of the Year.

In the same year she was awarded the 'Best Female Artiste' of the Year category in the Entertainment Achievement Awards and her song WHY was the Reggae Dancehall Song of the Year in the 3Music Awards.

Adina Thembi Songs
• These are some few songs by
• Adina
• Why
• Sika
• Take care of you
• Runaway
• On my way
• Daddy's little girl
• Game over
• Too late

Adina Thembi songs are included in Boomplay music playlists. Search to stream and download Adina Thembi songs MP3/ single/ albums on the platform.
FAQs about Adina Thembi
Where is Adina Thembi from?
She is from Ghana.
How to download songs of Adina Thembi?
You can download songs of Adina Thembi from Boomplay App for free.
Firstly, install Boomplay app on your mobile phone.
Secondly, navigate to the song you would like to download.
Thirdly, Tap on More > Download.