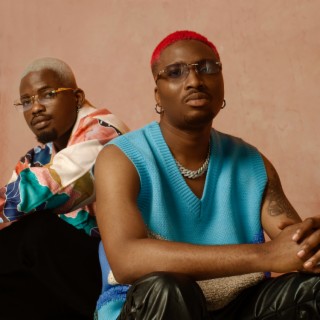 Ajebo Hustlers
Current #5,640

All Time #2,171

Ajebo Hustlers is an Afro-urban contemporary music duo comprising two of Afrobeats' most prodigious duos from Port Harcourt, Nigeria. The rapper, George Dandeson aka Knowledge, and singer Isaiah Precious aka Piego make up this Garden City music group. Over the past 4 years, they have quickly risen to become one of the country's favorite talents, with their debut Album, 'Kpos Lifestyle Vol. 1' and follow-up EP, ''Bad Boy Etiquette 101', being some of the industry's most acclaimed projects of the past few years. The duo made their sonic partnership official after they dropped 'Bole and Fish' remix in 2015.
Not until the year 2020 did they break through the scene with "Barawo" after being signed to Avante Entertainment. This release stormed the entertainment industry and Nigeria as a whole – as coincidentally, this was the time of the protests against police brutality and bad governance in the country. This became one of the paramount songs for the protests at the time. This did so well, it attracted a feature from African Afrobeats superstar, Davido and they teamed up for a remix.
On Feb.12th, 2021 they released a single that went on to become a household name and a smash hit single. "Pronto" – featuring Omah Lay went ahead to chart across various regions in Africa and globally and was nominated for various awards. Off the back of the massive success of their hit single "Pronto", the duo dropped their debut album titled "Kpos Lifestyle, Vol. 1"- a 10-track LP.
Ajebo Hustlers closed off 2021 with 'Loyalty' - a song that started as a freestyle and later developed into a chart-topping favorite. 'Loyalty' will go ahead to be nominated for the Headies Songwriter of the Year award. After winning the best Duo in Africa at the Soundcity MVP awards 2023, Ajebo Hustlers released their first song of 2023 "You Go Know".In May 2023 the duo headlined their sold-out first London show at Jazz Cafe London and went ahead to tour other cities in the United Kingdom....more

Country/Region : Nigeria
Listen to Ajebo Hustlers's new songs including "Barawo", "Annabella", "Appian Way" and many more. Enjoy Ajebo Hustlers's latest songs and explore the Ajebo Hustlers's new music albums. If you want to download Ajebo Hustlers songs MP3, use the Boomplay App to download the Ajebo Hustlers songs for free. Discover Ajebo Hustlers's latest songs, popular songs, trending songs all on Boomplay.
Ajebo Hustlers is an Afro-urban contemporary music duo comprising two of Afrobeats' most prodigious duos from Port Harcourt, Nigeria. The rapper, George Dandeson aka Knowledge, and singer Isaiah Precious aka Piego make up this Garden City music group. Over the past 4 years, they have quickly risen to become one of the country's favorite talents, with their debut Album, 'Kpos Lifestyle Vol. 1' and follow-up EP, ''Bad Boy Etiquette 101', being some of the industry's most acclaimed projects of the past few years. The duo made their sonic partnership official after they dropped 'Bole and Fish' remix in 2015.
Not until the year 2020 did they break through the scene with "Barawo" after being signed to Avante Entertainment. This release stormed the entertainment industry and Nigeria as a whole – as coincidentally, this was the time of the protests against police brutality and bad governance in the country. This became one of the paramount songs for the protests at the time. This did so well, it attracted a feature from African Afrobeats superstar, Davido and they teamed up for a remix.
On Feb.12th, 2021 they released a single that went on to become a household name and a smash hit single. "Pronto" – featuring Omah Lay went ahead to chart across various regions in Africa and globally and was nominated for various awards. Off the back of the massive success of their hit single "Pronto", the duo dropped their debut album titled "Kpos Lifestyle, Vol. 1"- a 10-track LP.
Ajebo Hustlers closed off 2021 with 'Loyalty' - a song that started as a freestyle and later developed into a chart-topping favorite. 'Loyalty' will go ahead to be nominated for the Headies Songwriter of the Year award. After winning the best Duo in Africa at the Soundcity MVP awards 2023, Ajebo Hustlers released their first song of 2023 "You Go Know".In May 2023 the duo headlined their sold-out first London show at Jazz Cafe London and went ahead to tour other cities in the United Kingdom.
New Comments(
43

)
FAQs about Ajebo Hustlers
Where is Ajebo Hustlers from?
They are from Nigeria.
How to download songs of Ajebo Hustlers?
You can download songs of Ajebo Hustlers from Boomplay App for free.
Firstly, install Boomplay app on your mobile phone.
Secondly, navigate to the song you would like to download.
Thirdly, Tap on More > Download.