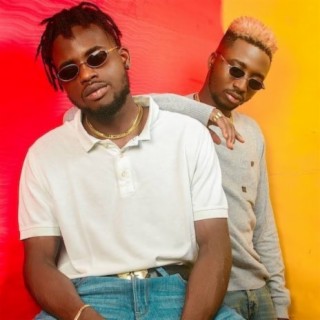 Ajebo Hustlers
Current #1,471

All Time #1,938

Ajebo Hustlers is a Nigerian Afrobeat and Highlife couple comprising of Knowledge (Isaiah Precious) who is a rapper and Piego (George Dandeson) who fills in as the artist and snare ace. Many of Ajebo Hustlers songs shot to fame online and got downloaded now.

The two of them experienced childhood in Old GRA, Port Harcourt, River state Nigeria. The two meet in 2010 while working in an eatery in Port Harcourt, their began making music together after Piego had welcomed Knowledge to his studio.

Follow Boomplay and keep up-to-date with latest Ajebo Hustlers songs and information.

CAREER:
Piego put his first piece of work in 2014 just after the two collaborated to framed Ajebo Hustlers in 2014 and accordingly delivered their first single named "Bole And Fish" that very year.

Following the progress of "Bole And Fish" the team pulled in a joint effort with top performing behaves like Kayswitch who showed up on their 2015 delivered single "Buruku".

Ajebo Hustlers delivered their first group of work, an Extended Play project labeled "New School Oldies" in 2017, the undertaking had highlighted appearances from Yung6ix, Soma, Terry Apala, Major Bankz.

On the portrayal of their sort of music, Piego in a meeting with amusement stage, The Net in 2017 depicted the music as "Katakata Music" which is a combination of Afrobeat, Highlife and various classes of music.

ACHIEVEMENT:
Ajebo Hustlers melodic vocation has traversed north of 6 years thus far the south-south Afrobeat and Highlife pair flaunts a seriously amazing list.

The team has additionally drawn in the consideration of one of the most respected Nigerian Hip-Hop head and YBNL chief, Olamide on their 2020 delivered single "Barawo". The single additionally appeared on Apple Music Naija Hits plalists.

SOME OF AJEBO HUSTLER SONGS
• Barawo
• Tanana (feat. King Perryy)
• Annabella
• Appian Way
• Sophisticated Iyawo
• Plenty Things
• Alakalaka
• Ketu
• Symbiosis
• Light
• Kpos
• Tamuno
• Sweet You
• Blessed
• Kalaku
• Buruku (feat. Kayswitch)
• Pronto ft Omah Lay

Ajebo Hustlers' songs are included in Boomplay music playlists. Search and download Ajebo Hustlers songs/ single/ albums on the platform....more

Country : Nigeria
Songs

(4)

Albums

(4)

Playlists

(12)
Listen to Ajebo Hustlers's new songs including "Barawo", "Appian Way", "Annabella" and many more. Enjoy Ajebo Hustlers's latest songs and explore the Ajebo Hustlers's new music albums. If you want to download Ajebo Hustlers songs MP3, use the Boomplay App to download the Ajebo Hustlers songs for free. Discover Ajebo Hustlers's latest songs, popular songs, trending songs all on Boomplay.
Ajebo Hustlers is a Nigerian Afrobeat and Highlife couple comprising of Knowledge (Isaiah Precious) who is a rapper and Piego (George Dandeson) who fills in as the artist and snare ace. Many of Ajebo Hustlers songs shot to fame online and got downloaded now.

The two of them experienced childhood in Old GRA, Port Harcourt, River state Nigeria. The two meet in 2010 while working in an eatery in Port Harcourt, their began making music together after Piego had welcomed Knowledge to his studio.

Follow Boomplay and keep up-to-date with latest Ajebo Hustlers songs and information.

CAREER:
Piego put his first piece of work in 2014 just after the two collaborated to framed Ajebo Hustlers in 2014 and accordingly delivered their first single named "Bole And Fish" that very year.

Following the progress of "Bole And Fish" the team pulled in a joint effort with top performing behaves like Kayswitch who showed up on their 2015 delivered single "Buruku".

Ajebo Hustlers delivered their first group of work, an Extended Play project labeled "New School Oldies" in 2017, the undertaking had highlighted appearances from Yung6ix, Soma, Terry Apala, Major Bankz.

On the portrayal of their sort of music, Piego in a meeting with amusement stage, The Net in 2017 depicted the music as "Katakata Music" which is a combination of Afrobeat, Highlife and various classes of music.

ACHIEVEMENT:
Ajebo Hustlers melodic vocation has traversed north of 6 years thus far the south-south Afrobeat and Highlife pair flaunts a seriously amazing list.

The team has additionally drawn in the consideration of one of the most respected Nigerian Hip-Hop head and YBNL chief, Olamide on their 2020 delivered single "Barawo". The single additionally appeared on Apple Music Naija Hits plalists.

SOME OF AJEBO HUSTLER SONGS
• Barawo
• Tanana (feat. King Perryy)
• Annabella
• Appian Way
• Sophisticated Iyawo
• Plenty Things
• Alakalaka
• Ketu
• Symbiosis
• Light
• Kpos
• Tamuno
• Sweet You
• Blessed
• Kalaku
• Buruku (feat. Kayswitch)
• Pronto ft Omah Lay

Ajebo Hustlers' songs are included in Boomplay music playlists. Search and download Ajebo Hustlers songs/ single/ albums on the platform.
New Comments(
40

)