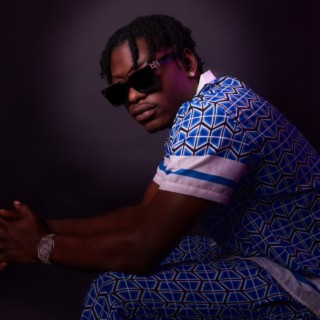 tubrizzy
Current #7,061

All Time #321

Olatunbosun Victor Olagbami is a Nigerian artiste based in Dallas, United States. Tubrizzy is a fast-rising star and afro-fusion artiste. Many of Tubrizzy songs become very popular and trendy online with a great number of streaming and downloads on Boomplay.

According to Tubrizzy, music is more than just putting sounds together. Tubrizzy was born in Ibadan, Oyo State, Nigeria in 1999. He has made some serious pace in a relatively short space of time, stemming back to his viral debut single "Jeje", which dropped in 2019.

Career
Tubrizzy picked interest in music at a very young age. he started his music career by making freestyle videos and uploading it on his social media pages. He is also a music producer. Tubrizzy is currently signed TBN records which he owns. when Tubrizzy was young he was in the church choir, that was where he developed interest in music.

Follow Boomplay and keep up-to-date with the latest Tubrizzy songs and information.

TubrizzySongs
• Jeje
• Eyan
• The vibe
• Go Down
• Formula
• Hasta

Tubrizzy songs are included in Boomplay music playlists. Search to stream and download Tubrizzy songs MP3/ single/ albums on the platform....more

Country/Region : Nigeria
Songs

(18)

Albums

(6)

Playlists

(1)
1

2

3

4

5

6

7

8

9

10

11

12

13

14

15

16

17

18
Listen to tubrizzy's new songs including "Go Down", "Dubai", "Bounce" and many more. Enjoy tubrizzy's latest songs and explore the tubrizzy's new music albums. If you want to download tubrizzy songs MP3, use the Boomplay App to download the tubrizzy songs for free. Discover tubrizzy's latest songs, popular songs, trending songs all on Boomplay.
Olatunbosun Victor Olagbami is a Nigerian artiste based in Dallas, United States. Tubrizzy is a fast-rising star and afro-fusion artiste. Many of Tubrizzy songs become very popular and trendy online with a great number of streaming and downloads on Boomplay.

According to Tubrizzy, music is more than just putting sounds together. Tubrizzy was born in Ibadan, Oyo State, Nigeria in 1999. He has made some serious pace in a relatively short space of time, stemming back to his viral debut single "Jeje", which dropped in 2019.

Career
Tubrizzy picked interest in music at a very young age. he started his music career by making freestyle videos and uploading it on his social media pages. He is also a music producer. Tubrizzy is currently signed TBN records which he owns. when Tubrizzy was young he was in the church choir, that was where he developed interest in music.

Follow Boomplay and keep up-to-date with the latest Tubrizzy songs and information.

TubrizzySongs
• Jeje
• Eyan
• The vibe
• Go Down
• Formula
• Hasta

Tubrizzy songs are included in Boomplay music playlists. Search to stream and download Tubrizzy songs MP3/ single/ albums on the platform.
New Comments(
7

)
FAQs about tubrizzy
Where is tubrizzy from?
He is from Nigeria.
How to download songs of tubrizzy?
You can download songs of tubrizzy from Boomplay App for free.
Firstly, install Boomplay app on your mobile phone.
Secondly, navigate to the song you would like to download.
Thirdly, Tap on More > Download.