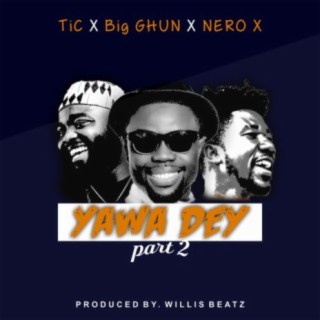 Big Ghun
Current #99k+

All Time #184.7k

Nicholas Tetteh Nartey, professionally known as Big Ghun pronounced "Big Goon" is a Ghanaian musician and Film Director. He was raised in Koforidua in the Eastern Region of Ghana . He holds a Bachelor's Degree in Film Directing from National Film and Television Institute (NAFTI) Ghana and is popularly referred to as Small Boy Sugar Daddy or Akɛsefoɔ epiem!!

Big Ghun's interest in music began in Senior High School where he started recording his demos in a rap group called 'Young Khalibenz' where he used to be known as "Kobby Stone" back then. He rebranded recently to his current showbiz name when he decided to take his music to a professional level and got signed to TiC's record label TNR Music. He was made the cover model on the 16th volume of the American-based magazines Leblanc Music Mag and London Leblanc magazine and was nominated twice at the maiden edition of Tertiary Music Awards (TERMA). Big Ghun was given an honorary award as a Motivating Student in music in the year 2018.

He began performing in 2018 with TiC, when he got featured on a rendition of Nero X's song Yawa Dey, titled Yawa Dey Part 2.

In early 2019 he got signed to TNR Music, a record label owned by TiC and released his first single under the label titled "Walk Off" that featured TiC. In January 2020 Big Ghun released another single Bombastic which featured Zeal of VVIP fame....more

Country : Ghana
Songs

(7)

Albums

(3)

Playlists

(1)
Listen to Big Ghun's new songs including "One Day", "Yenko", "Lafa (feat. Fox Beatz)" and many more. Enjoy Big Ghun's latest songs and explore the Big Ghun's new music albums. If you want to download Big Ghun songs MP3, use the Boomplay App to download the Big Ghun songs for free. Discover Big Ghun's latest songs, popular songs, trending songs all on Boomplay.
Nicholas Tetteh Nartey, professionally known as Big Ghun pronounced "Big Goon" is a Ghanaian musician and Film Director. He was raised in Koforidua in the Eastern Region of Ghana . He holds a Bachelor's Degree in Film Directing from National Film and Television Institute (NAFTI) Ghana and is popularly referred to as Small Boy Sugar Daddy or Akɛsefoɔ epiem!!

Big Ghun's interest in music began in Senior High School where he started recording his demos in a rap group called 'Young Khalibenz' where he used to be known as "Kobby Stone" back then. He rebranded recently to his current showbiz name when he decided to take his music to a professional level and got signed to TiC's record label TNR Music. He was made the cover model on the 16th volume of the American-based magazines Leblanc Music Mag and London Leblanc magazine and was nominated twice at the maiden edition of Tertiary Music Awards (TERMA). Big Ghun was given an honorary award as a Motivating Student in music in the year 2018.

He began performing in 2018 with TiC, when he got featured on a rendition of Nero X's song Yawa Dey, titled Yawa Dey Part 2.

In early 2019 he got signed to TNR Music, a record label owned by TiC and released his first single under the label titled "Walk Off" that featured TiC. In January 2020 Big Ghun released another single Bombastic which featured Zeal of VVIP fame.
New Comments(
0

)

What do you think of this artist?