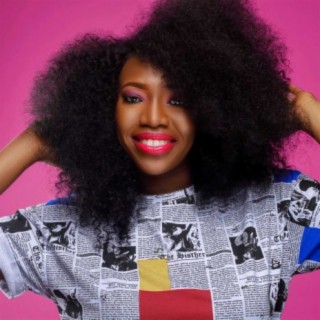 Sister Wisdom
Current #4,710

All Time #4,396

Wisdom Toyin Igbafen a.k.a. "Sister Wisdom" is a Nigerian award winning sensational soul singer and, songwriter. She releases a new song titled "Dance With You" produced by Mosa. Many of Sister Wisdom songs become very popular and trendy online with a great number of streaming and downloads on Boomplay.

Dance With You is a dance song anthem for lovers and, an expression of love for those who appreciate good music. The title was released on February 7, 2018. For 2018, expect the "Sister Wisdom Experience" concert series, new lovely singles, videos and lots more from her.

Wisdom Toyin Adeoye better known as Sister Wisdom, one of the most unique Christian Alternative singers, has finally drops the lead single, titled: Vibes for her highly anticipated body of work, an EP consisting of seven afro centric songs, titled: Blooming Branch. She teams up with one of the biggest gospel artistes in Africa, the electrifying South African gospel power house, Martin PK. She spoke with MUTIAT LAWORE, on her Afrobeat sound infused with AMAPIANO, God's love and family.

Cereer.
Sister wisdom come from a musical family, so I think that influenced her. Her dad loves music and her mum sings. But she had being an introvert earlier in life, most people didn't know she could sing till 2014 when she went to the studio to record.

Her experience has been awesome, it is more of learning how to do it yourself. From meeting the right producer, to branding, and promotion. It's a learning process and quite rewarding.

Challenge of being a mum and an artiste but having an extremely supportive and creative husband just makes the challenge very negligible. Her husband became her manager, video director, and stylist just to make it easy for her. So she always says the challenges are there but I have an amazing support system that is always looking out for me.

She love whatever she does, so it's pretty much her happy place, so she never had to make any sacrifice as it came to her easy.

Nigerian gospel ministers are at the very top, name the top five gospel artistes in the world right now and there must be a Nigerian. So we are in a good place.

Her love for being different, creativity and I hate to be boxed. This debut project is me expressing myself and letting people see a side to my craft that they haven't seen. As a Christian, God is always looking at ways to express Himself through His children. So Blooming Branch is doing just that.

She once said been a musician, wife and mother It is by God's Grace and the support of my husband. God knew what I will have to be doing and gave me the perfect husband in this journey.

Follow Boomplay and keep up-to-date with the latest Sister Wisdom songs and information.

Achievement.
With over 733.4k stream at Boomplay she is one of the top female artist in Boomplay check her special playlist at Boomplay: https://www.boomplaymusic.com/share/playlist/14945644

And she has also won so many Award.

All latest Sister Wisdom songs are available to download & listen on Boomplay Music for you.Boomplay Music also allows you to download top mp3 songs list online for free and you can download all Sister Wisdom new songs and download mp3 songs to listen offline.

You can also find Sister Wisdom special new & latest playlists with only her songs.All hits Sister Wisdom songs are available on Boomplay Music that you can listen online and also get free mp3 downloads. Listen to your favourite Sister Wisdom top songs online in HD quality like never before.

Sister Wisdom Songs:
• Don't let go
• Count On me
• Kuwarayaka
• Vibes
• In the name of Jesus and others

Sister Wisdom songs are included in Boomplay music playlists. Search to stream and download Sister Wisdom songs MP3/ single/ albums on the platform....more

Country/Region : Nigeria
Songs

(29)

Albums

(18)

Playlists

(1)
1

2

3

4

5

6

7

8

9

10

11

12

13

14

15

16

17

18

19

20

21

22

23

24

25

26

27

28

29
Listen to Sister Wisdom's new songs including "Holy Spirit", "Vibes", "Mr John (A Duet with Johnny Drille)" and many more. Enjoy Sister Wisdom's latest songs and explore the Sister Wisdom's new music albums. If you want to download Sister Wisdom songs MP3, use the Boomplay App to download the Sister Wisdom songs for free. Discover Sister Wisdom's latest songs, popular songs, trending songs all on Boomplay.
Wisdom Toyin Igbafen a.k.a. "Sister Wisdom" is a Nigerian award winning sensational soul singer and, songwriter. She releases a new song titled "Dance With You" produced by Mosa. Many of Sister Wisdom songs become very popular and trendy online with a great number of streaming and downloads on Boomplay.

Dance With You is a dance song anthem for lovers and, an expression of love for those who appreciate good music. The title was released on February 7, 2018. For 2018, expect the "Sister Wisdom Experience" concert series, new lovely singles, videos and lots more from her.

Wisdom Toyin Adeoye better known as Sister Wisdom, one of the most unique Christian Alternative singers, has finally drops the lead single, titled: Vibes for her highly anticipated body of work, an EP consisting of seven afro centric songs, titled: Blooming Branch. She teams up with one of the biggest gospel artistes in Africa, the electrifying South African gospel power house, Martin PK. She spoke with MUTIAT LAWORE, on her Afrobeat sound infused with AMAPIANO, God's love and family.

Cereer.
Sister wisdom come from a musical family, so I think that influenced her. Her dad loves music and her mum sings. But she had being an introvert earlier in life, most people didn't know she could sing till 2014 when she went to the studio to record.

Her experience has been awesome, it is more of learning how to do it yourself. From meeting the right producer, to branding, and promotion. It's a learning process and quite rewarding.

Challenge of being a mum and an artiste but having an extremely supportive and creative husband just makes the challenge very negligible. Her husband became her manager, video director, and stylist just to make it easy for her. So she always says the challenges are there but I have an amazing support system that is always looking out for me.

She love whatever she does, so it's pretty much her happy place, so she never had to make any sacrifice as it came to her easy.

Nigerian gospel ministers are at the very top, name the top five gospel artistes in the world right now and there must be a Nigerian. So we are in a good place.

Her love for being different, creativity and I hate to be boxed. This debut project is me expressing myself and letting people see a side to my craft that they haven't seen. As a Christian, God is always looking at ways to express Himself through His children. So Blooming Branch is doing just that.

She once said been a musician, wife and mother It is by God's Grace and the support of my husband. God knew what I will have to be doing and gave me the perfect husband in this journey.

Follow Boomplay and keep up-to-date with the latest Sister Wisdom songs and information.

Achievement.
With over 733.4k stream at Boomplay she is one of the top female artist in Boomplay check her special playlist at Boomplay: https://www.boomplaymusic.com/share/playlist/14945644

And she has also won so many Award.

All latest Sister Wisdom songs are available to download & listen on Boomplay Music for you.Boomplay Music also allows you to download top mp3 songs list online for free and you can download all Sister Wisdom new songs and download mp3 songs to listen offline.

You can also find Sister Wisdom special new & latest playlists with only her songs.All hits Sister Wisdom songs are available on Boomplay Music that you can listen online and also get free mp3 downloads. Listen to your favourite Sister Wisdom top songs online in HD quality like never before.

Sister Wisdom Songs:
• Don't let go
• Count On me
• Kuwarayaka
• Vibes
• In the name of Jesus and others

Sister Wisdom songs are included in Boomplay music playlists. Search to stream and download Sister Wisdom songs MP3/ single/ albums on the platform.
New Comments(
10

)