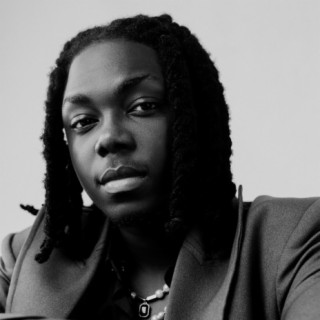 Bayanni
Current #36

All Time #447

Being the third of five boys born to a university bursar father and a school teacher mother would expectedly come with it's own career path expectations, being an artiste is not the conventional one.
,.
Bayanni whose birth name is Oladokun Abimbola Elijah was born on the 25th of June 1997 in Alagbado, a bustling settlement between the borders of Lagos and Ogun state in Nigeria. He is an indigene of Ipetumodu from the ancestral state of Osun.
The young lad grew up around his brothers and was introduced to playing musical instruments through the church as a way to keep them from being less mischievous which was what piqued his interest in music.

With a childhood that equipped him with the solid foundation needed for a lifetime, Bayanni describes his childhood as peaceful, loving, supporting and family oriented which he claims plays a huge impact on the type of music he makes. Following in his father's footsteps, he is a graduate of accounting from the prestigious Obafemi Awolowo University Ile-Ife (OAU) where he juggled being a student of accounting and a budding artiste.

The smoky eyed singer is treading the ways of those who have come before him while fully embracing the Afrobeat sound with his silvery voice. As someone who grew up around music and people with different taste in music while defining his sound himself, it is impossible not to catch the influence of the old connoisseurs of music that surrounded him in his writing, melodies, approach to songs and catch phrases.

The newest Mavin signee is set to distinctively place his footprints in the sands of time as an artiste who relatively did his part in using his voice as a tool for the call for change while entertaining and spreading the sound of Afrobeat to the ends of the earth....more

Country/Region : Nigeria
Songs

(1)

Albums

(0)

Playlists

(0)

Similar Artists

(10)
Listen to Bayanni's new songs including "Ta Ta Ta", and many more. Enjoy Bayanni's latest songs and explore the Bayanni's new music albums. If you want to download Bayanni songs MP3, use the Boomplay App to download the Bayanni songs for free. Discover Bayanni's latest songs, popular songs, trending songs all on Boomplay.
Being the third of five boys born to a university bursar father and a school teacher mother would expectedly come with it's own career path expectations, being an artiste is not the conventional one.
,.
Bayanni whose birth name is Oladokun Abimbola Elijah was born on the 25th of June 1997 in Alagbado, a bustling settlement between the borders of Lagos and Ogun state in Nigeria. He is an indigene of Ipetumodu from the ancestral state of Osun.
The young lad grew up around his brothers and was introduced to playing musical instruments through the church as a way to keep them from being less mischievous which was what piqued his interest in music.

With a childhood that equipped him with the solid foundation needed for a lifetime, Bayanni describes his childhood as peaceful, loving, supporting and family oriented which he claims plays a huge impact on the type of music he makes. Following in his father's footsteps, he is a graduate of accounting from the prestigious Obafemi Awolowo University Ile-Ife (OAU) where he juggled being a student of accounting and a budding artiste.

The smoky eyed singer is treading the ways of those who have come before him while fully embracing the Afrobeat sound with his silvery voice. As someone who grew up around music and people with different taste in music while defining his sound himself, it is impossible not to catch the influence of the old connoisseurs of music that surrounded him in his writing, melodies, approach to songs and catch phrases.

The newest Mavin signee is set to distinctively place his footprints in the sands of time as an artiste who relatively did his part in using his voice as a tool for the call for change while entertaining and spreading the sound of Afrobeat to the ends of the earth.
New Comments(
35

)