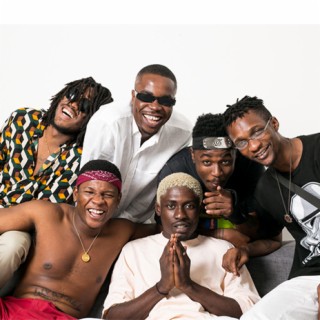 La Même Gang
Current #4,236

All Time #3,115

LA MÊME GANG is an urban collective of individual Artists who have come together for the greater good of music and culture. The collective based in Accra Ghana, made up of Ahmed Froko (Nxwrth), Elvis E. Amenyah (Spacely), Paul N. A. A. Darko (Darkovibes), Dennis Dorcoo (Kiddblack), Micheal K. Boateng (kwakuBS) & Joshua E. Mensah (RJZ)

"FIRST SINGLE OFF THE LA MÊME TAPE DROPS AFTER 1000 FOLLOWERS"
On 12/09/2017, the collective dropped their first ever Project as a group, titled "LA MÊME TAPE". The tape featured Kwesi Arthur, Kuvie, Altra Nova, Abu, and Hama. Collaborating with each other, this was the very first time doing it not as individuals but as a single force. Our Genre name depicts a revolutionary nature as we strive in uniqueness hence the name - "FEELS".

A year later on 30/11/ 2018, "La Même Tape: Linksters" drops with more guests. Sarkodie, King Promise, Medikal, Odunsi The Engine, Pappy Kojo, Odartei & Kobla Jnr all make appearances on the tape....more

Boom ID : 103401286 Country : Ghana Gender : Group
Songs

(30)

Albums

(2)

Playlists

(26)
1

2

3

4

5

6

7

8

9

10

11

12

13

14

15

16

17

18

19

20

21

22

23

24

25

26

27

28

29

30
Listen to La Même Gang's new songs including "Reveal (Fly You Out) [feat. Darkovibes _ $pacely].", "Stone Island (feat. Darkovibes, RJZ _ Kiddblack)", "Godzilla ft. Darkovibes, Kiddblack" and many more. Enjoy La Même Gang's latest songs and explore the La Même Gang's new music albums. If you want to download La Même Gang songs MP3, use the Boomplay App to download the La Même Gang songs for free. Discover La Même Gang's latest songs, popular songs, trending songs all on Boomplay.
LA MÊME GANG is an urban collective of individual Artists who have come together for the greater good of music and culture. The collective based in Accra Ghana, made up of Ahmed Froko (Nxwrth), Elvis E. Amenyah (Spacely), Paul N. A. A. Darko (Darkovibes), Dennis Dorcoo (Kiddblack), Micheal K. Boateng (kwakuBS) & Joshua E. Mensah (RJZ)

"FIRST SINGLE OFF THE LA MÊME TAPE DROPS AFTER 1000 FOLLOWERS"
On 12/09/2017, the collective dropped their first ever Project as a group, titled "LA MÊME TAPE". The tape featured Kwesi Arthur, Kuvie, Altra Nova, Abu, and Hama. Collaborating with each other, this was the very first time doing it not as individuals but as a single force. Our Genre name depicts a revolutionary nature as we strive in uniqueness hence the name - "FEELS".

A year later on 30/11/ 2018, "La Même Tape: Linksters" drops with more guests. Sarkodie, King Promise, Medikal, Odunsi The Engine, Pappy Kojo, Odartei & Kobla Jnr all make appearances on the tape.
New Comments(
5

)