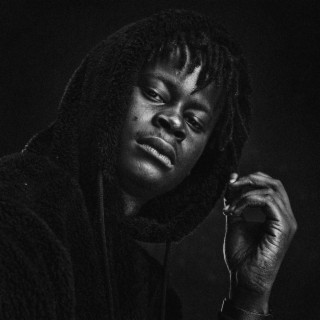 Ashs The Best
Current #2,474

All Time #2,172

Elhadj A Tiaré, better known by his stage name Ashs The Best, is a Senegalese hip-hop musician who was born on January 29, 1995, in the Dakar neighbourhood of Pikine.

Ashs The Best songs become very popular and trendy online with a great number of streaming and downloads on Boomplay.

Career
Elhadj started to discover lyrics and rhymes, especially hip-hop, after discovering music through his father, a former member of the renowned Senegalese reggae group "NIOMINKA BI," whom he had adored since infancy.

He made his debut in 2013 under the moniker Ashs The Best and realized his dream. Ashs The Best succeeds in establishing himself in the Senegalese musical scene via eclecticism and production, evolving in many musical registers such as rap, jazz, and even acoustics.

The creator of the songs "Wéton Na" from the Karma series' soundtrack and "Tourner La Page" from the Doomi Gandé series' soundtrack.

The youthful prodigy has gone on to create numerous successful releases, increasing his reach both within and outside of Senegal.

Follow Boomplay and keep up-to-date with the latest Ashs The Best songs and information.

Ashs The Best Albums
- Dibéer - 2021
- Millions Flows - 2020
- My Nigga - 2019

Achievement
- 'Best Revelation 2020' - Galsen Hip Hop Awards
- 'Best EP 2020' for 'MILLIONS FLOWS DELUXE'
- Galsen Hip Hop Awards - 'Man Of The Year 2020'

Ashs The Best songs are included in Boomplay music playlists. Search to stream and download Ashs The Best songs MP3/ single/ albums on the platform....more

Country/Region : Senegal
Songs

(48)

Albums

(13)

Playlists

(0)

Similar Artists

(10)
1

2

3

4

5

6

7

8

9

10

11

12

13

14

15

16

17

18

19

20

21

22

23

24

25

26

27

28

29

30

31

32

33

34

35

36

37

38

39

40

41

42

43

44

45

46

47

48
Listen to Ashs The Best's new songs including "Wetoon na", "Weetël ft. Amira Abed", "Xel Akk Xol" and many more. Enjoy Ashs The Best's latest songs and explore the Ashs The Best's new music albums. If you want to download Ashs The Best songs MP3, use the Boomplay App to download the Ashs The Best songs for free. Discover Ashs The Best's latest songs, popular songs, trending songs all on Boomplay.
Elhadj A Tiaré, better known by his stage name Ashs The Best, is a Senegalese hip-hop musician who was born on January 29, 1995, in the Dakar neighbourhood of Pikine.

Ashs The Best songs become very popular and trendy online with a great number of streaming and downloads on Boomplay.

Career
Elhadj started to discover lyrics and rhymes, especially hip-hop, after discovering music through his father, a former member of the renowned Senegalese reggae group "NIOMINKA BI," whom he had adored since infancy.

He made his debut in 2013 under the moniker Ashs The Best and realized his dream. Ashs The Best succeeds in establishing himself in the Senegalese musical scene via eclecticism and production, evolving in many musical registers such as rap, jazz, and even acoustics.

The creator of the songs "Wéton Na" from the Karma series' soundtrack and "Tourner La Page" from the Doomi Gandé series' soundtrack.

The youthful prodigy has gone on to create numerous successful releases, increasing his reach both within and outside of Senegal.

Follow Boomplay and keep up-to-date with the latest Ashs The Best songs and information.

Ashs The Best Albums
- Dibéer - 2021
- Millions Flows - 2020
- My Nigga - 2019

Achievement
- 'Best Revelation 2020' - Galsen Hip Hop Awards
- 'Best EP 2020' for 'MILLIONS FLOWS DELUXE'
- Galsen Hip Hop Awards - 'Man Of The Year 2020'

Ashs The Best songs are included in Boomplay music playlists. Search to stream and download Ashs The Best songs MP3/ single/ albums on the platform.