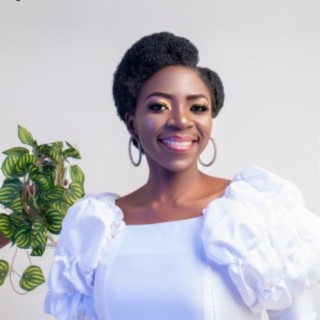 AkuBai
Current #1,495

All Time #1,086

AkuBai is a Cameroonian contemporary gospel artist with the vision of impacting humanity and touching souls through music.

Her chosen stage name, AkuBai, means "owned by God" in her traditional dialect. She is signed to the Niki Heat Entertainment record label.

Many of AkuBai's Songs became very popular and trendy on social media in line with a great number of streaming and downloads on Boomplay.

Career
She has released two singles titled 'Great God' and 'Yahweh' under her recording label Niki Heat Entertainment. She is today an ordained minister of the Gospel, a wife and mother of two little girls and committed to transforming lives and restoring hope.

She holds a Bachelor's degree in Performing Arts and Cinematography from the University of Yaoundé and is currently rounding up her Master's degree program in International Development. She doubles as CEO of Impact Makers for Humanity, a non-governmental organization with a mission to build competencies for sustainable development and extend compassionate support to vulnerable communities.

Singing to her is a means of rendering further Service to God and Humanity. AkuBai is part of an international collaboration featuring 17 gospel music stars from all the continents of the world.

Singers on the song include Hollywood actress and Singer Maggie Scott, Australian music star Jessie Eilers, British folk singer Paul Mirfin, Spanish singer Rutty Rock, Italian maestro Marcello Ghio and the TieniViva Gospel Voices, famous Hong Kong actor and singer Zac Koo, Hong Kong-Korean singer Wayne Ip, German singer Glasmusik, Brazilian inger Catarina Rosa, Kenyan singer Benny Bizzoh, Lebanese songstress Nadine Delyfer, American based singer Adaora, Nigerian singer Richy Gold and many others. The song was released in October 2020.

Achievements
AkuBai garnered multiple national and international nominations after the release of her first single. She was nominated and won the Media Choice Award category at the 2020 Gospel Touch Music Awards in London UK.

In The 2020 Muzikol Music Awards and Green Light Awards, she was nominated for Best Gospel Artist same to the 2020 Transgenerational Forces Impact Awards where she was nominated for Hit Song of the Year.

Follow Boomplay and keep up-to-date with the latest songs of AkuBai and information.

AkuBai's Songs
• Tchapeusi
• Yahweh
• Triompher
• Great God
• Strong Tower
• Blessed Assurance
• Dieu Te Voit

AkuBai's Songs are included in Boomplay music playlists. Search, stream, and download AkuBai's Songs, her latest singles and albums in MP3 only on the Boomplay platform for free....more

Country/Region : Cameroon
Songs

(13)

Albums

(8)

Playlists

(0)

Videos and More
1

2

3

4

5

6

7

8

9

10

11

12

13
Listen to AkuBai's new songs including "Tchapeusi (Le jour du jugement)", "Yahweh", "Dieu Te Voit" and many more. Enjoy AkuBai's latest songs and explore the AkuBai's new music albums. If you want to download AkuBai songs MP3, use the Boomplay App to download the AkuBai songs for free. Discover AkuBai's latest songs, popular songs, trending songs all on Boomplay.
AkuBai is a Cameroonian contemporary gospel artist with the vision of impacting humanity and touching souls through music.

Her chosen stage name, AkuBai, means "owned by God" in her traditional dialect. She is signed to the Niki Heat Entertainment record label.

Many of AkuBai's Songs became very popular and trendy on social media in line with a great number of streaming and downloads on Boomplay.

Career
She has released two singles titled 'Great God' and 'Yahweh' under her recording label Niki Heat Entertainment. She is today an ordained minister of the Gospel, a wife and mother of two little girls and committed to transforming lives and restoring hope.

She holds a Bachelor's degree in Performing Arts and Cinematography from the University of Yaoundé and is currently rounding up her Master's degree program in International Development. She doubles as CEO of Impact Makers for Humanity, a non-governmental organization with a mission to build competencies for sustainable development and extend compassionate support to vulnerable communities.

Singing to her is a means of rendering further Service to God and Humanity. AkuBai is part of an international collaboration featuring 17 gospel music stars from all the continents of the world.

Singers on the song include Hollywood actress and Singer Maggie Scott, Australian music star Jessie Eilers, British folk singer Paul Mirfin, Spanish singer Rutty Rock, Italian maestro Marcello Ghio and the TieniViva Gospel Voices, famous Hong Kong actor and singer Zac Koo, Hong Kong-Korean singer Wayne Ip, German singer Glasmusik, Brazilian inger Catarina Rosa, Kenyan singer Benny Bizzoh, Lebanese songstress Nadine Delyfer, American based singer Adaora, Nigerian singer Richy Gold and many others. The song was released in October 2020.

Achievements
AkuBai garnered multiple national and international nominations after the release of her first single. She was nominated and won the Media Choice Award category at the 2020 Gospel Touch Music Awards in London UK.

In The 2020 Muzikol Music Awards and Green Light Awards, she was nominated for Best Gospel Artist same to the 2020 Transgenerational Forces Impact Awards where she was nominated for Hit Song of the Year.

Follow Boomplay and keep up-to-date with the latest songs of AkuBai and information.

AkuBai's Songs
• Tchapeusi
• Yahweh
• Triompher
• Great God
• Strong Tower
• Blessed Assurance
• Dieu Te Voit

AkuBai's Songs are included in Boomplay music playlists. Search, stream, and download AkuBai's Songs, her latest singles and albums in MP3 only on the Boomplay platform for free.
New Comments(
9

)
FAQs about AkuBai
Where is AkuBai from?
She is from Cameroon.
What are the latest songs of AkuBai?
The latest songs of AkuBai are Tiens ma main and More of you.
What are the best songs of AkuBai?
The best songs of AkuBai are Tchapeusi (Le jour du jugement), Yahweh and Triompher.
What are the best albums of AkuBai?
The best albums of AkuBai are Tchapeusi (Le jour du jugement), Yahweh and Triompher.
How to download songs of AkuBai?
You can download songs of AkuBai from Boomplay App for free.
Firstly, install Boomplay app on your mobile phone.
Secondly, navigate to the song you would like to download.
Thirdly, Tap on More > Download.