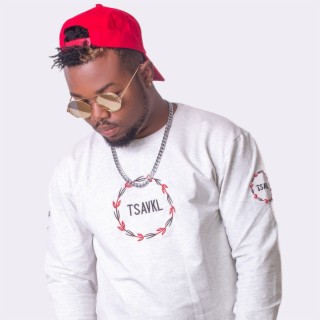 Kelechi Africana
Current #15.3k

All Time #3,635

Kelechi Africana is a Kenyan artist born on the 27th of Feb he is also nicknamed Fleek Boss. He is a Digo from the Coastal region of Kenya, born, raised and schooled there. He started working in Mombasa as a primary school teacher. He taught Kiswahili, Science and Islam Religion.

Many of Kelechi's Songs became very popular and trendy on social media in line with a great number of streaming and downloads on Boomplay.

Career
Kelechi later on moved from the teaching profession after his boss broke his promises to the teacher. He joined the Wasojali Band, a Coastal based band. It was with this band that he got is first release titled 'Nitalia Nawe' that was a huge success.

The band later on disbanded but Kelechi did not disappear. He went on to release the single 'Ring' which he says was written as he was walking down the aisle. 'Ring' would be the song that propelled his career to a large mass with over 2 million views on YouTube.

This was actually his breakthrough song that elevated him to the limelight. He has gone on to traverse borders, naturally given that he is easily confused for a Tanzanian artist and he has collaborations from both regions.

He has collaborated with artists such as Nyota Ndogo, Mr. Blue, Maua Sama, Arrow Bwoy and many more. He released his album Keep it Fleek (EP) in 2020.

Achievements
The singer has gone viral with the song 'Ring', which has garnered over two million views on YouTube and is being used across the world on social media like Tik Tok.

Follow Boomplay and keep up-to-date with the latest songs of Kelechi Africana and information.

Kelechi Africana's Songs
• Ring
• Nimechoka ft DJ 2 ONE TWO
• Chapa
• Wataisoma namba
• Love me ft DJ 2 one two
• Tulia
• Yaga Yaga
• Superwoman
• Wapoteze ft DJ 2 ONE TWO
• Digo Love
• Hamida
• Nasubiri
• Love Me
• I Love You
• Yamenoga
• Kiuno
• My Valentine

Kelechi's Songs are included in Boomplay music playlists. Search, stream, and download Kelechi's Songs, his latest singles and albums in MP3 only on the Boomplay platform for free....more

Country/Region : Kenya
Listen to Kelechi Africana's new songs including "Love Me", "Moyo Wangu", "Unatumika Remix ft. Mashauri Classic" and many more. Enjoy Kelechi Africana's latest songs and explore the Kelechi Africana's new music albums. If you want to download Kelechi Africana songs MP3, use the Boomplay App to download the Kelechi Africana songs for free. Discover Kelechi Africana's latest songs, popular songs, trending songs all on Boomplay.
Kelechi Africana Biography
Kelechi Africana is a Kenyan artist born on the 27th of Feb he is also nicknamed Fleek Boss. He is a Digo from the Coastal region of Kenya, born, raised and schooled there. He started working in Mombasa as a primary school teacher. He taught Kiswahili, Science and Islam Religion.

Many of Kelechi's Songs became very popular and trendy on social media in line with a great number of streaming and downloads on Boomplay.

Career
Kelechi later on moved from the teaching profession after his boss broke his promises to the teacher. He joined the Wasojali Band, a Coastal based band. It was with this band that he got is first release titled 'Nitalia Nawe' that was a huge success.

The band later on disbanded but Kelechi did not disappear. He went on to release the single 'Ring' which he says was written as he was walking down the aisle. 'Ring' would be the song that propelled his career to a large mass with over 2 million views on YouTube.

This was actually his breakthrough song that elevated him to the limelight. He has gone on to traverse borders, naturally given that he is easily confused for a Tanzanian artist and he has collaborations from both regions.

He has collaborated with artists such as Nyota Ndogo, Mr. Blue, Maua Sama, Arrow Bwoy and many more. He released his album Keep it Fleek (EP) in 2020.

Achievements
The singer has gone viral with the song 'Ring', which has garnered over two million views on YouTube and is being used across the world on social media like Tik Tok.

Follow Boomplay and keep up-to-date with the latest songs of Kelechi Africana and information.

Kelechi Africana's Songs
• Ring
• Nimechoka ft DJ 2 ONE TWO
• Chapa
• Wataisoma namba
• Love me ft DJ 2 one two
• Tulia
• Yaga Yaga
• Superwoman
• Wapoteze ft DJ 2 ONE TWO
• Digo Love
• Hamida
• Nasubiri
• Love Me
• I Love You
• Yamenoga
• Kiuno
• My Valentine

Kelechi's Songs are included in Boomplay music playlists. Search, stream, and download Kelechi's Songs, his latest singles and albums in MP3 only on the Boomplay platform for free.
New Comments(
33

)
FAQs about Kelechi Africana
Where is Kelechi Africana from?
He is from Kenya.
How to download songs of Kelechi Africana?
You can download songs of Kelechi Africana from Boomplay App for free.
Firstly, install Boomplay app on your mobile phone.
Secondly, navigate to the song you would like to download.
Thirdly, Tap on More > Download.