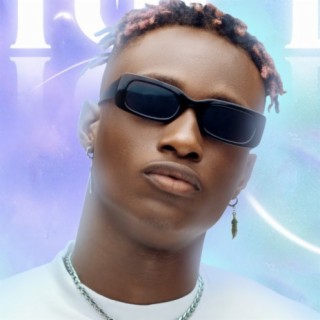 Morien
Current #13.3k

All Time #14.6k

Christopher Chike Ajah, professionally known as Morien, is a very talented singer from Nigeria. Morien is the second born in a family of five. Morien was born in the early 1990s.

Many Morien songs become very popular and trendy online with a great number of streaming and downloads on Boomplay.

Career
He started music at a very young age and According to him, he had always had the intention to pursue a career in Music, performing in different local shows and events.

Armed with a sultry voice and undeniable charisma, Morien possesses the ability to serenade listeners with his Songs. He describes music as a way of expressing himself through the mind of the average African. In his words;

He said "My music is both a poetic and harmonic expression of myself. I see it as a representation of my unique stand in the entertainment industry. …I make music based on the way I feel at a particular moment, so basically, it is an expression of my emotions. Irrespective of our diverse taste in music, I always try to create a balance with my sound."

After a few years of doing the musical craft on his own, he was discovered and signed by Etins Record LTD, and that was a huge boost to his career which resulted in the release of his debut EP "Morien EP" in 2019.

Follow Boomplay and keep up-to-date with the latest Morien songs and information.

Morien Songs and Albums
• Harmony on your Lips (Album)
• Terminator
• Dangerous
• Joro
• Overflow
• Maria Dragon

Morien songs are included in Boomplay music playlists. Search to stream and download Morien songs MP3/ single/ albums on the platform....more

Country/Region : Nigeria
Songs

(8)

Albums

(5)

Playlists

(0)
Listen to Morien's new songs including "Plenty Money", "Terminator", "Hope" and many more. Enjoy Morien's latest songs and explore the Morien's new music albums. If you want to download Morien songs MP3, use the Boomplay App to download the Morien songs for free. Discover Morien's latest songs, popular songs, trending songs all on Boomplay.
Christopher Chike Ajah, professionally known as Morien, is a very talented singer from Nigeria. Morien is the second born in a family of five. Morien was born in the early 1990s.

Many Morien songs become very popular and trendy online with a great number of streaming and downloads on Boomplay.

Career
He started music at a very young age and According to him, he had always had the intention to pursue a career in Music, performing in different local shows and events.

Armed with a sultry voice and undeniable charisma, Morien possesses the ability to serenade listeners with his Songs. He describes music as a way of expressing himself through the mind of the average African. In his words;

He said "My music is both a poetic and harmonic expression of myself. I see it as a representation of my unique stand in the entertainment industry. …I make music based on the way I feel at a particular moment, so basically, it is an expression of my emotions. Irrespective of our diverse taste in music, I always try to create a balance with my sound."

After a few years of doing the musical craft on his own, he was discovered and signed by Etins Record LTD, and that was a huge boost to his career which resulted in the release of his debut EP "Morien EP" in 2019.

Follow Boomplay and keep up-to-date with the latest Morien songs and information.

Morien Songs and Albums
• Harmony on your Lips (Album)
• Terminator
• Dangerous
• Joro
• Overflow
• Maria Dragon

Morien songs are included in Boomplay music playlists. Search to stream and download Morien songs MP3/ single/ albums on the platform.