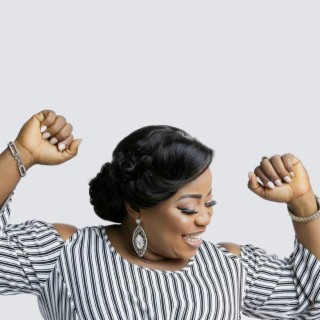 Efe Nathan
Current #9,998

All Time #1,393

Efe Nathan also known as Peace is a prolific Singer, Music Minister and Director. She is also a makeup artist. One of the widely celebrated female Gospel artistes in Nigeria for her captivating songs and stage presence.She is a Recording and Performing Artiste. She has worked with so many Artistes and Churches. She is the second child from a family of nine children. She hails from Urhobo, Delta state. Her mum inspired her to be a musician, Her mum was also a singer.
Many Efe Nathan songs become very popular and trendy online with a great number of streaming and downloads on Boomplay.

Career
She started her career at the age of 14 to 15 when she used to lead the school assembly into worship and she was good at it. So, it continued and she gradually began to lead people into worship and she did this for six years. I travelled to different parts of the country and I didn't even really know what I was doing then. I got born again and then I told myself that I was answering the call. For his glory, I am doing everything to make sure that my life has a meaning.

She started music at the RCCG Apapa family. She grew to become the lead singer there and many years later became the worship leader.

Her style of music can be described as Contemporary African Music which comes across with a tone of ethnicity and brings about an atmosphere of worship, praise and healing in God's presence. She used to be a back-up singer for Sammie Okposo.

She has performed live alongside the likes of Michelle Hammond of USA, Ben Okafor of UK, the late Pastor Paul Irabor and Shafi. As a background singer, she also worked with Olufunmi, Mike Aremu, Sammy Okposo, Tosin Martins, Sunny Nneji and Mike Abdul of Midnight Crew.

.Her first album was Rock with Me, which was released in 2003. The second, A New Level, and another titled, Broken.

Follow Boomplay and keep up-to-date with the latest Efe Nathan songs and information.

She is married to Nathan Akiremi who is a gospel singer too but known by many as Florocka, their union is blessed with a daughter Zamar. Though according to reports they are no longer together.

Efe Nathan Songs and Albums
• Broken (Album)
• A New Level (Album)
• We Worship ft. Nathaniel Bassey
• Jesu Seun
• High Praise
• Renew me
• I see It
• King of All

Efe Nathan songs are included in Boomplay music playlists. Search to stream and download Efe Nathan songs MP3/ single/ albums on the platform....more

Country/Region : Nigeria
Songs

(22)

Albums

(4)

Playlists

(2)
1

2

3

4

5

6

7

8

9

10

11

12

13

14

15

16

17

18

19

20

21

22
Listen to Efe Nathan's new songs including "We Worship ft. Nathaniel Bassey", "Nobody Like You", "Still Within The Flow" and many more. Enjoy Efe Nathan's latest songs and explore the Efe Nathan's new music albums. If you want to download Efe Nathan songs MP3, use the Boomplay App to download the Efe Nathan songs for free. Discover Efe Nathan's latest songs, popular songs, trending songs all on Boomplay.
Efe Nathan also known as Peace is a prolific Singer, Music Minister and Director. She is also a makeup artist. One of the widely celebrated female Gospel artistes in Nigeria for her captivating songs and stage presence.She is a Recording and Performing Artiste. She has worked with so many Artistes and Churches. She is the second child from a family of nine children. She hails from Urhobo, Delta state. Her mum inspired her to be a musician, Her mum was also a singer.
Many Efe Nathan songs become very popular and trendy online with a great number of streaming and downloads on Boomplay.

Career
She started her career at the age of 14 to 15 when she used to lead the school assembly into worship and she was good at it. So, it continued and she gradually began to lead people into worship and she did this for six years. I travelled to different parts of the country and I didn't even really know what I was doing then. I got born again and then I told myself that I was answering the call. For his glory, I am doing everything to make sure that my life has a meaning.

She started music at the RCCG Apapa family. She grew to become the lead singer there and many years later became the worship leader.

Her style of music can be described as Contemporary African Music which comes across with a tone of ethnicity and brings about an atmosphere of worship, praise and healing in God's presence. She used to be a back-up singer for Sammie Okposo.

She has performed live alongside the likes of Michelle Hammond of USA, Ben Okafor of UK, the late Pastor Paul Irabor and Shafi. As a background singer, she also worked with Olufunmi, Mike Aremu, Sammy Okposo, Tosin Martins, Sunny Nneji and Mike Abdul of Midnight Crew.

.Her first album was Rock with Me, which was released in 2003. The second, A New Level, and another titled, Broken.

Follow Boomplay and keep up-to-date with the latest Efe Nathan songs and information.

She is married to Nathan Akiremi who is a gospel singer too but known by many as Florocka, their union is blessed with a daughter Zamar. Though according to reports they are no longer together.

Efe Nathan Songs and Albums
• Broken (Album)
• A New Level (Album)
• We Worship ft. Nathaniel Bassey
• Jesu Seun
• High Praise
• Renew me
• I see It
• King of All

Efe Nathan songs are included in Boomplay music playlists. Search to stream and download Efe Nathan songs MP3/ single/ albums on the platform.
New Comments(
18

)