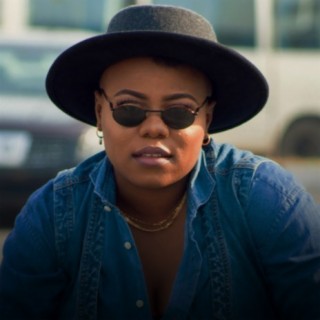 Teni
Current #392

All Time #113

Teniola Apata, professionally known as Teni is a nigeria singer and songwriter.She was born on December 23,1993 in Lagos. She is the 9th of 10 children. Teni Teni attended Apata Memorial High School – a school owned by her late father in Lagos. After secondary school, Teni went to the United States of America (USA) to get a degree in Business Administration at the American Intercontinental University before devoting her attention fully to music. She is the younger sister to the popular singer Niniola.

As a child, Teni was in the school band, where she played the drums. Also, as a child, she and her siblings weren't allowed to go out, so they always stayed in the corridor singing on top of their voices. Which boosted her interest in music.

Teni came into the entertainment industry with her freestyles on Instagram but came into limelight when her single, 'Fargin' became a hit. This Teni's song was widely accepted by Nigerian music lovers especially because of the powerful lyrics it came with. She went on to sign for Dr. Dolor Entertainment. Ever since she came into stardom, Teniola has written and released a good number of hits like Case,Wait, Pareke, Askamaya and Uyo Meyo. She presented her first EP, Billionaire, in 2019 and was nominated for a BET Award for Best New International Act and an MTV Europe Music Award for Best African Act.and she reportedly wrote the Davido's hit single, 'Like That'.

In April 2020, Teni partnered with DJ Neptune to release an EP called the Quarantine Playlist, The four-track EP is mostly mid-tempo. She released her debut album 'WONDALAND' march 2021,The 17 tracks album features guest appearances from Davido....more

Country/Region : Nigeria
Listen to Teni's new songs including "Billionaire", "Power Rangers", "Dorime" and many more. Enjoy Teni's latest songs and explore the Teni's new music albums. If you want to download Teni songs MP3, use the Boomplay App to download the Teni songs for free. Discover Teni's latest songs, popular songs, trending songs all on Boomplay.
Teniola Apata, professionally known as Teni is a nigeria singer and songwriter.She was born on December 23,1993 in Lagos. She is the 9th of 10 children. Teni Teni attended Apata Memorial High School – a school owned by her late father in Lagos. After secondary school, Teni went to the United States of America (USA) to get a degree in Business Administration at the American Intercontinental University before devoting her attention fully to music. She is the younger sister to the popular singer Niniola.

As a child, Teni was in the school band, where she played the drums. Also, as a child, she and her siblings weren't allowed to go out, so they always stayed in the corridor singing on top of their voices. Which boosted her interest in music.

Teni came into the entertainment industry with her freestyles on Instagram but came into limelight when her single, 'Fargin' became a hit. This Teni's song was widely accepted by Nigerian music lovers especially because of the powerful lyrics it came with. She went on to sign for Dr. Dolor Entertainment. Ever since she came into stardom, Teniola has written and released a good number of hits like Case,Wait, Pareke, Askamaya and Uyo Meyo. She presented her first EP, Billionaire, in 2019 and was nominated for a BET Award for Best New International Act and an MTV Europe Music Award for Best African Act.and she reportedly wrote the Davido's hit single, 'Like That'.

In April 2020, Teni partnered with DJ Neptune to release an EP called the Quarantine Playlist, The four-track EP is mostly mid-tempo. She released her debut album 'WONDALAND' march 2021,The 17 tracks album features guest appearances from Davido.
FAQs about Teni
Where is Teni from?
She is from Nigeria.
What are the latest songs of Teni?
The latest songs of Teni are Billionaire (Mixed) and Anybody (Mixed).
What are the best songs of Teni?
The best songs of Teni are HUSTLE, FOR YOU ft. Davido and Billionaire.
What are the best albums of Teni?
The best albums of Teni are WONDALAND, FOR YOU and Billionaire.
How to download songs of Teni?
You can download songs of Teni from Boomplay App for free.
Firstly, install Boomplay app on your mobile phone.
Secondly, navigate to the song you would like to download.
Thirdly, Tap on More > Download.