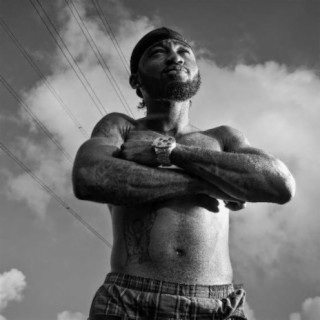 Sinzu
Current #14k

All Time #7,402

Sauce Kid 'Sinzu' whose real name is Babalola Falemi is a popular Nigerian singer and songwriter born in Lagos state. Many of Sinzu songs become very popular and trendy online with a great number of streaming and downloads on Boomplay. Sauce Kid is well known for his style of music; fusion of Nigerian slang with western flows. He was able to change the face of Nigerian hip hop scene with this exceptional talent.

Career
Sinzu eventually got street credibility among music lovers and became a force to reckon with in the industry. His Swags, Unique voice and talent had paved way for him in the music industry. He went to the US after his secondary school education where he hooked up with a music promoter and talent manager, T-Billion now known as Tee-Billz. Sinzu and Tee-Billz created a music company named Q Beats.

He rose to fame in 2005 with his single "Omoge" featuring music legend, Mike Okri..

He became a household name, having carved a niche for himself in the music industry with many hit songs.

One of his songs "Yebariba" (a cover of Remy Ma's 'Conceited'), still remains one of the amazing songs created in the country.

Sauce Kid also introduced Davido into the music scene after featuring him on the single "Carolina".

Follow Boomplay and keep up to date with the latest Sinzu songs and information.

Sauce Kid 'Sinzu' Songs
• Under G
• Sinzu is Sinzu
• Edondemadt skit
• Airplane Mode
• Keep it Pushin
• Can't feel my face
• Na me be fine boy
• African american
• Carolina
• Breezy
• Zu Levu

Sinzu songs are included in Boomplay music playlists. Search to stream and download Sinzu songs MP3/ single/ albums on the platform....more

Country/Region : Nigeria
Songs

(83)

Albums

(28)

Playlists

(1)
1

2

3

4

5

6

7

8

9

10

11

12

13

14

15

16

17

18

19

20

21

22

23

24

25

26

27

28

29

30

31

32

33

34

35

36

37

38

39

40

41

42

43

44

45

46

47

48

49

50

51

52

53

54

55

56

57

58

59

60

61

62

63

64

65

66

67

68

69

70

71

72

73

74

75

76

77

78

79

80

81

82

83
Listen to Sinzu's new songs including "Carolina ft. Davido", "Under G", "San Bori Bobo ft. Trafic" and many more. Enjoy Sinzu's latest songs and explore the Sinzu's new music albums. If you want to download Sinzu songs MP3, use the Boomplay App to download the Sinzu songs for free. Discover Sinzu's latest songs, popular songs, trending songs all on Boomplay.
Sauce Kid 'Sinzu' whose real name is Babalola Falemi is a popular Nigerian singer and songwriter born in Lagos state. Many of Sinzu songs become very popular and trendy online with a great number of streaming and downloads on Boomplay. Sauce Kid is well known for his style of music; fusion of Nigerian slang with western flows. He was able to change the face of Nigerian hip hop scene with this exceptional talent.

Career
Sinzu eventually got street credibility among music lovers and became a force to reckon with in the industry. His Swags, Unique voice and talent had paved way for him in the music industry. He went to the US after his secondary school education where he hooked up with a music promoter and talent manager, T-Billion now known as Tee-Billz. Sinzu and Tee-Billz created a music company named Q Beats.

He rose to fame in 2005 with his single "Omoge" featuring music legend, Mike Okri..

He became a household name, having carved a niche for himself in the music industry with many hit songs.

One of his songs "Yebariba" (a cover of Remy Ma's 'Conceited'), still remains one of the amazing songs created in the country.

Sauce Kid also introduced Davido into the music scene after featuring him on the single "Carolina".

Follow Boomplay and keep up to date with the latest Sinzu songs and information.

Sauce Kid 'Sinzu' Songs
• Under G
• Sinzu is Sinzu
• Edondemadt skit
• Airplane Mode
• Keep it Pushin
• Can't feel my face
• Na me be fine boy
• African american
• Carolina
• Breezy
• Zu Levu

Sinzu songs are included in Boomplay music playlists. Search to stream and download Sinzu songs MP3/ single/ albums on the platform.
FAQs about Sinzu
Where is Sinzu from?
He is from Nigeria.
What are the best songs of Sinzu?
The best songs of Sinzu are Carolina ft. Davido, Under G and San Bori Bobo ft. Trafic.
What are the best albums of Sinzu?
The best albums of Sinzu are Carolina, African American and Better Late Than Never.
How to download songs of Sinzu?
You can download songs of Sinzu from Boomplay App for free.
Firstly, install Boomplay app on your mobile phone.
Secondly, navigate to the song you would like to download.
Thirdly, Tap on More > Download.