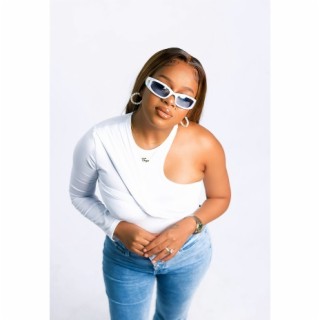 Nandy
Current #274

All Time #406

Faustina Charles Mfinanga (born November 9, 1992), popularly known by her stage name Nandy is a Tanzanian actress, singer and songwriter of Pare heritage. Many of Nandy songs become very popular and trendy online with a great number of streaming and downloads on Boomplay.

She was born and raised in the city of Moshi in Kilimanjaro Region, Tanzania to Mary Charles, a tailor and Charles Mfinanga, a mechanic. The name Nandy is shortened from her real name Nandera She attended Mawenzi Primary School and later joined Lomwe High School where she became the head of the School choir. After high school, she joined the College of Business Education (CBE), Dar es Salaam, Tanzania.

Career
She started performing at a very tender age. At 5 years of age, she was an active member of her Sunday school choir at KKKT Lutheran church in Moshi.
Her career in music kicked off when a common friend introduced her to Ruge Mutahaba, CEO of Tanzania House of Talent (THT). This is where she met Emma the Boy, who produced her first mainstream single, Nagusagusa. The song became a huge hit within a week of its release.

In early 2016 she participated in a singing competition Tecno own the stage. The contest featured contestants from all over Africa and during the finals in Lagos, Nigeria, Nandy emerged as the first runner-up. The competition groomed her well music-wise, as she gained performance confidence, and also acquired essential knowledge of the music industry from the musical tutors and mentors such as Chocolate City's M.I Abaga, Yemi Alade and Bien of Sauti Sol.

In 2017 she released her hit single One Day which spearheaded her career and gave her a couple of opportunities as she was one of the few artists who participated in Coke Studio Africa in 2017 and later the same year she was nominated in the All Africa Music Awards as best female eastern Africa and won.

She is currently Tanzania's Goodwill ambassador for UNICEF's water, sanitation and hygiene programme (WASH) that works in over 100 countries worldwide to improve water and sanitation services, as well as basic hygiene practices. The programme focuses on providing people with clean water and basic toilets.

Achievements
• She won the Best Female Artist East Africa at the 2017 All Africa Music Awards
• She won the Best Female Newcomer at the 2018 AMI Awards Afrika
• She won the Best Female Artist at the 2020 African Entertainment Awards USA

Follow Boomplay and keep up to date with the latest Nandy songs and information.

Nandy Songs and Albums
• The African Princess (Album)
• Wanibariki EP
• Taste of love EP
• I'm Confident
• Nagusa gusa
• One Day
• Wasikudanganye
• Kivuruge
• Ninogeshe
• Aibu
• Hazipo
• Halleluya
• Kiza Kinene
• Kata
• Na Nusu
• Acha Lizame
• Dozi
• Do me
• Nibakishie
• Number one
• Leo Leo
• nimekuzoea
• Yuda
• kunjani
• kufuli

Nandy songs are included in Boomplay music playlists. Search to stream and download Nandy songs MP3/ single/ albums on the platform....more

Country/Region : Tanzania
Listen to Nandy's new songs including "Nimekuzoea", "Falling", "Sasa Hivi Remix ft. V-BE" and many more. Enjoy Nandy's latest songs and explore the Nandy's new music albums. If you want to download Nandy songs MP3, use the Boomplay App to download the Nandy songs for free. Discover Nandy's latest songs, popular songs, trending songs all on Boomplay.
Faustina Charles Mfinanga (born November 9, 1992), popularly known by her stage name Nandy is a Tanzanian actress, singer and songwriter of Pare heritage. Many of Nandy songs become very popular and trendy online with a great number of streaming and downloads on Boomplay.

She was born and raised in the city of Moshi in Kilimanjaro Region, Tanzania to Mary Charles, a tailor and Charles Mfinanga, a mechanic. The name Nandy is shortened from her real name Nandera She attended Mawenzi Primary School and later joined Lomwe High School where she became the head of the School choir. After high school, she joined the College of Business Education (CBE), Dar es Salaam, Tanzania.

Career
She started performing at a very tender age. At 5 years of age, she was an active member of her Sunday school choir at KKKT Lutheran church in Moshi.
Her career in music kicked off when a common friend introduced her to Ruge Mutahaba, CEO of Tanzania House of Talent (THT). This is where she met Emma the Boy, who produced her first mainstream single, Nagusagusa. The song became a huge hit within a week of its release.

In early 2016 she participated in a singing competition Tecno own the stage. The contest featured contestants from all over Africa and during the finals in Lagos, Nigeria, Nandy emerged as the first runner-up. The competition groomed her well music-wise, as she gained performance confidence, and also acquired essential knowledge of the music industry from the musical tutors and mentors such as Chocolate City's M.I Abaga, Yemi Alade and Bien of Sauti Sol.

In 2017 she released her hit single One Day which spearheaded her career and gave her a couple of opportunities as she was one of the few artists who participated in Coke Studio Africa in 2017 and later the same year she was nominated in the All Africa Music Awards as best female eastern Africa and won.

She is currently Tanzania's Goodwill ambassador for UNICEF's water, sanitation and hygiene programme (WASH) that works in over 100 countries worldwide to improve water and sanitation services, as well as basic hygiene practices. The programme focuses on providing people with clean water and basic toilets.

Achievements
• She won the Best Female Artist East Africa at the 2017 All Africa Music Awards
• She won the Best Female Newcomer at the 2018 AMI Awards Afrika
• She won the Best Female Artist at the 2020 African Entertainment Awards USA

Follow Boomplay and keep up to date with the latest Nandy songs and information.

Nandy Songs and Albums
• The African Princess (Album)
• Wanibariki EP
• Taste of love EP
• I'm Confident
• Nagusa gusa
• One Day
• Wasikudanganye
• Kivuruge
• Ninogeshe
• Aibu
• Hazipo
• Halleluya
• Kiza Kinene
• Kata
• Na Nusu
• Acha Lizame
• Dozi
• Do me
• Nibakishie
• Number one
• Leo Leo
• nimekuzoea
• Yuda
• kunjani
• kufuli

Nandy songs are included in Boomplay music playlists. Search to stream and download Nandy songs MP3/ single/ albums on the platform.
FAQs about Nandy
Where is Nandy from?
She is from Tanzania.
How to download songs of Nandy?
You can download songs of Nandy from Boomplay App for free.
Firstly, install Boomplay app on your mobile phone.
Secondly, navigate to the song you would like to download.
Thirdly, Tap on More > Download.