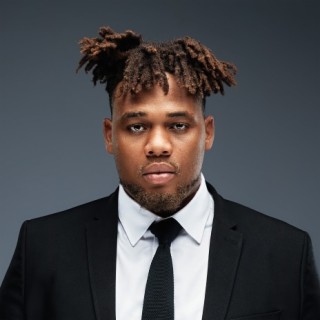 Bnxn
Current #393

All Time #185

Bnxn was born in Lagos, Nigeria. BNXN is an Afro-fusion singer and songwriter. He grew up in Gbagada with his family, relocating to Ogun State. Many of BNXN songs, like Outside, become very popular and trendy online with a great number of streaming and downloads on Boomplay.

Career
His love for music started when he was still in school. According to him, he would usually sing songs from artists like D'bang, P-Square, 9ice and Olu Maintain. BNXN started writing music in junior secondary school in 2011. Then, he went with the stage name Drizzle. Many of his classmates and friends love hearing him sing and rap. Later in school, he joined the choir and also started performing during social activities. So he stopped rapping and took a break in music. However, he started listening to songs by artists like Burna Boy, BNXN Banton, Damian Marley etc. BNXN later picked interest in music again in 2017 while still in university.

In February 2018, BNXN released his first song "Catch a Vibe". Later, he dropped his second song "A Day in Lagos", which gave him some level of recognition on Soundcloud and Twitter.

The song "Spiritual " is BNXN's major breakthrough into the Nigerian music industry. The song was recorded with a 2018 beat made by his producer Steph.

In 2020, BNXN met his idol Burna Boy. This happened after Burna heard BNXN's song "L'Enu" in a club. The artist then recorded the remix of "L'Enu" together. The music video was also funded by Burna Boy.

In 2022, BNXN relased his new single "Kenkele" on July 22. Start listening to BNXN's new music now!

BNXN songs are included in Boomplay music playlists. Search to stream and download BNXN songs MP3/ single/ albums on the platform. Follow Boomplay and keep up-to-date with the latest BNXN songs and information.

BNXN Songs and Albums
• Sorry I'm Late (Album)
• Kilometre
• Daniel Benson
• Outside
• Testimony
• For Days
• Lenu
• Spiritual
• Italy
• Kenkele...more

Country/Region : Nigeria
Listen to Bnxn's new songs including "Confident ft. Buju", "Lenu (Remix) ft. Burna Boy", "Commander" and many more. Enjoy Bnxn's latest songs and explore the Bnxn's new music albums. If you want to download Bnxn songs MP3, use the Boomplay App to download the Bnxn songs for free. Discover Bnxn's latest songs, popular songs, trending songs all on Boomplay.
Bnxn was born in Lagos, Nigeria. BNXN is an Afro-fusion singer and songwriter. He grew up in Gbagada with his family, relocating to Ogun State. Many of BNXN songs, like Outside, become very popular and trendy online with a great number of streaming and downloads on Boomplay.

Career
His love for music started when he was still in school. According to him, he would usually sing songs from artists like D'bang, P-Square, 9ice and Olu Maintain. BNXN started writing music in junior secondary school in 2011. Then, he went with the stage name Drizzle. Many of his classmates and friends love hearing him sing and rap. Later in school, he joined the choir and also started performing during social activities. So he stopped rapping and took a break in music. However, he started listening to songs by artists like Burna Boy, BNXN Banton, Damian Marley etc. BNXN later picked interest in music again in 2017 while still in university.

In February 2018, BNXN released his first song "Catch a Vibe". Later, he dropped his second song "A Day in Lagos", which gave him some level of recognition on Soundcloud and Twitter.

The song "Spiritual " is BNXN's major breakthrough into the Nigerian music industry. The song was recorded with a 2018 beat made by his producer Steph.

In 2020, BNXN met his idol Burna Boy. This happened after Burna heard BNXN's song "L'Enu" in a club. The artist then recorded the remix of "L'Enu" together. The music video was also funded by Burna Boy.

In 2022, BNXN relased his new single "Kenkele" on July 22. Start listening to BNXN's new music now!

BNXN songs are included in Boomplay music playlists. Search to stream and download BNXN songs MP3/ single/ albums on the platform. Follow Boomplay and keep up-to-date with the latest BNXN songs and information.

BNXN Songs and Albums
• Sorry I'm Late (Album)
• Kilometre
• Daniel Benson
• Outside
• Testimony
• For Days
• Lenu
• Spiritual
• Italy
• Kenkele
New Comments(
191

)
FAQs about Bnxn
Where is Bnxn from?
He is from Nigeria.
What are the latest songs of Bnxn?
The latest songs of Bnxn are GWAGWALADA (Mixed) ft. Kizz Daniel & Seyi Vibez, Spiritual ft. Zlatan Ibile and Pray (Mixed).
What are the best songs of Bnxn?
The best songs of Bnxn are GWAGWALADA ft. Kizz Daniel & Seyi Vibez, Outside and Kilometer (Remix) ft. Zinoleesky.
What are the best albums of Bnxn?
The best albums of Bnxn are GWAGWALADA, Bad Since '97 and Sorry I'm Late.
How to download songs of Bnxn?
You can download songs of Bnxn from Boomplay App for free.
Firstly, install Boomplay app on your mobile phone.
Secondly, navigate to the song you would like to download.
Thirdly, Tap on More > Download.