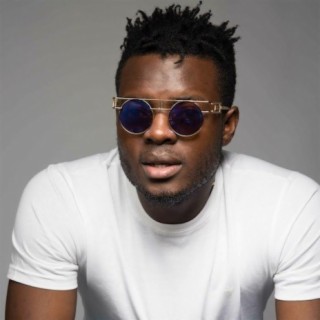 Yung L
Current #2,249

All Time #1,143

Yung L born Christopher Omenye is a Nigerian singer, songwriter and performer.Yung L songs become very popular and trendy online with a great number of streaming and downloads on Boomplay.

He was born and raised in Jos, Plateau State Nigeria.

Career
Yung L began music at a very young age, his mother normally took him to church and introduced him to the drummer and the pianist to be taught and that grew his love for the art.

He began rapping and singing when he was secondary school. He joined a group called Mac 9 in secondary school and they normally perform at social events.

In the University, he met other upcoming musicians like Ice Prince, J.Milla and Chopstix the producer.

They formed the Grip Movement with Yung L as the president. In the year 2011, they all moved to Lagos to pursue their music careers.

As an independent artist, he has released singles such as Pass The Aux, SOS which got a nomination for MTV's Music Video of the Year Award.

Major Lazer featured Yung L alongside Skales on the remix of their song "Run Up" in the year 2017.

Follow Boomplay and keep up-to-date with the latest Yung L songs and information.

Yung L Songs
• He has released quite a number of songs
• Eve Bounce
• SOS
• Yaadman (Intro)
• Ready
• Island Thing
• Too Much
• No Worries
• Light It Up
• Aye
• Get Up
• Rock Me
• Trust Nobody
• Tempo

Yung L songs are included in Boomplay music playlists. Search to stream and download Yung L songs MP3/ single/ albums on the platform....more

Country : Nigeria
Songs

(40)

Albums

(12)

Playlists

(3)
1

2

3

4

5

6

7

8

9

10

11

12

13

14

15

16

17

18

19

20

21

22

23

24

25

26

27

28

29

30

31

32

33

34

35

36

37

38

39

40
Listen to Yung L's new songs including "Pop Up", "Tempo", "Jo ft. Mr. Vegas" and many more. Enjoy Yung L's latest songs and explore the Yung L's new music albums. If you want to download Yung L songs MP3, use the Boomplay App to download the Yung L songs for free. Discover Yung L's latest songs, popular songs, trending songs all on Boomplay.
Yung L born Christopher Omenye is a Nigerian singer, songwriter and performer.Yung L songs become very popular and trendy online with a great number of streaming and downloads on Boomplay.

He was born and raised in Jos, Plateau State Nigeria.

Career
Yung L began music at a very young age, his mother normally took him to church and introduced him to the drummer and the pianist to be taught and that grew his love for the art.

He began rapping and singing when he was secondary school. He joined a group called Mac 9 in secondary school and they normally perform at social events.

In the University, he met other upcoming musicians like Ice Prince, J.Milla and Chopstix the producer.

They formed the Grip Movement with Yung L as the president. In the year 2011, they all moved to Lagos to pursue their music careers.

As an independent artist, he has released singles such as Pass The Aux, SOS which got a nomination for MTV's Music Video of the Year Award.

Major Lazer featured Yung L alongside Skales on the remix of their song "Run Up" in the year 2017.

Follow Boomplay and keep up-to-date with the latest Yung L songs and information.

Yung L Songs
• He has released quite a number of songs
• Eve Bounce
• SOS
• Yaadman (Intro)
• Ready
• Island Thing
• Too Much
• No Worries
• Light It Up
• Aye
• Get Up
• Rock Me
• Trust Nobody
• Tempo

Yung L songs are included in Boomplay music playlists. Search to stream and download Yung L songs MP3/ single/ albums on the platform.
New Comments(
13

)