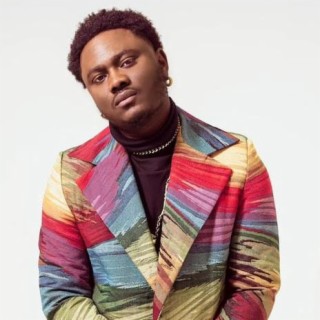 Moelogo
Current #8,850

All Time #3,959

Mohammed Animashaun is a fast-rising UK based Nigerian singer and songwriter who goes by the stage name, Moelogo. Many of Moelogo songs become very popular and trendy online with a great number of streaming and downloads on Boomplay. Moelogo's breakout song is "Pangolo. He has songwriting credits for some notable music projects, including Tiwa Savage's Celia, Kelly Rowland" K, AdekunleGold's About 30 and more.

The Lagos born singer was nominated for the Best Alternative Song Category at the 14th Headies Music Awards. He was born on the 13th of April in the 1990s to Yoruba tribe parents in Lagos. Moelogo was born on April 13 to the noble family of Mr and Mrs Animashaun in the early 90s. He comes from a Muslim household and was named after Prophet Mohammed, the last messenger of Allah. In 2001, Moelogo, his mum and his siblings emigrated to the United Kingdom.

Career
At 14, he joined the school choir where he discovered his love of singing and later became involved with London's Starlight Music Academy, which afforded him the opportunity to work with British rappers Kano and Chipmunk.

Moelogo's interest in music started after he moved to London. He began buying the cassettes of his favorite songs and listened to them regularly. Back then, his favourite artists were R. Kelly and Usher.When he turned fourteen, he joined his school's choir so as to train his voice. As he grew older, it became his life dream to become a musician and he started composing songs during his spare time.

In 2010, he got his first opportunity to show his talent to a large audience when he performed alongside Jamaican artist, Busy Signal in a concert. The concert was held in Gambia, West Africa. He recorded his first official single, She's My Indomie and released it on top music streaming platforms. The song received good reviews and won him some fans.

Moelogo eventually entered the limelight after dropping the single, Pangolo. The song was an instant hit as many people liked it across the world. It had 120,000 views on YouTube in its first month of release. He has performed at the Africa Unplugged Festival held at Wembley Arena. He graced the stage alongside top African musical acts like Femi Kuti, Sarkodie, Zahara, 2baba, amongst others.

In 2013, DJ Edu selected Moelogo to participate in the BBC Introducing sessions held in Maida Vale Studios. That same year, he performed at the Destination Africa 7 Afro Hair Beauty Concert. In the past eight years, he has had a close collaboration with producer, Bayoz Muzik. His music genres are Afrobeat and RnB. He has also toured several African and European cities to perform at musical shows.

He released the EP Ireti in 2013. It is a five-track project in which all the songs were produced by P2J. He featured popular singer Adekunle Gold on his single, Only Girl. He and British-Ghanaian producer, Juls collaborated on the song, Oshey.

Follow Boomplay and keep up to date with the latest Moelogo songs and information.

Moelogo Song
• I Wonder
• Emotions
• Logo's Prayer
• Fate
• Mumidani
• You
• Self Love

Moelogo songs are included in Boomplay music playlists. Search to stream and download Moelogo songs MP3/ single/ albums on the platform....more

Country/Region : Nigeria
Listen to Moelogo's new songs including "Happy ft. Adekunle Gold", "Soft Life ft. Chinko Ekun", "Sweetest Wine ft. Blue Lab Beats" and many more. Enjoy Moelogo's latest songs and explore the Moelogo's new music albums. If you want to download Moelogo songs MP3, use the Boomplay App to download the Moelogo songs for free. Discover Moelogo's latest songs, popular songs, trending songs all on Boomplay.
Mohammed Animashaun is a fast-rising UK based Nigerian singer and songwriter who goes by the stage name, Moelogo. Many of Moelogo songs become very popular and trendy online with a great number of streaming and downloads on Boomplay. Moelogo's breakout song is "Pangolo. He has songwriting credits for some notable music projects, including Tiwa Savage's Celia, Kelly Rowland" K, AdekunleGold's About 30 and more.

The Lagos born singer was nominated for the Best Alternative Song Category at the 14th Headies Music Awards. He was born on the 13th of April in the 1990s to Yoruba tribe parents in Lagos. Moelogo was born on April 13 to the noble family of Mr and Mrs Animashaun in the early 90s. He comes from a Muslim household and was named after Prophet Mohammed, the last messenger of Allah. In 2001, Moelogo, his mum and his siblings emigrated to the United Kingdom.

Career
At 14, he joined the school choir where he discovered his love of singing and later became involved with London's Starlight Music Academy, which afforded him the opportunity to work with British rappers Kano and Chipmunk.

Moelogo's interest in music started after he moved to London. He began buying the cassettes of his favorite songs and listened to them regularly. Back then, his favourite artists were R. Kelly and Usher.When he turned fourteen, he joined his school's choir so as to train his voice. As he grew older, it became his life dream to become a musician and he started composing songs during his spare time.

In 2010, he got his first opportunity to show his talent to a large audience when he performed alongside Jamaican artist, Busy Signal in a concert. The concert was held in Gambia, West Africa. He recorded his first official single, She's My Indomie and released it on top music streaming platforms. The song received good reviews and won him some fans.

Moelogo eventually entered the limelight after dropping the single, Pangolo. The song was an instant hit as many people liked it across the world. It had 120,000 views on YouTube in its first month of release. He has performed at the Africa Unplugged Festival held at Wembley Arena. He graced the stage alongside top African musical acts like Femi Kuti, Sarkodie, Zahara, 2baba, amongst others.

In 2013, DJ Edu selected Moelogo to participate in the BBC Introducing sessions held in Maida Vale Studios. That same year, he performed at the Destination Africa 7 Afro Hair Beauty Concert. In the past eight years, he has had a close collaboration with producer, Bayoz Muzik. His music genres are Afrobeat and RnB. He has also toured several African and European cities to perform at musical shows.

He released the EP Ireti in 2013. It is a five-track project in which all the songs were produced by P2J. He featured popular singer Adekunle Gold on his single, Only Girl. He and British-Ghanaian producer, Juls collaborated on the song, Oshey.

Follow Boomplay and keep up to date with the latest Moelogo songs and information.

Moelogo Song
• I Wonder
• Emotions
• Logo's Prayer
• Fate
• Mumidani
• You
• Self Love

Moelogo songs are included in Boomplay music playlists. Search to stream and download Moelogo songs MP3/ single/ albums on the platform.
New Comments(
14

)
FAQs about Moelogo
Where is Moelogo from?
He is from Nigeria.
What are the latest songs of Moelogo?
The latest songs of Moelogo are Balablu ft. Hitsound, Pangolo and God's Work.
What are the best songs of Moelogo?
The best songs of Moelogo are Happy ft. Adekunle Gold, Soft Life ft. Chinko Ekun and For You.
What are the best albums of Moelogo?
The best albums of Moelogo are Euphonic, Happy and ME.
How to download songs of Moelogo?
You can download songs of Moelogo from Boomplay App for free.
Firstly, install Boomplay app on your mobile phone.
Secondly, navigate to the song you would like to download.
Thirdly, Tap on More > Download.