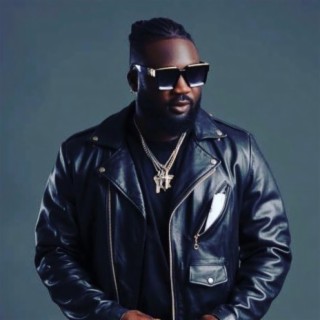 Blaq Jerzee
Current #2,032

All Time #1,018

Okhuofu Isaiah Oshoriameh well known as Blaq Jerzee is a Nigerian performing artiste, songwriter and music producer born on November 15.Blaq Jerzee originally hails from Edo State and he is based in Lagos.He is a music business guru with lots of hit singles and production to his credit.He is a multi-talented music producer and a versatile one at such that cut across different music genre such as afrobeats, Afro-pop, pop and so on.

Blaq Jerzee songs become very popular and trendy online with a great number of streaming and downloads on Boomplay.

Career
Blaq Jerzee started his career from while playing musical instruments in C.A.C.The music enthusiasts has worked on top singles across the country such as Fever by Wizkid, Low for Larry Gaga, attention by Tiwa Savage, Gift by Iyanya featuring Don Jazzy and many others.He has also worked with Burna Boy, Sean Tizzle, DJ Tunez and several others.

He came to limelight with his song "Blow" featuring Wizkid with the accompanied visual receiving lots of views on YouTube.He has also got two productions and a feature on Wizkid's project "Soundman EP".

Follow Boomplay and keep up-to-date with the latest Blaq Jerzee songs and information.

Blaq Jerzee Songs
• Blow
• Thankful
• Arizona
• Gbese
• Cover Me
• Ease Your Mind
• Mine
• Kush Love
• Jam
• Drop Some
• Jalolo
• Electric
• Balance For Me
• Kpatata
• Summer Bounce ft. Joeboy

Blaq Jerzee songs are included in Boomplay music playlists. Search to stream and download Blaq Jerzee songs MP3/ single/ albums on the platform....more

Country/Region : Nigeria
Songs

(12)

Albums

(12)

Playlists

(5)
1

2

3

4

5

6

7

8

9

10

11

12
Listen to Blaq Jerzee's new songs including "Superwoman ft. Diamond Platnumz", "Falling For U ft. Mr Eazi & Harmonize", "Summer Bounce ft. Joeboy" and many more. Enjoy Blaq Jerzee's latest songs and explore the Blaq Jerzee's new music albums. If you want to download Blaq Jerzee songs MP3, use the Boomplay App to download the Blaq Jerzee songs for free. Discover Blaq Jerzee's latest songs, popular songs, trending songs all on Boomplay.
Okhuofu Isaiah Oshoriameh well known as Blaq Jerzee is a Nigerian performing artiste, songwriter and music producer born on November 15.Blaq Jerzee originally hails from Edo State and he is based in Lagos.He is a music business guru with lots of hit singles and production to his credit.He is a multi-talented music producer and a versatile one at such that cut across different music genre such as afrobeats, Afro-pop, pop and so on.

Blaq Jerzee songs become very popular and trendy online with a great number of streaming and downloads on Boomplay.

Career
Blaq Jerzee started his career from while playing musical instruments in C.A.C.The music enthusiasts has worked on top singles across the country such as Fever by Wizkid, Low for Larry Gaga, attention by Tiwa Savage, Gift by Iyanya featuring Don Jazzy and many others.He has also worked with Burna Boy, Sean Tizzle, DJ Tunez and several others.

He came to limelight with his song "Blow" featuring Wizkid with the accompanied visual receiving lots of views on YouTube.He has also got two productions and a feature on Wizkid's project "Soundman EP".

Follow Boomplay and keep up-to-date with the latest Blaq Jerzee songs and information.

Blaq Jerzee Songs
• Blow
• Thankful
• Arizona
• Gbese
• Cover Me
• Ease Your Mind
• Mine
• Kush Love
• Jam
• Drop Some
• Jalolo
• Electric
• Balance For Me
• Kpatata
• Summer Bounce ft. Joeboy

Blaq Jerzee songs are included in Boomplay music playlists. Search to stream and download Blaq Jerzee songs MP3/ single/ albums on the platform.
New Comments(
11

)