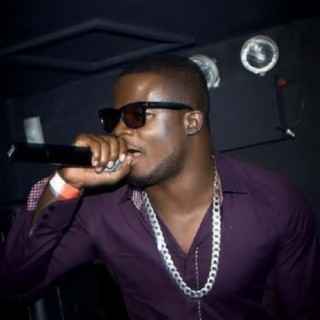 Kas
Current #19.1k

All Time #10.5k

Hugely inspired by music legends such as Phil Collins, R.Kelly. Ray Charles and Timbaland, Kas Omo Yoruba prides the originality of his production and deliverance in music on its unique and futuristic composition and sound. Many of Kas songs become very popular and trendy online with great number of streaming and downloads on Boomplay.

His also an artist in the same league as other Nigerian giants such as 2face, Kasbeats matches his ambition with his talent, and is a household name in the African music industry, and is hailed as the Puff Daddy of Africa.

After years of co-writing and producing songs with the likes of Sir Shino Peters, M.I, Nneka, Goldie, Naeto C, 2face, Dbanj, and Wande Coal to name a few, he released the hit Wind For Me, followed by the monstrous anthem Fi Mi Le in 2010. The latter was written and produced by Kas himself, and it became a hit instantly, selling over 1.2 million copies in Nigeria alone. It was this track that earned him many awards, including artist/song of the year!

Kas was topping the African music charts, and from this single alone, receives boundless airplay from radio stations across Africa.

In 2000 Kas had the privilege of producing and performing on a promotional campaign for the drink company Hennessey & Co (a brand which sells on average 50 million bottles a year Worldwide). The single and corresponding video for his song 'Like A Bottle' featured a series of A-list recording artists, and its popularity in Africa demonstrates Kas' ability to not only produce hit single after hit single, but also to be able to produce a track specifically for a commercial product.

On August 30th 2010, KAS performed as one of the lead artists at the Notting Hill Carnival Music Festival 2010 in the heart of London City, to a crowd of over 2,900 screaming fans. In November 2011, he released his long anticipated debut album titled KAS FI MI LE in Nigeria and received rave reviews.

ACHIEVEMENTS
• Dynamix All Youth Awards - SONG OF THE YEAR
• BEST NEW ARTISTE in the September 2010 Holla Awards
• SSA (South South Awards) - Best Pop SOLO 2011
• Awarded recognition for outstanding musical performance & launch of of album on the 11-11-11
• Artist of the year (2012) MBGN

Follow Boomplay and keep up to date with latest Kas songs and information.

Kas Songs:
• Fi mi Le
• Mule
• Focus
• Black
• LISA
• DizzyI
• kebe
• If You Wind For Me

Kas songs are included in Boomplay music playlists. Search to stream and download Kas songs MP3/ single/ albums on the Boomplay....more

Country/Region : Nigeria
Songs

(109)

Albums

(51)

Playlists

(2)
1

2

3

4

5

6

7

8

9

10

11

12

13

14

15

16

17

18

19

20

21

22

23

24

25

26

27

28

29

30

31

32

33

34

35

36

37

38

39

40

41

42

43

44

45

46

47

48

49

50

51

52

53

54

55

56

57

58

59

60

61

62

63

64

65

66

67

68

69

70

71

72

73

74

75

76

77

78

79

80

81

82

83

84

85

86

87

88

89

90

91

92

93

94

95

96

97

98

99

100
Listen to Kas's new songs including "Fi Mi Le Part 2 ft. 2face & D'Banj", "Fi Mi Le", "If You Wind For Me" and many more. Enjoy Kas's latest songs and explore the Kas's new music albums. If you want to download Kas songs MP3, use the Boomplay App to download the Kas songs for free. Discover Kas's latest songs, popular songs, trending songs all on Boomplay.
Hugely inspired by music legends such as Phil Collins, R.Kelly. Ray Charles and Timbaland, Kas Omo Yoruba prides the originality of his production and deliverance in music on its unique and futuristic composition and sound. Many of Kas songs become very popular and trendy online with great number of streaming and downloads on Boomplay.

His also an artist in the same league as other Nigerian giants such as 2face, Kasbeats matches his ambition with his talent, and is a household name in the African music industry, and is hailed as the Puff Daddy of Africa.

After years of co-writing and producing songs with the likes of Sir Shino Peters, M.I, Nneka, Goldie, Naeto C, 2face, Dbanj, and Wande Coal to name a few, he released the hit Wind For Me, followed by the monstrous anthem Fi Mi Le in 2010. The latter was written and produced by Kas himself, and it became a hit instantly, selling over 1.2 million copies in Nigeria alone. It was this track that earned him many awards, including artist/song of the year!

Kas was topping the African music charts, and from this single alone, receives boundless airplay from radio stations across Africa.

In 2000 Kas had the privilege of producing and performing on a promotional campaign for the drink company Hennessey & Co (a brand which sells on average 50 million bottles a year Worldwide). The single and corresponding video for his song 'Like A Bottle' featured a series of A-list recording artists, and its popularity in Africa demonstrates Kas' ability to not only produce hit single after hit single, but also to be able to produce a track specifically for a commercial product.

On August 30th 2010, KAS performed as one of the lead artists at the Notting Hill Carnival Music Festival 2010 in the heart of London City, to a crowd of over 2,900 screaming fans. In November 2011, he released his long anticipated debut album titled KAS FI MI LE in Nigeria and received rave reviews.

ACHIEVEMENTS
• Dynamix All Youth Awards - SONG OF THE YEAR
• BEST NEW ARTISTE in the September 2010 Holla Awards
• SSA (South South Awards) - Best Pop SOLO 2011
• Awarded recognition for outstanding musical performance & launch of of album on the 11-11-11
• Artist of the year (2012) MBGN

Follow Boomplay and keep up to date with latest Kas songs and information.

Kas Songs:
• Fi mi Le
• Mule
• Focus
• Black
• LISA
• DizzyI
• kebe
• If You Wind For Me

Kas songs are included in Boomplay music playlists. Search to stream and download Kas songs MP3/ single/ albums on the Boomplay.
New Comments(
1

)