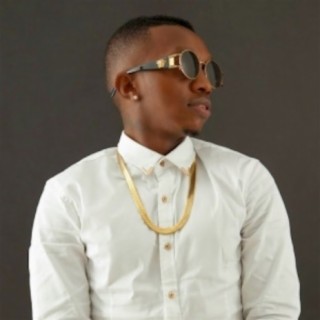 Shetta
Current #9,423

All Time #4,901

Nurdin Bilal Ali (born July 16, 1990), better known by his stage name SHETTA, is currently one of the most successful music artists in Tanzania. Many of Shetta songs become very popular and trendy online with a great number of streaming and downloads on Boomplay.

With a number of his songs reaching peak positions on various music charts in the country and across the African continent, Shetta single "Namjua"dominated several charts at peak position for several weeks in a row in 2016. The song's video had one million views on YouTube as of 2016.

Career
Shetta discovered his music talents in 2009, when he was a dancer in a local group called Misifa Camp, under a popular singer and producer, Dully Sykes, for whom Shetta later became a backup singer. Eventually, Shetta managed to form his own musical group, Dar Stamina.

He released his debut single, "Mi Naplay", featuring one of Tanzania's hip-hop legends, MwanaFA. The fact that MwanaFA, who is an early name in the East African country's hip-hop scene, agreed to work with such a new artist, indicated that Shetta had star qualities, and was going to have a brilliant music career in the future. Like elsewhere in the world, established artists in Tanzania would only agree to collaborate with new artists who show great potential.

In 2010, Shetta officially released another single that introduced him well to the Tanzanian music scene, named "Nimechokwa", featuring leading local R&B star Belle9. The hit song earned him credibility and provided him with several opportunities to perform across Tanzania.

A year later, Shetta released another hit song, "Mdandanda", featuring two household names in Tanzania's bongo flava scene, Dully Sykes and Tundaman.

In 2012, he released another hit, "Nidanganye", featuring one of the biggest names in African music, Tanzania's own Diamond Platnumz.

In the same year, he released another single "Bonge la Bwana", featuring a top local female artist, Linah, followed by another hit song, "Sina Imani", featuring Rich Mavoko.

After a short hiatus, Shetta came up with another song in 2014, "Kerewa", featuring Diamond Platnumz, again. This single was such a huge success that it made its way to the MTV Africa Top 10, the continent's definitive top ten countdown. The chart is usually frequented by top artists from South Africa and Nigeria, and for an artist like Shetta who had been on the scene for barely five years, it meant Tanzania had now a new force to be reckoned with.

A year later, his successes caught the attention of music industry executives beyond Tanzanian borders, and he was signed to one of the leading record labels in the continent, Spice Africa. There, he had the opportunity to record a song with an international Nigerian music star, Kcee. The hit song, "Shikorobo",became an instant banger which officially introduced Shetta into the mainstream.

Follow Boomplay and keep up to date with the latest Shetta songs and information.

Shetta Discography
• Mi Naplayft. MwanaFA
• Mi Naplay Remix ft. MwanaFA, Godzilla & Mabeste
• Nimechokwaft. Belle
• Mdananda ft. Dully Sykes and Tundaman
• Bonge la Bwana ft. Linah
• Sina Imani ft. Rich Mavoko
• Kerewa ft. Diamond Platnumz
• Shikorobo ft. Kcee
• Namjua
• Wale Wale

Shetta songs are included in Boomplay music playlists. Search to stream and download Shetta songs MP3/ single/ albums on the platform....more

Country/Region : Tanzania
Songs

(17)

Albums

(17)

Playlists

(8)
1

2

3

4

5

6

7

8

9

10

11

12

13

14

15

16

17
Listen to Shetta's new songs including "Hatufanani ft. Jux, Mr. Blue", "Kerewa ft. Diamond Platnumz", "Nidanganye ft. Diamond Platnumz" and many more. Enjoy Shetta's latest songs and explore the Shetta's new music albums. If you want to download Shetta songs MP3, use the Boomplay App to download the Shetta songs for free. Discover Shetta's latest songs, popular songs, trending songs all on Boomplay.
Nurdin Bilal Ali (born July 16, 1990), better known by his stage name SHETTA, is currently one of the most successful music artists in Tanzania. Many of Shetta songs become very popular and trendy online with a great number of streaming and downloads on Boomplay.

With a number of his songs reaching peak positions on various music charts in the country and across the African continent, Shetta single "Namjua"dominated several charts at peak position for several weeks in a row in 2016. The song's video had one million views on YouTube as of 2016.

Career
Shetta discovered his music talents in 2009, when he was a dancer in a local group called Misifa Camp, under a popular singer and producer, Dully Sykes, for whom Shetta later became a backup singer. Eventually, Shetta managed to form his own musical group, Dar Stamina.

He released his debut single, "Mi Naplay", featuring one of Tanzania's hip-hop legends, MwanaFA. The fact that MwanaFA, who is an early name in the East African country's hip-hop scene, agreed to work with such a new artist, indicated that Shetta had star qualities, and was going to have a brilliant music career in the future. Like elsewhere in the world, established artists in Tanzania would only agree to collaborate with new artists who show great potential.

In 2010, Shetta officially released another single that introduced him well to the Tanzanian music scene, named "Nimechokwa", featuring leading local R&B star Belle9. The hit song earned him credibility and provided him with several opportunities to perform across Tanzania.

A year later, Shetta released another hit song, "Mdandanda", featuring two household names in Tanzania's bongo flava scene, Dully Sykes and Tundaman.

In 2012, he released another hit, "Nidanganye", featuring one of the biggest names in African music, Tanzania's own Diamond Platnumz.

In the same year, he released another single "Bonge la Bwana", featuring a top local female artist, Linah, followed by another hit song, "Sina Imani", featuring Rich Mavoko.

After a short hiatus, Shetta came up with another song in 2014, "Kerewa", featuring Diamond Platnumz, again. This single was such a huge success that it made its way to the MTV Africa Top 10, the continent's definitive top ten countdown. The chart is usually frequented by top artists from South Africa and Nigeria, and for an artist like Shetta who had been on the scene for barely five years, it meant Tanzania had now a new force to be reckoned with.

A year later, his successes caught the attention of music industry executives beyond Tanzanian borders, and he was signed to one of the leading record labels in the continent, Spice Africa. There, he had the opportunity to record a song with an international Nigerian music star, Kcee. The hit song, "Shikorobo",became an instant banger which officially introduced Shetta into the mainstream.

Follow Boomplay and keep up to date with the latest Shetta songs and information.

Shetta Discography
• Mi Naplayft. MwanaFA
• Mi Naplay Remix ft. MwanaFA, Godzilla & Mabeste
• Nimechokwaft. Belle
• Mdananda ft. Dully Sykes and Tundaman
• Bonge la Bwana ft. Linah
• Sina Imani ft. Rich Mavoko
• Kerewa ft. Diamond Platnumz
• Shikorobo ft. Kcee
• Namjua
• Wale Wale

Shetta songs are included in Boomplay music playlists. Search to stream and download Shetta songs MP3/ single/ albums on the platform.
New Comments(
37

)